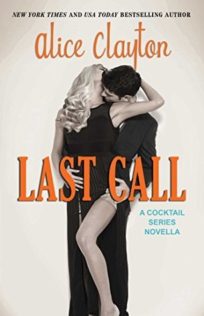 Last Call (Cocktail, #4.5)
by
Alice Clayton

Series:
Cocktail #4.5
Published by
Gallery Books
on January 6th 2015
Genres:
Contemporary
Pages:
176
Format:
Paperback



I received this book for free from in exchange for an honest review. This does not affect my opinion of the book or the content of my review.
This post contains affiliate links you can use to purchase the book. If you buy the book using that link, I will receive a small commission from the sale.
---
[box style="rounded" border="full"]The cleverly titled final story to her cocktail series is a novella which ties up all the loose ends and lets us say good-bye to Simon and Caroline in style.  It also gives us a reminder that it is the marriage and not the wedding which should be the focus of any engaged couple.[/box]
As we start out our final Cocktail novella, the day of Ryan and Mimi's wedding has finally arrived and it isn't going as smoothly as expected. The very pregnant Sophia has morning, afternoon, and anytime sickness and whoopsed all over Mimi's wedding dress. The thankfully overly-prepared Mimi has another all ready to go but begins to loose her composure when she sees her only pair of Jimmy Choos have also been violated. It is groom Ryan that ultimately saves the day. Just as Mimi is focusing on how her day has been ruined, it is Ryan who tells her how much he can't wait until it is all over and they will finally be husband and wife. Mimi forgets all about shoes and runs to marry her man.
While Sophia and Neil prepare to be the next to wed, after their baby is born and the baby weight comes off that is, Caroline and Simon are settling into their new home and their new schedules with no thoughts of needing rings and white dresses to complete their couplehood. Everyone is getting comfortable with their new lives until Sophia pops out her little bundle of joy and it is Simon, rather than Caroline, who is suddenly wanting to get on the baby-train. Ok, maybe baby is jumping the gun, but holding his friend Neil's new baby makes him realize that Caroline is the only one for him and that in order to move forward from boyfriend to father, he has to convince Caroline that it is time to shop for a white dress of her own.
Never one to resist her Wallbanger, Caroline and Simon get caught up in wedding planning or more appropriately dragged along by Mimi and Caroline's mother. When Simon has an accident half way around the world at a photo shoot, Caroline rushes to get to him and realizes that they too started putting more stress on the wedding than on the marriage.
Hopefully it is not too late for Simon and Caroline to turn around their priorities and put their all into the marriage rather than the wedding favors.
THOUGHTS:
I love the characters that Alice Clayton has created and thank her for the nod to my favorites, Grace and Jack, in this story too.
It was a quick novella and we didn't have time for all the fun sexy times we had with Simon and Caroline in the first two Cocktail books. That doesn't mean we go without. This was more about the saying goodbye to the gang and a reminder to keep your priorities straight then simply wallbanging. We did get to see Clark and Vivian and Chloe and Lucas, one last time as well.
Click for Spoiler:

I am trying to keep in mind that this is a lighthearted, comedy/romance but Simon's accident goes from life and death to a rather quick recovery by the time Caroline takes an obscenely expensive plane trip around the world to reach him. If Simon was going to be seriously injured in an accident, requiring Caroline to tear around the world, I think he shouldn't have been able to recover in time for the wedding which was only a few weeks away. Since, in the end, they knocked the wedding down from a circus to a family gathering, I think Simon could have spent some time recovering from broken bones, etc. rather than an almost brush off of injuries. The whole drama of it felt bogus when he didn't even have a broken rib after a life and death accident.
It was a nice bonus story to tie up the loose ends and say goodbye.
---
Favorite Scene:
"Dude, you can totally hold her, just ask." Neil puffed out his chest, causing the bundle to rise up and out.
"I guess I could, just for a minute," Simon replied, stealing a quick look at me. I grinned back, grateful to get another chance to watch Simon holding a baby. Hello, ovaries, I wondered when you were going to sit up straight.
Sophia and I watched the two guys transfer Mary Jane between them with all the precision of a tactical nuke team disarming a warhead. It took all I could not to giggle out loud, but it was incredibly sweet. "So how are you feeling? Like, for real how are you feeling?" I asked Sophia, once the transfer was complete.
"Like I just pushed a baby out of my coochie," she groaned, biting back into her chicken. "It hurt like a motherfucker. But totally worth it. Have you seen how freaking cute she is?"
"Pretty freaking cute I'd say," I replied. "You up for some more good news?"
"Always," she said through a mouthful. I turned the ring around. She screeched, showing me her chicken and waking her child.
"Soph! What the hell?" Neil cried out as he and Simon both looked at each other and then at Mary Jane when she started crying.
"Let me see that ring!" Sophia yelled.
"Why is she crying?" Simon asked, panicked.
"Her mother scared her half to death!" Neil yelled, also frantic.
"Everyone calm down," I soothed, trying to move over toward the couch, but unable to do so because Sophia had a vicelike grip on my hand. I expected her to pull a jewelers loupe out of her nightgown.
"How do we make her stop?"
"Just walk her, Simon!"
"I don't know how to stand up with her!"
"Is this a two-point-five karats?"
"Call the nurse, she won't stop crying!"
"Babies cry, Neil."
"Someone help us!"
"Go get my baby from the Keystone Cops, would you?"
"Oh, for pity's sake," I said, snatching my hand away and crossing to the couch. "Hey, little miss, it's okay," I soothed, plucking Mary Jane neatly from Simon's arms and cuddling her close. "Shh, shh, it's okay. No more screaming, I promise. Everyone your parents know just happens to be crazy, okay? Shh, shh…"
Related Posts