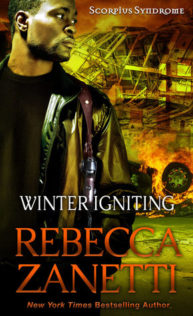 Winter Igniting (Scorpius Syndrome Book 5)
by
Rebecca Zanetti

Series:
The Scorpius Syndrome #5
Published by
Self-Published
on February 20th 2018
Genres:
Dystopian
Pages:
373
Format:
eBook



I received this book for free from in exchange for an honest review. This does not affect my opinion of the book or the content of my review.
This post contains affiliate links you can use to purchase the book. If you buy the book using that link, I will receive a small commission from the sale.
His only goal was survival until he met her...

With nothing to lose, former cop Damon Winter agrees to an undercover op, infiltrating a cult in the dangerous post-Scorpius world. After one look at his new partner, he knows she belongs far away from not only the cult, but from him. She's sweet and kind and has no business being in peril, but she's determined to help. Suddenly, the part he's playing as her man explodes into a passion neither of them had expected.

She hadn't purposefully faced risk until she met him...

April Snyder has survived loss, pain, and uncertainty. Now she's ready to live again. There's nothing left but to make a difference for others, so why not go undercover in the cult? Now all she has to do is keep it professional and ignore her handsome, deadly, overbearing partner, who's too sexy for her peace of mind. Intrigue, risk, and danger make for an irresistible temptation--until enemies close in, threatening everyone they've sworn to protect.
---




Rebecca Zanetti knows how to build the perfect amount of tension. You know something bad is coming.
You are just not sure if…no, when all your worst fears will come to fruition.
The latest novel in the Scoripus Syndrome series features, Damon Winters. Damon is a former member of the LAPD SWAT and post-Scorpius, he is a member of the Mercs. While the Mercenaries try to merge with Vanguard, tensions are high between both sides. Even Jax Mercury is still wondering if he can trust Greyson, the leader of the Mercs, but even Jax has trusted Damon since the first time they met. Jax knows that Damon and Greyson are like brothers, but Damon always seems to play straight with Vanguard in all of their dealings.
We have come to really, really love Damon Winters. He is the first man through the door in any situation. He even agreed to help out Vanguard long before the Mercs came to share space. Damon and his love interest, April, are rare in this new world. Neither of them have been infected with Scorpius. So when the Church of the Pure (those uninfected) set up their own mini-camp/cult within the walls of Vanguard and refused to allow Jax or any of his survivor Lieutenants in to make sure all of the members are there willingly, the former police officer agreed to help and go undercover for Vanguard.
Damon had his eye on April from the first time he was invited in the gates of Vanguard and he plans is taking their undercover assignment really deep under the covers. *wink* April lost her teenage daughter at the beginning of the series, losing a bit of herself as well, and she is still a bit fragile. April is not ready to invest her heart, now or ever again in this world where the illusion of safety is as fragile as a soap bubble, and especially with a man who is always putting himself in danger to protect others. It is a sweet and sexy romance as Damon tries to find just the right amount of push to get April to trust him and give him a chance, even if she wants to call it casual.  But I digress.
There are so many issues that need to be settled in this story, you know something bad is coming. You just don't know where or when. It's like watching a scary movie, knowing a jump-scare is around the corner and trying to brace yourself, but you know when the time comes, you are going to scream anyway.
Let me list some of the worries going through our minds are we read: Will either April or Damon become infected? The psycho president and Vangaurd are both going after the government Bunker in Reno. Who will get there first? What is up with the Pure? Is it a Church or a cult? Who is fathering all the babies? Where are they getting all the food and weapons and how? Why do they want April to join so badly? They know danger lurks outside their walls, but who else is betraying them inside of Vanguard?
I was stressing reading this story. I had to put it aside and go play a few rounds of Candy Crush until I could calm myself and pick it up again.
This was a great story with a perfect balance of action, tension and romance and the foundation was laid for Marcus and Penolope's story and now I can't wait to see what happens next.
---
Favorite Scene:
Jax waved a hand. "He's a problem for another day. Right now, it appears Vanguard and the Mercenaries aren't getting along very well. I kicked the two guys out who attacked you.
"What about Quincy?" Damon snapped, taking a seat.
Jax shrugged. "He said he was just at the wrong place, wrong time. I'm giving him the benefit of the doubt this time."
"He was outside April's place on purpose," Damon snarled.
Jax's eyebrows rose. "So?"
So? She was with Damon, damn it. He bit his lip.
Jax sighed. "Listen. I get it. She has that whole nun-slash-whore thing going on. But, no."
Lava poured through Damon's veins. "What did you just say?"
Jax frowned. "What?"
Damon partially rose.
Greyson raised a hand "Hold it a sec. I don't think Jax meant any insult."
Jax's lips turned down "Of course, no. I adore April. But you have to admit, she'd pretty and kind and great with the kids…and she has a body like Jessica Rabbit."
Damon gave a sharp shake of his head. "What the fuck?"
Greyson's grayish-green eyes twinkled. "That's kind of true."
Damon might have to beat the shit out of both of them. "One of you says a word about her, and I pull out my knife again." It still had blood on it from the last fight.
Jax cut Greyson a look. "He's getting in too deep."
Not deep enough. Damon had had one taste of her, just one, and she was already in his blood. He'd figure out what to do about that later. "Don't talk about me like I'm not here."
"Jesus." Jax shook his head, the motion almost sad. "First, I had do deal with Raze and the shrink while stupid Greyson here kidnapped and seduced Raze's sister."
Grey reared back. "Hey. She seduced me."
Raze calmly reached across the table and punched Grey in the face before settling back down.
Greyson rubbed his chin. "That was hardly necessary, but I get it. She's your sister. But she's carrying my baby, so don't hit me again."
They were a bunch of lunatics. Damon growled low and deep.
Jax continued as if violence hadn't just occurred at his table. "Then Tace and Sami danced around each other for ages making googgly eyes. I had to send them both to our Bunker just to keep from puking. And now? Damon and April. Well, no. I'm just saying no this time. No romance, no fucking, no emotional shit. Got it, Damon?"
Damon finally calmed. "I think you're a complete moron."
Related Posts