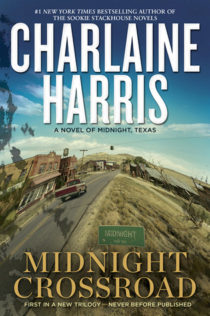 Midnight Crossroad (Midnight, Texas, #1)
by
Charlaine Harris

Series:
Midnight Texas #1
Published by
Ace Hardcover
on May 6th 2014
Genres:
Paranormal/Urban Fantasy
Pages:
305
Format:
Audiobook



This post contains affiliate links you can use to purchase the book. If you buy the book using that link, I will receive a small commission from the sale.
From Charlaine Harris, the bestselling author who created Sookie Stackhouse and her world of Bon Temps, Louisiana, comes a darker locale - populated by more strangers than friends. But then, that's how the locals prefer it...
Welcome to Midnight, Texas, a town with many boarded-up windows and few full-time inhabitants, located at the crossing of Witch Light Road and Davy Road. It's a pretty standard dried-up western town.
There's a pawnshop (someone lives in the basement and is seen only at night). There's a diner (people who are just passing through tend not to linger). And there's new resident Manfred Bernardo, who thinks he's found the perfect place to work in private (and who has secrets of his own).
Stop at the one traffic light in town, and everything looks normal. Stay awhile, and learn the truth...
---



A lot of potential, but this first novel didn't have too much paranormal for a paranormal story.
Charlaine Harris's Midnight, Texas gave me flashbacks of reading old Stephen King Castle Rock stories.   You knew there was something off about the place, but you weren't exactly sure what was happening.  It was a wonderful set up and I can see the potential.  But in this first story, it just didn't live up to that potential which was so frustrating.
We are introduced to the Town through the eyes of the newest inhabitant Manfred Bernardo, who is just moving into the cottage next to the Pawn Shop owned by Bobo.   As Manfred gets to know his new neighbors and the Town of Midnight, we get to know them as well.
The story has a great flow to and whole point of learning the Town bit by bit helps draw out the story in a very natural development.
What bothered me about the story was simply that some of the inhabitants of Midnight, and we will probably eventually learn that all of the inhabitants of Midnight, have special abilities but they were barely touched upon.  I mean to such a degree that I would say why bother?  It could have simply been an interesting story about an odd own and its quirky citizens so why make them supernatural if that is barely touched upon.
For example, the newest arrival, Manfred, is a psychic.  While he has several online sites for which he charges money for and uses psychology rather than his true ability to give readings, we only see him use his real ability once or twice.
His neighbor, Fiji Cavanaugh, is a witch.  She runs a little shop out of her house which gives off more of a wicca vibe and she teaches wicca-type classes, but she is a true witch from a family of witches.  Again, we only see her do one or two "spells."  We don't see Fiji do any impressive witchery.
The only other character we are certain has paranormal abilities is Lemuel Bridger.  Lemuel is a vampire and lives in the apartment under the pawn shop and he works nights, for obvious reasons.  Everyone knows that he is a vampire, but this vampire takes nutrition in the form of either blood or energy.  We never see him feed on anyone's blood, but he does borrow a cup of energy from his new neighbor Manfred.  I don't believe that vampires are out of the coffin in this series, unlike her Sookie Stackhouse series, since there was only an inference that the sheriff shouldn't go trying to wake up Lemuel for questionings since Lemuel is the night clerk and doesn't come out during the day, not "Lemuel is a vampire" and the Sheriff would know he was not available during the day to question.  It also seems that all "others" keep out of sight during the day since they only come to the Pawn shop at night to transact business with Lemuel, not Bobo, the owner.
The other characters introduced, but not with any paranormal indication, are Olivia, who conducts unknown business and is always going out of town.  She seems a little shady and is very flexible with issues such a killing or disposal of bodies.  Is she a spy?  An assassin?  A succubus?  We don't know yet if she is anything supernatural at all.
Bobo Winthrop, the owner of the Pawn Shop and Manfred's landlord.  We know that Fiji has a big crush on Bobo, but recently Bobo's girlfriend, Aubrey, left him and she keeps her crush secret.  The big mystery of the story is that Bobo's girlfriend's body is found, so obviously she didn't just abandon  him as he thought, but the question is who killed her and why.
The Rev is a very big question mark.  He runs a tiny, non-denominational church which has an attached pet cemetery, but The Rev is very quiet and keeps to himself for most of the story.
The other characters are a gay couple, Joe and Chewy and their little pekingese, who run an antique shop/nail salon; Madonna who runs the diner, and her husband, Teacher and their baby; and the odd family that runs the local Gas 'N Go, Shawn Lovell and his daughter, Creek and son, Connor.
No one else but Lemuel, Manfred or Fiji are introduced as anything but normal, human inhabitants of an odd, empty town of Midnight.  The question is will that change in the other two stories which have been released?  I don't know, but I will find out.
This series has been made into a TV series which will be starting soon on NBC called Midnight, Texas. I watched the trailer after I had started the story so that I could picture the characters in my head better. I am certainly going to give it a try. The only thing that threw me off was Lemuel is played by Peter Mensah. In the book, they keep talking about how pale, pale, pale Lemuel is. Peter Mensah is not pale at all and as I pictured Peter as Lemuel, the comments about pale Lemuel no longer fit.
I believe the series begins in May and I am going to try to get to the other two books before that begins. If NBC follows what HBO did to the Sookie Stackhouse series, they will deviate from books with their own plots. You can see from the trailer, they are going to make full use of the paranormal abilities for TV.
Related Posts