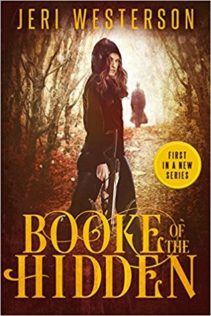 Booke of the Hidden (Booke of the Hidden #1)
by
Jeri Westerson

Series:
Booke of the Hidden #1
Published by
Diversion Publishing
on October 31, 2017
Genres:
Paranormal/Urban Fantasy
Pages:
330
Format:
eBook



I received this book for free from in exchange for an honest review. This does not affect my opinion of the book or the content of my review.
This post contains affiliate links you can use to purchase the book. If you buy the book using that link, I will receive a small commission from the sale.
After a relationship gone bad in California, Kylie Strange moves to rural Maine for a fresh start. But she gets more than she bargained for when she finds a supernatural book bricked into the wall of her new tea shop, Strange Herbs and Teas. As soon as she opens the Booke of the Hidden, the quiet town of Moody Bog suddenly becomes a lot more interesting. First the mysterious and handsome Erasmus Dark shows up unannounced, claiming to be a demon and warning Kylie of untold destruction. She waves him off, until a museum proprietor turns up dead, and the sheriff targets Kylie as a suspect. With the help of Erasmus and a ragtag group of local Wiccans, Kylie unravels the Booke's secrets, and they begin to believe the culprit is someone--or something--much more sinister than a run-of-the mill human murderer. Award-winning author Jeri Westerson crafts a tale of magic, murder, and romance, drawing us into the mystical world that surrounds Strange Herbs and Teas.
---
This Booke took a while to really get started, but am definitely moving on to Booke 2.
Kylie Strange has moved across the country to get away from her ex-boyfriend start a new life in Maine.  She is almost ready to open her new store, Strange Tea and Herbs.  Unfortunately for Kylie, she had to investigate this strange scratching noise in the wall and found that someone had walled up a very old book which simply said "Booke of the Hidden."  When she opened it–really, who wouldn't--and the mystery gets stranger since there was nothing written in this book.
Well, instead of printing Booke of the Hidden on the cover, someone should have printed "Don't open this book or you will release all the demons trapped in it and it will then be your job to catch them and put them back in."  Jerks!  Was is too much to ask for a little more warning before Kylie suddenly became responsible for this odd booke–book–Booke and the demon who is in charge of it, Erasmus Dark, who now somehow thinks she is capable of capturing escaped demons.   She would rather leave demon hunting to TV and the Winchester brothers, but then people start dying around the quaint town of Moody Bog that she wants to make her new home and her very helpful/very annoying demon keeps telling her it is her responsibility to  clean up the mess and put them back in the booke.
Knowing nothing of the supernatural world, Kylie turns to the local wicca coven for help.  They are a motley group and don't really have much power — or at least they didn't until Kylie opened the Booke.  Like everything bad is her fault?   But as the powers of her wicca friends grows, so does the power of the biker gang/demon worshipers who now want to keep Kylie from performing her new demon hunter job.   Maybe there's a Demon Hunting for Dummies out there, but who wants to risk opening another book.
I was contacted the author to review her upcoming release but as it is a continuing series, it meant going back to the beginning to be able to follow along.   The first half was slow moving and if I didn't have two other books to review, I might have tossed it aside for something else in my pile.   But I am glad I kept plugging at it as the story picks up in the second half and I am definitely going to start the next book soon.
Kylie's wicca friends are an odd but interesting mix and her magical crossbow, provided by Erasmus, is much cooler than Daryl Dixon's since Kylie's slaps into her hand whenever she needs it and self load the bolt depending on what Kylie is facing making it just a smidge easier for this fledgling demon hunter.
I have a couple of plot issues which I am not focusing on – such as, if Erasmus is bound to the book and it hasn't been opened for about 200 years, shouldn't he be wearing older style clothes and be freaked out by cars and phones and just about everything else going on around him.  Also, if he only gets loose when the booke is open and the demons are running amok, how hard is he really trying to help her catch the demons?
There is a romantic twist with both the demon, Erasmus, and the local sheriff and both feel a bit awkward so I am not on Team anyone yet.  Erasmus kisses Kylie and then says "we can't to that," then they jump into bed and everyone says "you can't do that."  And she isn't mentioned her walk on the demon side to the sheriff anytime soon.  We will have to see how all that plays out but it seems from the descriptions of the other books that this love triangle is here to stay.
I will definitely let you know how the next books goes.
---
Favorite Scene:
"But I haven't told you the worse of it, about the vortex. I believe that a second succubus was released. Correction. Incubus. One who stalks women.
"Well, crap. Now I've got two after me?"
"Yes. And while one is bent on your destruction, the other is supremely equipped to achieve it."
I dropped my head into my hand. "This is a nightmare."
"If only it were."
"Look," I said, "thanks for telling me, but it really could have waited. It would have been nice to have one night…well…then this kidnapping me…" I blew out a frustrated breath. "Just go, Erasmus, okay?"
"Very well. Its clear my information isn't welcomed." Steam or smoke began billowing from his coat. "How much longer will you be with that oaf?"
"He's not an oaf, and I'll be done when I'm good and ready to be done. And stop…smoldering!" He looked down at himself, and with an exaggerated huff, the smoke dissipated.
And older couple was making their way across the parking lot. They gave us a wide berth and looked on with deep frowns. I nodded politely to them and bit my lip, waiting for them to pass before I laid into Erasmus again. "Now go home!"
"Your home or–"
"I don't care!" I glanced at the couple again as they paused by their car to watch us. "Just go!" I hissed and turned on my heel. My teeth were chattering by the time I made it to the front door, and then I had to march all the way through the restaurant again because I really had to go by now. I passed our table and Ed looked up perplexed. "Made a wrong turn," I said with a sheepish smile.
By the time I made it back to our table from the ladies room, Erasmus was sitting at the extra chair and Ed looked less than pleased. I stood over him, my hands at my hips. Where's a chthonic crossbow when you needed one? "What are you doing here?"
"I want home but I can't get in."
I wanted very much to wrap my hands around his neck, but it isn't good form committing murder with the police right in front of you. "Why don't you use your key?" Code for his appearing-anywhere-he-wanted-to act.
"My key doesn't work. Something seems to be preventing me from getting inside."
The goop! Apparently, Jolene's potion worked too well.
"Oh! I forgot. Um…I added an extra lock what with all the stuff going on around here."
"So I surmised. What am I supposed to do while I wait for this date to be over?"
He made an emphasis on the word "date" that made Ed flinch.
"Well, you can't wait here."
Erasmus got to his feet and the chair screeched back. Diners at the other tables were beginning to stare. "Right. I'll just go then. I suppose I could wait outside the shop."
Ed got to his feet. "You're just going to wait outside her shop all night in this cold?"
"I don't seem to have any other choice."
Ed looked at me pleadingly. "Can't you just give him the new key?"
"It's not a key. It's…a special alarm service." Exasperated, I glared at Erasmus, which seemed to have no effect at all. "Why don't you just go to Doc's?"
Erasmus rolled his eyes and gave a world-weary sigh. "If there is no alternative."
"There isn't," I said, sitting. I gestured for Ed to do that same. "So why don't you go. Go now, Erasmus."
He lifted a disdainful brow but adjusted his lapels and nodded curtly to me. He turned, his duster spinning out around him, and stalked to the exit. By now, everyone was staring at us.
I took a large gulp of my wine. It didn't help.
Ed stirred his coffee for a very long time before he quietly asked, "So…how long is he staying with you?"
Related Posts