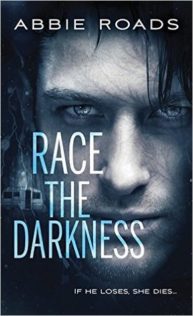 Race the Darkness (Fatal Dreams, #1)
by
Abbie Roads

Series:
Fatal Dreams #1
Published by
Sourcebooks Casablanca
on October 4th 2016
Genres:
Paranormal/Urban Fantasy
Pages:
352
Format:
eBook



I received this book for free from in exchange for an honest review. This does not affect my opinion of the book or the content of my review.
This post contains affiliate links you can use to purchase the book. If you buy the book using that link, I will receive a small commission from the sale.
---



[box style="rounded" border="full"]I couldn't be more disappointed with this book. The description intrigued me as something new and interesting but the story wasn't cohesive at all. Trying to finish it was torture and I barely flipped through the epilogue. I am still left with unanswered questions.[/box]
Cursed with a terrible gift…

Criminal investigator Xander Stone doesn't have to question you—he can hear your thoughts. Scarred by lightning, burdened with a power that gives him no peace, Xander struggles to maintain his sanity against the voice that haunts him day and night—the voice of a woman begging him to save her.

A gift that threatens to engulf them…

Isleen Walker has long since given up hope of escape from the nightmare of captivity and torture that is draining her life, her mind, and her soul. Except…there is the man in her feverish dreams, the strangely beautiful man who beckons her to freedom and wholeness. And when he comes, if he comes, it will take all their combined fury and faith to overcome a madman bent on fulfilling a deadly prophecy.
I participated in an initial spotlight push for this book and the description caught my interest. I searched many times on Netgalley for the review copy until it finally popped up and I downloaded it immediately. I wanted to start reading it right away but kept to my TBR list, which only added to my anticipation of the story.  This only made it more disappointing when I found the story a complete let down.
Overall, the story lacked cohesion. There were several different paranormal aspects to the story and too many tropes going on.  The book jacket describes the story as Xander searching for Isleen to rescue her from her prison. I thought the search would be the main premise of the story, where they would connect mentally until we got this fabulous and much desired meeting at the end.  Oh, no.  Not only does Xander find Isleen pretty much from the start of the story, but it turns out that he has been hearing her pleas for years and every time he does, he drinks himself into a stupor to make it stop. It is only this last time when he goes out for booze that his alter-ego comes to the forefront and the follows the pleas. Meanwhile, Isleen has suffered for about seven years at the hands of her captors. Seven years, and the "hero" she has been pleading to save her was busy getting drunk so he couldn't hear her anymore.
Where to start with all my issues? Let's start with our hero. Xander is an asshole. Everyone describes him as an asshole. He knows that he is an asshole. And we know, after meeting him, that he is an asshole. Now I am certainly not against a curmudgeon hero, watching Mr. Cranky-Puss find a reason to fall in love is fun. Xander still had plenty of asshole moments after they started falling in love.
This story also put insta-love in overdrive. They were almost immediately in love. For Isleen, I would see it as hero-worship since Xander rescued her, but for Xander it brings up another story plot problem I had, and one of the points which was not sufficiently explained.  It seemed that Xander father's second wife was Isleen's grandmother. When she suddenly left him, Xander's father became a broken man. Now Xander was bespelled by Isleen almost instantly. Now, if Isleen and her grandmother were part-fae or part-succubus, I would understanding the males in this family being obsessed with the women of Isleen's family, but they weren't and there was no explanation for this family obsession.  And it was an obsession.  There was not enough time and attention to romance in this story for such a deep love between the characters.   This also brings up the very important reason why I fucking HATED Xander. At one point, he started lamenting that if Isleen were to leave him, that just like her grandmother left his father, he too would be destroyed, and boy, wouldn't it have been better for him if he had never found her at all. Are you kidding me??? He would rather her stayed in a prison where she was beaten, tortured, bled, left naked and starved, than risk her breaking his heart one day. What an asshole?
Why I say this was a mish-mash of paranormal aspects (some of which were not adequately explained) is because we understand the storyline of Xander being hit by lighting, he is disfigured from the scarring which happens to those struck by lightning, and his side-effect is that he can get into your thoughts. He then works as an independent consultant for the police questioning suspects. He asks a question and while they are not answering, they are thinking about the answer to the question, and Xander picks out all the details from those thoughts. There is our paranormal element (#1), or so we thought.
We also have the obsessed with Isleen feature (#2), who, like her grandmother, has visions of the future (#3). Some of these visions come true and some they are able to interfere with and keep from happening.  What does Isleen's precog abilities have to do with Xander's struck by lightning abilities?  Nothing.
Whenever Xander and Isleen are together, they seem to be able to increase their healing abilities (#4). Again this is unexplained and appears to come more from Xander, than Isleen.  When Isleen is rescued and recuperating in the hospital, she recuperates at a much faster rate than her grandmother, age not withstanding, because Xander is with her. There are other examples in the story where being together accentuates their healing abilities. But again, there is nothing as to why being struck my lightning would cause Xander to be able to heal from any injury. Was he supposed to be a superhero?
We also have the bizarre storyline of the fanatics who are holding Isleen and her grandmother captives for years. That whole thing was crazy and I almost hurt myself rolling my eyes so much.
I kept waiting for the jerk-off cop, who hated Xander and was trying to seduce Isleen away just to annoy Xander, to turn into a werewolf or a vampire just to keep the mish-mash going.
This story was getting a lot of buzz and winning a good deal of awards for a debute novel. I really wanted to enjoy it but there was just so much unexplained nonsense going on here and even I, a dedicated paranormal/urban fantasy lover, could not get into.
I get accused by my husband of 5 starring everything, but that is mostly because I normally wouldn't have made it to the end of a book like this. I would have DNF'd it and moved on.  I would have walked away sooner but I was supposed to write up a First Look for Heroes & Heartbreakers. I let them know early that unless there was some awesome revelation at the end, it just wasn't going to write it up. So just to make sure I wasn't missing some blow-your-mind ending, I finished it, and was able to finally toss it away to my great relief.
If you go to Amazon or to Goodreads, you will find many, many raves review of the dark and gritty paranormal story, but I simply do not understand the draw of this one.
My warning to you if you see this book on the self at your local bookstore, I would suggest you back away slowly.  I have been averting my eyes whenever I catch a glimpse of Book 2 on any of the Facebook or promo pages.
Related Posts