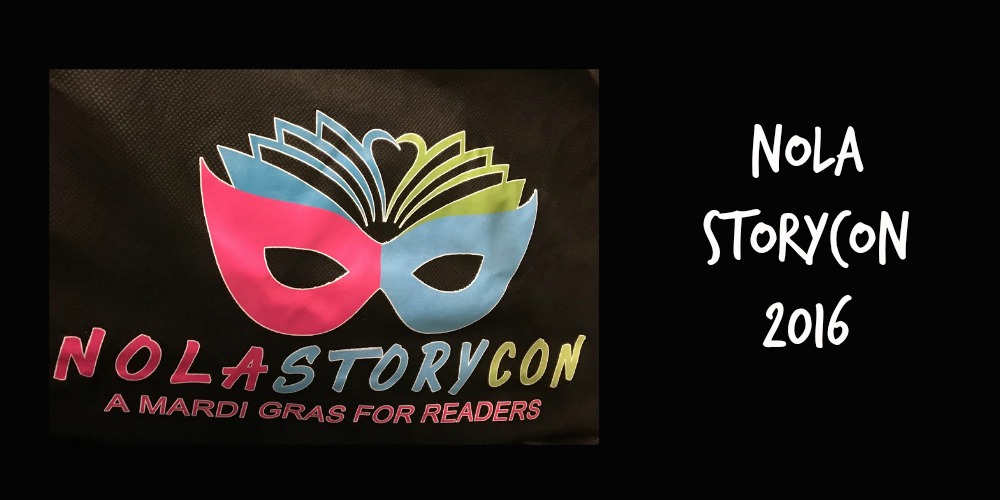 I can't believe it has already been two weeks since NOLA StoryCon.   In 2015, this special reader StoryCon was announced which was being hosted by Melissa Marr, Jeaniene Frost, Ilona Andrews, Kelley Armstrong and Jennifer L. Armetrout, and would be featuring a slew of incredible authors with a special appearance by Charlaine Harris.
We purchased our tickets last October, and it seemed so far away, but time speeds by and we were finally on our way to New Orleans.  Although the events were scheduled for Friday night and all day Saturday, my friend, Christine and I headed out a day early so we would have a little time to wander to French Quarter and do a little sightseeing and shopping.
Once we settled in our hotel, we immediately headed out to Boubon Street.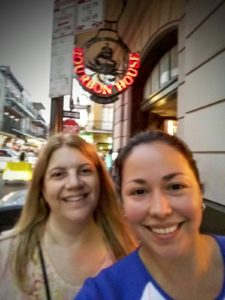 Our original plan for Thursday night included going on a haunted tour which would provide stories of witches, vampires and haunting around the French Quarter. The tour was to start after dark at 8:00 p.m. but as we attempted to walk toward the meeting place, the streets became darker and more deserted and since we promised our families to stay safe and not to do anything stupid, we decided to nix the tour since we were sufficiently scared wandering in the dark.
We got up bright and early on Friday and headed out into the French Quarter. We started our morning with Pecan pancakes at The Camellia Grill. Yummy. I want to find a good recipe and try those at home. Bellies full and coffee'd-up, we headed out to see some of the lovely buildings and Jackson Square, check out the voodoo house and to shop at the French Market.
Walking the streets and seeing the sights mentioned in several series such as Sherrilyn Kenyon's Dark Hunters and Kresley Cole's Immortals After Dark added a little something extra to our author weekend.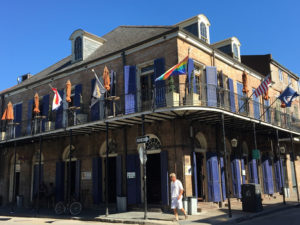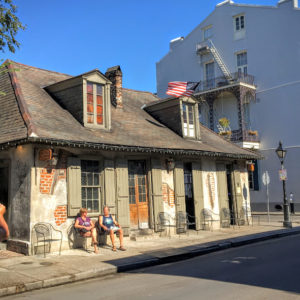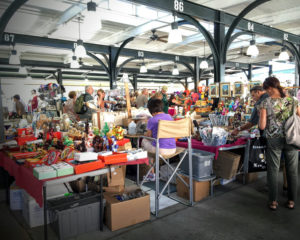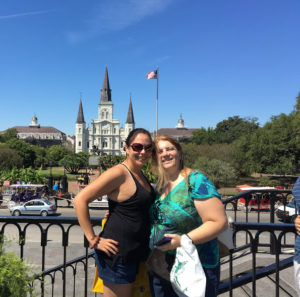 And after some exhausting shopping, we, of course, needed to stop at Cafe du Monde for some Cafe au Late and Beignets. (And yes, we are hiding our powdered sugared shirts behind those bags.)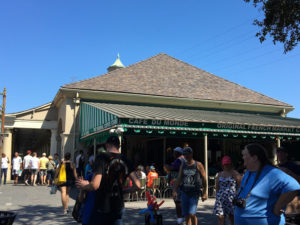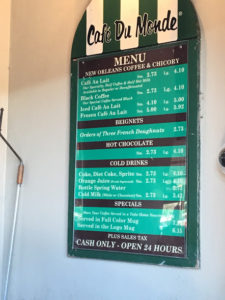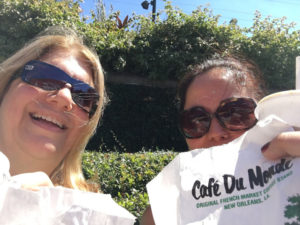 Then it was time to get ready for Friday night's meet and greet, but before that started, Ilona Andrews was having a special release party for Magic Binds. Ilona and Gordon Andrews spoke a little about the series and answered questions. They gave out special treat bags and everyone got a little stuffed Curran. It was wonderful to meet them and chat a bit about their stories.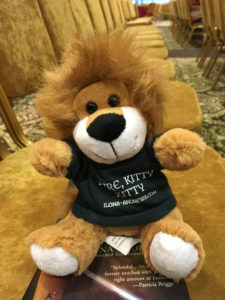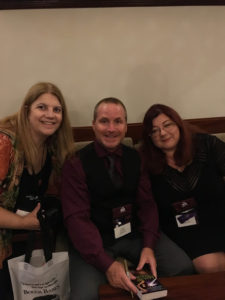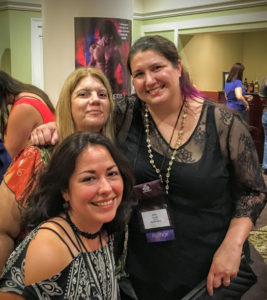 Walking up to favorite authors to have a chat is quite intimidating, but so much fun. Here we are chatting with Molly Harper.
Saturday's agenda was broken into three talks where the authors were asked questions from the audience about their characters, their experiences writing, meeting fans and even some of their own fan-girling (or boying).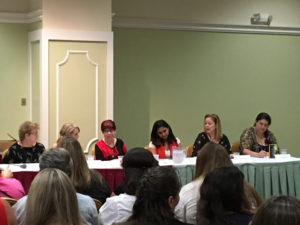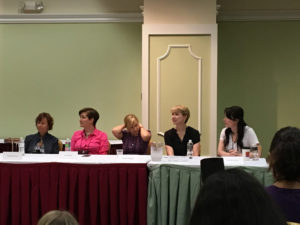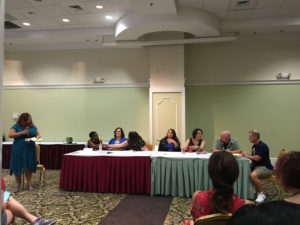 After the panels, it was time for the book signing.  A highlight of all that standing in line is that when I get up to Kresley Cole, she saw my name tag and said she knew me.  (Hehehehe)  
It was a good thing I brought an empty backpack with me.  Not only was it handy for presents and carrying books.  I was able to fill it with all my clothes for the plane trip home since my suitcase was filled with books and souvenirs.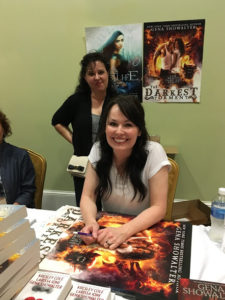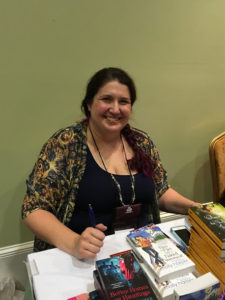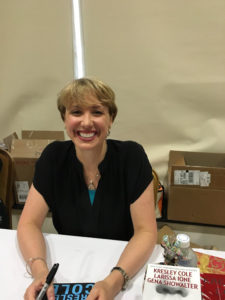 Then it was time to head back to the hotel to change for the big mardi gras celebration.  Rather than costumes, Christine and I picked up some masks in the French Market and headed back for dinner, prizes and more fun with authors.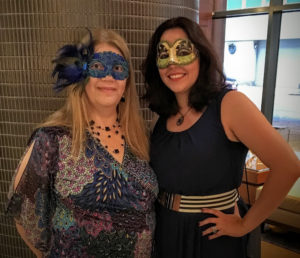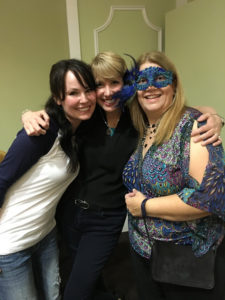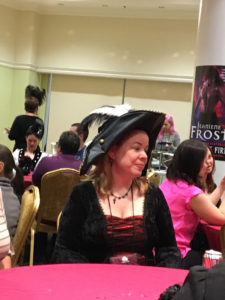 What a fun trip to New Orleans.   We arrived back in New York sick of beignets and loaded down with signed books.  While my luggage was full, I haven't forgotten you guys, and I have a few signed giveaway copies for you so come back this afternoon.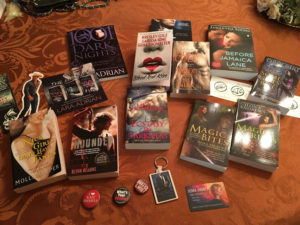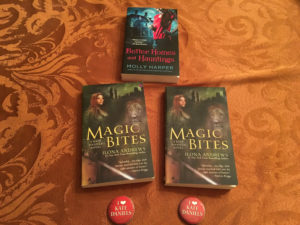 I have already started making plans for a drive down to Atlanta, GA this coming May for the 2017 RT conference.  More to come on that.  Since there is usually 600 authors signing at the RT and since I will not be forced to limit myself to one tiny suitcase, I will start accumulating boxes for carting home all my signed books.  Looks like I will soon need a bigger bookcase.