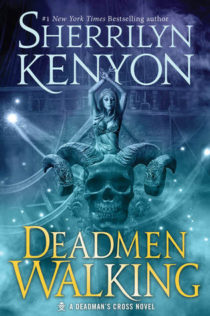 Deadmen Walking (Deadman's Cross, #1)
by
Sherrilyn Kenyon

Series:
Deadman's Cross #1
Published by
TOR
on May 9, 2017
Genres:
Paranormal/Urban Fantasy
Pages:
304
Format:
Audiobook
Narrator:
Holter Graham



This post contains affiliate links you can use to purchase the book. If you buy the book using that link, I will receive a small commission from the sale.
Deadmen tell their tales . . .

To catch evil, it takes evil. Enter Devyl Bane―an ancient dark warlord returned to the human realm as one of the most notorious pirates in the New World. A man of many secrets, Bane makes a pact with Thorn―an immortal charged with securing the worst creations the ancient gods ever released into our world. Those powers have been imprisoned for eons behind enchanted gates . . . gates that are beginning to buckle. At Thorn's behest, Bane takes command of a crew of Deadmen and, together, they are humanity's last hope to restore the gates and return the damned to their hell realms.

But things are never so simple. And one of Bane's biggest problems is the ship they sail upon. For the Sea Witch isn't just a vessel, she's also a woman born of an ancient people he wronged and who in turn wronged him during a centuries long war between their two races―a woman who is also sister to their primary target. Now Marcelina, the Sea Witch, must choose. Either she remains loyal to her evil sister and almost extinct race against Bane and his cause, and watches humanity fall, or she puts faith in an enemy who has already betrayed her. Her people over the totality of humanity―let's hope Bane can sway her favor.
---
Started out really well but then dragged out too many flashbacks.
Please excuse any errors in names or spellings since I listened to the audiobook.
NOTE: I need to start out by saying that while I raced through the first 15 books of the Dark-Hunter series, it has been awhile since I read those and I never went back to finish the series, nor did I read any of the spin-offs. This is important to know since it did effect my overall enjoyment of the story.
The series focuses on Captain Devyl Bane and his crew of the damned. It appears that the Captain and his crew weren't the most upstanding citizens in life. They were all damned upon their deaths but after centuries of torture in Hell, they are now working on redeeming their souls by trying to save the human race from…bad things? I honestly am not certain what their main focus is supposed to be. It isn't the same as the Dark Hunters since Daimons and Apollyians are explained to Marcelina.
I was really enjoying the introduction of the crew and we were learning about Cameron Jack, whose brother was missing and he sent her a piece of a magical sword for her protection. I originally thought that after so much background about Cameron and her brother and the Captain's explaining to Cameron things she didn't know about her own legacy, that Cameron was our romantic heroine in the story, so I was quite surprised to learn that Cameron is the heroine for Book 2. I checked this out when Bane starts spending too much of the story thinking about his history with Marcelina, who is the ship — yes, I mean she is the actual sailing ship — and this started the overkill of flashbacks in this story.
I was shocked about this turn of events since I had already spent hours listening to the introductions of the crew and Bane and Cameron and now we suddenly take a left-turn and it is all about Bane and how he met Marcelina and her sister, Vine (Bane's ex-wife) and specifically his feelings for Marcelina. I was jarred enough by this turn that I stopped to look up who the heroine of the story was because I thought it was going to be Cameron and then Bane was suddenly way too focused on Marcelina. Here's my biggest problems with this story, we stopped the very interesting focus on the crew to focus on just Marcelina and the more I got to know her, the more I disliked her.
I really, really liked Bane. Yes, he was a brutal warlord during his life, but as we learn from the many flashbacks, it was actually Marcelina's people that forced Bane's people to become brutal fighters. But he was kind and loving to his younger sisters and to Marcelina.
I do keep noting that there were too many flashbacks. I mean, I understand that a story with characters that lived centuries before needs to go back and give you an introduction, especially an explanation of how Bane and Macelina's life forces were bound together, but we had to flash back to that…we had to flashback to Bane killing his abusive father…we had to flashback to Bane marrying Marcelina's sister (because he couldn't have Marcelina and they looked similar, which is kind of sad)…and how his ex-wife killed him and why she betrayed him. Is she an ex-wife if she killed him? If we had just stepped back in time and dealt with all the history, that would be one thing, but Bane had to flashback and then Marcelina had to flashback and then Bane again. And the worst part is that we could see that Bane has been in love with Marcelina for centuries, everything he did was for her, but when he comes out and finally says his feelings towards her, she is all "but you are a horrible person and we hate each other." And this was just after she had an epiphany about how well he always treated her. Worse, we see what happened between them and their respective people from Bane's perspective, the good and the bad on both sides, but Marcelina never acknowledges any wrongdoing by her people. For her it is all, "Bane is evil. Bane is wrong." Even though she acknowledges that he has always been overly kind to her. Everything about her made me wonder if Bane was a glutton for punishment. What did he see in her that would cause him to love her?
As I mentioned at the beginning, I haven't read any Sherrilyn Kenyon books in many years, but I do remember a character named Thorn. He has a big part to play in this series and he probably has a big part in the Hell Chaser spinoff of the Dark Hunter series. Since I don't remember him nor do I know any of those spinoff books, I did get a little bored during the chapters about Thorn and the things he had going on which talked about the Hell Chasers. But even this, I could keep up with the gist of the story even if I was not familiar with all the animosity between Thorn and some of the other characters.
My biggest problem with this story was the fact that we started off with the great introduction of characters (except bitchy Marcelina) and I was so interested. Then suddenly the focus became Bane and Marcelina and their flashback-heavy dysfunctional history and the forward momentum of the story was put on hold until we lost all momentum. Then we would come out of a flashback fight a monster. Get some threats from Vine and then back to a flashback. The big showdown at the end was a fizzle because we lost our momentum. There were also some story plot issues that left me scratching my head.
I have Books 2 and 3 of this trilogy, I was offered a review copy of Book 3 which is why I purchased Books 1 and 2. I enjoyed Sherrilyn Kenyon and I liked Holter Graham from his narration of the Alpha and Omega series by Patricia Briggs. I haven't made up my mind whether to keep going or simply return Book 2 and walk away since I do have a back-up of audiobooks to get to already and these are all pretty long.
If we had started this story fresh with the Captain and the Crew and just focused on their task of fighting the sea monster demons that popped up, I definitely would have enjoyed this story. I am not sure whether I lost interest because I didn't like Marcelina (she really was a bitch to Bane) or the fact that dragging on and on about their history took so much away from having an adventure in the current storyline.
Has anyone read this trilogy and is it worth moving on to Book 2?
Related Posts