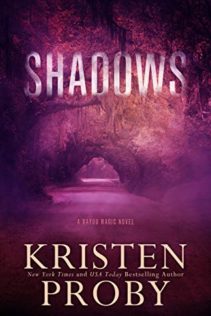 Shadows (Bayou Magic #1)
by
Kristen Proby

Series:
Bayou Magic #1
Published by
Self Published
on October 29th 2019
Genres:
Paranormal/Urban Fantasy
Pages:
324
Format:
eBook



I received this book for free from in exchange for an honest review. This does not affect my opinion of the book or the content of my review.
This post contains affiliate links you can use to purchase the book. If you buy the book using that link, I will receive a small commission from the sale.
---
Kristen Proby gives us a dark thriller with a paranormal twist that will have you keeping the lights on for fear of the dark.
For her first attempt at paranormal, Kristen Proby knocks one out of the park with this paranormal thriller.
Brielle and her sisters, Millie and Daphne, are all sensitive to the paranormal world in different ways. Brielle sees ghosts or shadows. Daphne is psychometric, she can tell things from touching objects. Millie is psychic and a practicing witch as well, making protection potions for her sisters.
Since Brielle can't avoid seeing shadows, especially where she lives in the French Quarter of New Orleans, she uses her knowledge of the area and the spirits and gives haunted tours of the city. On one of her tours she meets, Cassian Winslow, an FBI profiler on vacation. Brielle and Cash keep bumping into each other around the Quarter until they finally go out for coffee. Cash had noticed some odd behavior while Brielle was giving her tour and, to get it over with, she tells him that she can see the shadows of the dead.
Cash isn't certain he believes Brielle, until she is followed home by stronger apparitions of murdered women. These women she can see clearly and knows just how horrific their deaths were. When one, becomes two, then growing to three, Brielle and Cash begin to understand that there is a serial killer out there and these shadows are either trying to get Brielle's attention for her help or to warn her, especially since their growing numbers clearly show that they all bear a striking resemblance to Brielle.
The story is told not only a back and forth between Cash and Brielle, but also from the perspective of the killer. You need to keep this in mind since this allows the story to feature some gruesome, detailed torture. So if you are squeamish, you have been warned.
Kristen keeps a nice balance in the story between the paranormal and the thriller aspects of the story and keeps the tension high while Brielle, Cash and her sisters try to find the killer and save the girls who are still alive.
My only two issues with this story would be, first, the insta-love between Cash and Brielle. I am okay with seeing spirits and doing witchcraft but the sudden, unexplained need to be with someone and knowing instantly that they are the one for you? Please, who is gonna believe that! I like my romance to simmer. And no one in the story, including Cash's brother, had a problem with these two making life changing decisions for someone they have known for a week.
Second, Brielle's sister, Millie, has a witch mentor who lives in the Bayou who is young and blonde. Wrong! Wrong! Wrong! Young and blonde are cheerleaders. Magical mentors are old, black women. I blame Mother Abigail for this prejudice. Who is Mother Abigail? What? Please go read Stephen King's The Stand and come back to me.
While there is an ending to this story, when you are talking paranormal…bad things don't always stay where you put them. And Kristen Proby must have taken a class with Nora Roberts in paranormal writing since there will be six that need to be brought together. That would be the three sisters and their three respective love interests. We have seen this several times in Nora's paranormal trilogies, and those are just the ones I have read, but they always require the magical drawing of all parties to completely defeat the evil at the end of the last story. Other than the full gathering of six, we can only beat back the evil, but it will be back again.
While Brielle and Cash were insta-love, we have an idea of who the other two gentlemen will be and they each have a history with Millie and Daphne so we can jump right into the action since their romances are already simmering.
I am in it for the full trilogy. I can't wait to see how these romances resolve themselves, how the sister's gifts will work into stopping the evil and how Kristen plans to finish this story.
---
Favorite Scene:
My mind is whirling with possibilities. Who the hell could be doing this? "My father's dead. I don't have many male friends. Or friends in general, actually. They usually think I'm too creepy."
"Why?"
My smile is thin. "There's a shadow sitting right next to you. It has one ankle crossed over the other knee, and his arm is resting on the back of the couch as if you two are on a date."
Asher jumps up and rushes over to the kitchenette.
"There's a shadow standing to your left, right in front of the coffee pot. It's been moving back and forth from that spot to the sink and back again since we came into the room. It's as if he's making coffee over and over again. Which he very well might be doing. He could be stuck in a ten-second loop, repeating it over and over again for all of eternity like an echo. I don't know about you, but that sounds like its own kind of hell to me."
"Jesus Christ," Asher mutters, rubbing the back of his neck as if all of the hairs there are standing on end."
***
"Are there any more shadows lurking around here?" Asher asks.
"Dozens," I confirm. "But those are the only two in this room. There's one that stands behind the receptionist. It looks over her shoulder as if its checking her work."
"My office?" Asher asks.
"None in there."
There is one in there but there's no need to scare him.
"Well, thank Christ for that."
Related Posts