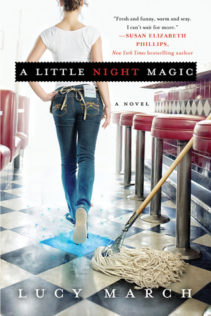 A Little Night Magic (Nodaway Falls, #1)
by
Lucy March

Series:
Nodaway Falls #1
Published by
St. Martin's Griffin
on January 31st 2012
Genres:
Paranormal/Urban Fantasy
Pages:
320
Format:
Audiobook
Narrator:
Amanda Ronconi
Length:
8 hrs 4 min



This post contains affiliate links you can use to purchase the book. If you buy the book using that link, I will receive a small commission from the sale.
In New York Times bestselling author Lucy March's new novel, Olivia Kiskey needs a change. She's been working at the same Nodaway Falls, New York, waffle house since she was a teenager; not a lot of upward mobility there. She's been in love with Tobias, the cook, for the last four years; he's never made a move. Every Saturday night, she gathers with her three best friends—Peach, Millie, and Stacy—and drinks the same margaritas while listening to the same old stories.

Intent on shaking things up, she puts her house on the market, buys a one-way ticket to Europe, and announces her plans to her friends... but then she meets Davina Granville, a strange and mystical Southern woman who shows Olivia that there is more to her life than she ever dreamed.

As Liv's latent magical powers come to the surface, she discovers that having an interesting life is maybe not all it's cracked up to be. The dark side of someone else's magic is taking over good people in town, and changing them into vessels of malevolence. Unwilling to cede her home to darkness, she battles the demons of her familial past and her magical present, with those she loves at her side... and in the cross fire.

Can the most important things in life—friendship, love, magic, and waffles—get her through the worst that the universe can throw at her?
---



A Little Night Magic reminded me of the Molly Harper Jane Jameson/Nice Girls series and more than just because it has the same narrator. This was a light-hearted, fun paranormal story.
A Little Night Magic introduces us to the concept of day magic and night magic. A strange visitor to Nodaway Falls, NY throws a "dirty gym sock" at Liv one night while she is working at CCB (Crazy Cousin Betty's Waffle House). The next thing she knows, Liv is making inanimate objects turn into animals. Apparently, Liv is the magic equivalent of a rent-a-clown making balloon animals.
But she doesn't want to believe anything about magical powers since that is crazy, except it turns out Liv isn't the only one in town with powers. Turns out that Betty has day magic and can make magical pastries appear. Dozen doughnuts, delicious chocolate cake, no problem, just get your order in before nightfall, because Betty's magic stops once the sun sets.
There is also Olivia's hot crush, Tobias, who is more than just amazing at making waffles. He apparently works for the magical equivalent of a PI firm and his day magic is a lot more dangerous than chocolate cake or turning mugs into bunnies.
But even Tobias isn't as dangerous as what has come to their little sleepy town. Someone has night magic and is turning Liv's friends against each other.   This someone with their dark, spooky mist wants Liv's power and if they have to kill her to drag it out of her…well, that's not their problem, is it.  And if Liv doesn't agree, they will simply start destroying the little town of Nodaway Falls one building at a time.
This was a funny, quirky story, but I have to confess that while I found the idea of day magic vs night magic intriguing, I also thought that the magical abilities were limited and some were kind of stupid. Except the ability to whip up pastries instantly. I wouldn't be able to get out of my chair anymore if I could whip up a delicious treats anytime I had a desire.  It's raining doughnuts.  Open up! Num, num.  I couldn't help but wonder why the villian wanted Liv's animal making ability anyway?  It really wasn't that amazing.  Maybe they wanted to make a living doing tricks for kid parties. Every magical in this series is a one-trick pony so it really limits things.
I remembered seeing this one come out a few years ago and when I received a buy one-get one offer the other day from audible, I picked this as my get-one option. I like narrator Amanda Ronconi. She performs the Molly Harper Nice Girl and Werewolf series. This story reminded me a lot of the Molly Harper series and not just because of the narrator. I might pick up the other two books, but I am not rushing to my computer to purchase them.
Related Posts