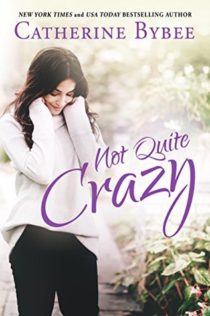 Not Quite Crazy
by
Catherine Bybee

Series:
Not Quite #6
Published by
Montlake Romance
on March 6th 2018
Genres:
Contemporary
Pages:
320
Format:
eBook



I received this book for free from in exchange for an honest review. This does not affect my opinion of the book or the content of my review.
This post contains affiliate links you can use to purchase the book. If you buy the book using that link, I will receive a small commission from the sale.
From New York Times and Wall Street Journal bestselling author Catherine Bybee comes the sixth novel in the warm and witty Not Quite series.

No one drives in New York City. Everyone knows that, including California transplant Rachel Price. But that doesn't stop her from driving into the city. From Connecticut. Every single morning. Rain or shine…or snow.

When she runs the charismatic and good-looking Jason Fairchild off the road, their immediate spark is met with bad timing. There is also one tiny little detail: Jason is her boss. And a woman as intelligent and dedicated to her career as Rachel knows not to date her boss.

As CEO of a private jet company, Jason Fairchild is more used to flying than driving. But if he hadn't chosen to drive home one night, he wouldn't have met the slowest—and most irresistible—driver in the entire metro area. Jason has never had time for love. Or dating. Or really anything that doesn't involve work. But when he finds out that Rachel is the newest superstar in his marketing department, he can't help wondering if fate has other plans…
---
A delightful romance. This is my first Catherine Bybee novel and I would like to check out the rest of this series.
Not Quite Crazy has a delightful cast of characters and the story had a nice flow.
Rachel Price recently uprooted her life from California to a new job in New York City. She is raising her best friend's 15-year-old son after losing his mother to cancer. Emily had no family who would step up and Rachel vowed to raise Emily's son, Owen, as her own. The only problem is Owen's paternal grandparents stepped out of the shadows after Emily's death looking to suddenly take custody of the grandson they have ignored all these years. They are truly strangers to Owen and Rachel hoped that moving close enough for Owen and his grandparents to foster a relationship would stop any attempts to grab custody.
But moving to the suburbs has brought new problems to the California native. What should have been a simple commute home turns into a slippy, white knuckled nightmare as she experiences her first snowstorm.  While Rachel managed to keep her car on the road, the impatient man behind her went off into a ditch trying to get around her. So Rachel becomes the rescuing knight to  a very handsome stranger taking him home until assistance can arrive.
Rachel and Jason are enjoying their instant attraction and simple text flirting, but exchanging last names might have been important especially when Jason turns up at Rachel's first and very important presentation to her new bosses. It seems that handsome, flirty Jason is actually Jason Fairchild, the owner of Fairchild Charters, Rachel's new company.  Office romances are never a good idea.  Rachel needs this job if she is going to hold onto cutody of Owen so she cannot risk it with an unadvisable flirtation with her boss.
Jason hasn't really had any interest in a woman since his parents died leaving him in charge of the company.   He works from sunup to sundown with his only focus being taking care of and growing the family's business.  Meeting Rachel makes Jason want to step away from his desk for the first time in…well, a long time. Yes, there are some real concerns about dating a woman who works for him, but there is no way he is going to let this woman walk about without a fight.
I found this to be a delightful and sweet romance. The story flowed along nicely and didn't drag. There was good chemistry between Rachel and Jason, and while neither force the relationship, they didn't fight it either. Add in young Owen, who clicked with Jason as well, and this gave Jason a reason to push just a little to keep Rachel from hiding behind the employer/employee wall she was trying to erect between them.
Owen was a nice kid and the time he and Rachel spent with his mother while she was fighting the cancer forged a strong bond between them.
I especially like that the author managed to bring in a great conflict which didn't involve either character doing something stupid or toss in the usual overused plotlines.  Our characters were able to grow their romance slowly and then they faced the problem together which I really enjoyed.
This was the sixth book of the series, but I didn't feel left behind even though the two Fairchild brothers and their wives, characters from two of the prior stories, were all a constant in this story. I would like to check out the prior stories in the series and see if the author kept that same well balanced pace between story and romance and avoiding corny, tired plotpoints.
---
Favorite Scene:
Jason followed her into the kitchen.
"Thanks again," she said over her shoulder as she took milk from her refrigerator and moved to the pantry to find the chocolate stash.
"You're welcome."
"I seem to be saying that a lot to you this week."
"I'm glad I can help."
Jason was a big presence in the tiny kitchen space. She had to move around him to reach the cupboard with her mugs, She lowered her voice. "So did he give you any gift ideas?"
"As a matter of fact," he whispered, "there's this–"
"Hey, why is it so quiet in there?"
"We're not being quite," Rachel said, louder than she intended.
"You're not making out or anything, are you?"
Rachel knew her face shot bright red. "Of course not."
"No such luck," Jason said.
Rachel was close enough to push at Jason's shoulder. "Stop it. Don't encourage him."
"Why? It's a nice switch from him grabbing a butcher knife the night I ditched my car."
Rachel moved around him again to reach the stove and warm the milk. "You can tell me later," she managed to say softly enough to avoid Owen overhearing her.
Jason seemed to like the fact that she had to spin around him, since he didn't volunteer to move out of her way. Finally, when she'd veered to the left and then the right one final time, she placed both hands on his shoulders and pushed him to stand against the threshold. "There. This is a one-butt ktichen and yours is one too many."
He laughed. "One-butt? I've never heard that before."
She turned on the flame, poured in the milk. "Only one butt can cook in this kitchen at the same time or you'll fall over each other. Which is why I took out the door. If Owen is walking in and out, it makes it even harder to get around."
Jason looked around the space as if sizing it up. "I wonder if you can take some of this wall down? Open it up a little."
"That's what I thought. It would certainly feel less cramped in here. But I won't have as much cupboard space if I did."
He walked to the back of the room and around the wall to the mudroom and the doorway to the garage and the basement.
"What's this lead to?"
"Basement."
"Finished?"
"No. I wish. I hate it down there. Saw one too many B horror flicks growing up."
Jason smiled. "Mind if I take a look?"
"Knock yourself out."
He disappeared down the basement stairs, the smell of the musty space wafted from the open door.
She was pouring the milk into the mugs when he reappeared. "You have a lot of space under this house."
"Really? I wouldn't know. I run down, put a load of laundry in, and run up before the boogeyman gets me."
Jason started laughing.
"Laugh all you want. The chick always dies in the basement, usually tied to a pole in her swimming suit."
He laughed harder.
"Do you want to drink this or wear it?"
"With threats like that, the boogeyman wouldn't come anywhere near here."
She topped the drink off with marshmalows for Owen, and then looked at Jason. He eyed the white, fluffy sugar drops like a puppy stares down a treat.
She topped Jason's drink off, too.
Related Posts