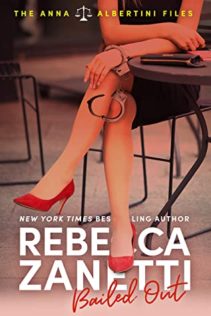 Bailed Out (The Anna Albertini Files, #2)
by
Rebecca Zanetti

Series:
The Anna Albertini Files #2
Published by
RAZ INK LLC
on December 15, 2020
Genres:
Contemporary
Pages:
342
Format:
eBook



I received this book for free from in exchange for an honest review. This does not affect my opinion of the book or the content of my review.
This post contains affiliate links you can use to purchase the book. If you buy the book using that link, I will receive a small commission from the sale.
The Past Never Stays Buried
Anna Albertini is settling into a routine while ignoring the fact that the blue-eyed Irishman she'd allowed into her bed has up and disappeared on her. Two weeks without a phone call is no big deal, but still. With her hottie Italian boss goofing up the prosecuting attorney's office, she at least has something to fix. Until she appears in court, across from her sister Tessa's dirtbag ex. Then she has a mission.
Unfortunately, Anna isn't the only person who wants the ex put behind bars…or in the ground. Which is not a problem until she and a local cop find the ex-boyfriend deader than dead…with both her sister and Aiden standing over the body.
As a prosecuting attorney, it's Anna's job to build a case against Tessa and Aiden. As a sister, it's SO her job to get Tess out of this mess. As Aiden's…what? Lover—girlfriend—friend from the past—it's Anna's job to figure out who the heck he really is. She has to dig out the truth, regardless of her ambitious boss or the cranky cop trying to thwart her every move. Sometimes a woman has to take matters into her own hands, regardless of the consequences.
---
Rebecca Zanetti's Anna Albertini series jumps from great to spectacular with Bailed Out.
I really enjoyed the introduction to the Anna Albertini File's that we received in Disorderly Conduct. I thought it had introduced us to some great characters and the premise could lead to some interesting future stories. But like all first books, it simply laid the ground work for the series and with the release of only the second story, Rebecca has overshot any potential I had anticipated. This story was funny, the plot was exciting with plenty of twists and turns, and the characters are already staking their claim on my favorites list. Okay, maybe this has a little to do with the fact that my guy Aiden is pulling ahead in the romance quadrangle but we also got a little more introduction to all the secondary characters plus a look at some new characters who are adding interest.
In Bailed Out, Anna walks into her sister Tess's apartment to find her sister and Aiden Devlin standing over a dead body with her sister holding a gun, and Anna's her week just goes downhill from there. As a member of the Prosecutor's Office as well as a potential witness, Anna can't get involved in her sister's case. Buuuut that  really isn't going to stop her from asking questions and everyone knows it.  Anna especially want to know as why Tess's abusive ex-boyfriend and Anna's missing boyfriend were both in Tess's apartment to begin with.
Anna isn't certain where her relationship stands with Aiden. She knows that Aiden will always be a hero to her for saving her from kidnapper Jareth Davey when she was just ten years old. Even though she is now a grown woman and a prosecuting attorney, Anna can't equate her Aiden with the Aiden Devlin, leader of the Lordes Motorcycle Club with the rap sheet which includes robbery, assault and a person of interest in murder. She knows in her heart that he is a good person, or maybe that's just her girly parts talking. But she does know that being on opposite sides of the law is just going to lead her to a broken heart…or possibly a lost job when she, the prosecutor, is photographed holding hands with Aiden, the murder suspect.
Anna's former mentor at the Prosecutor's Office, Alice, has been re-hired as a prosecutor, which should take some of the caseload off of Anna, but returned Alice is suddenly out for prove something and makes an enemy of Anna when she tries to put a teenager in prison for property damage caused by his dirt bike.  Anna has always wanted to work for justice but sudden Alice is out for sacrificial blood.
Anna is also walking a fine line between trying to protect some women from their abusive boyfriends in a rival MC and whatever business Aiden is doing.  Aiden has promised that the drug bust has cleaned house and that he and the Lordes were looking at legitimate businesses but Anna isn't certain she is getting the full truth from him.  If he continues to lie to her, can she hold fast against her heart and walk away?
Poor Anna seems to be a magnet to trouble.  I haven't seen a heroine so abused by her author since Darynda Jones's Charley Davidson.   Anna is a smart woman which always puts her on the right track which of course also puts her in the wrong place at the wrong time.  And like Anna I am constantly trying to make Aiden into a good guy no matter what kind of trouble he seems to be courting with the MC and I wonder who can make up the more elaborate excuse for his actions, her or me. 🙂
While Book 1 held promise that Rebecca would give us an interesting new series, Bailed Out more than makes good on that promise.  Anna Albertini is a heroine that should not be missed.
---
Favorite Scene:
So hard to find a scene which didn't give too much away and my favorite required too much explaining.
"Tell me you're not doing anything illegal," I whispered as he reached my doorway.
"I'm not doing anything that's against the law." He didn't turn around to face me, and he didn't move. "Trust me, Angel. That's all I can tell you."  Then he was out of sight.
If was was lying, he was good at it. Or maybe I just wanted to believe him. Yeah. I definitely wanted to believe him. That either made me a moron or somebody who should learn to trust her own instincts. I wish I could say which one was true, and it seemed only time would tell. Time and proof.
I finished with my hair and met him in the kitchen where he waited with a mug of coffee for me. Aiden looked just right in the morning light in my kitchen. "Thanks."
He glanced outside at the sparkling and still quiet lake. "Do you want to grab dinner tonight?"
My heart jolted. "Are you asking me on a date?" I tried for casual and teasing, but my stomach was flipping summersaults.
"Yeah." He tucked one thumb in his jeans pocket in a cute tough-guy move that I'd only seen in movies. "Whoever is after me knows I was on the way here, so it seems dumb to try and keep you at arm's length."  He rolled his neck. "I don't want to stay away from you. All right?" Now he sounded defensive and totally adorable.
"All right," I said softly. "However, considering you're still a suspect in a homicide and I'm a prosecuting attorney, how about we have date night here? You can cook dinner."
He cocked his head to the side, and his eyes warmed. "I'll grill dinner. Deal?"
"Deal." I couldn't wait to tell Tessa about this, but I kept it cool. Or at least, I tried to keep cool. "If we're dating, we can't have so much of a wall between us. It doesn't work for me, and it shouldn't work for you. Why were you in Tessa's apartment standing over a dead body?"
(This part edited out to tease… 🙂 )
"Why didn't you tell the police any of this?" I asked.
He lifted a shoulder. "Why would I? I can't corroborate any of it, and it's not like Pierce wants to help me out.  Plus, I don't like the next obvious question.
I asked it anyway. "What kind of business were you doing with Danny?"
"None. We're old friends from back in the day." His gaze didn't flicker.
"I know you were working with him to the point that you went on rides and camped out together," I said, finishing my coffee. "Lie to me again, and we're done." Sometimes I could sound like such a badass. Which I ruined by yelping when Aiden hooked a finger in my shirt and yanked me toward him, his mouth taking mine.
Hard and fast and deep.
He kissed me for so long that I couldn't think and then didn't care about thinking. Only feeling. Man, he could kiss.
Finally, he released me to let me breathe, and I stared up into his eyes. A darker rim of blue surrounded his Iris. "I won't lie to you again," he rumbled.
What? Lie? Oh yeah. "Good." I straightened my top and tried to get my body under control. We'd gone four times that morning and I was ready for a fifth. Sometimes I wondered if Aiden was even human. "So tell me what you and Danny were really doing together that night."
"We were going for a drink." Aiden wiped my pink lipstick off his mouth with his thumb in a too sexy move that should be filmed. "It's the truth. As for anything else about Danny, I'm under advice of counsel not to discuss my association with him. Protect both of us and stop asking, Angel. We don't have attorney-client privilege.
That was true. "I'm going to keep digging on this."
"How about you stop digging and I promise that if Tessa gets caught up in this, I'll confess to the murder and keep her off the hook?" Aiden turned to rinse out his mug in the sink.
I handed mine over to him. "That ruins my plan of a big wedding and five to seven kids of yours. So, no."
He grinned and turned to face me, leaning against the sink. "It's fun to joke about, but my life doesn't lend itself to that ideal, and you know it."
I lifted one eyebrow in a move I'd learned from my mother. "I figure you're a work in progress, if you want the truth. Or maybe you're just a phase. I don't know yet."
A dimple flashed in his right cheek. "You think I'm a phase you're going through?"
I looked him up and down, truly enjoying our banter. "You're a hot bad-boy. That's a well-known phase for a lot of good Catholic girls."
His chuckle warmed all of the private places he'd explored on me that morning.
Related Posts