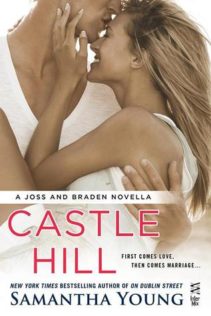 Castle Hill (On Dublin Street, #3.5)
by
Samantha Young

Series:
On Dublin Street #3.5
Published by
Penguin Group (USA)
on December 3rd 2013
Genres:
Contemporary
,
Small Town
Pages:
97
Format:
eBook



I received this book for free from in exchange for an honest review. This does not affect my opinion of the book or the content of my review.
This post contains affiliate links you can use to purchase the book. If you buy the book using that link, I will receive a small commission from the sale.
---
Braden Carmichael never imagined he'd fall as hard and as fast as he did for Jocelyn Butler. He also could not have anticipated how difficult it would be to convince her to give in to love. But now that he has her, he's never letting go. He's got it all planned—the passionate proposal, the dream wedding, the sexy Hawaiian honeymoon—even the perfect family they'll start.

After trying to flee from her painful past, Joss is finally allowing herself to embrace the future. But when things start moving faster than she anticipated, she finds herself panicking over something Braden can't understand. After everything they've been through, Joss is sure that their love can survive even her worst fears. But, this time, she may push Braden too far—and risk losing everything all over again.
---
Joss has kept everyone at a distance since she lost her family in a car accident. If you don't get close to anyone, you can't risk losing them.  Braden Carmichael is a man who gets what he wants and he wants Joss.  Now that he has her, he wants no walls between them.   Braden insists that he will always be there for her and she can always trust in him.   So for the first time since lost her family she has opened her heart and has taken the risk of loving him and his family.
As their connection grows, they believe they will be ready for the hurdles life will throw at them.  Yet, as they begin their married life, they may not survive their first challenge.
A misunderstanding has created a gulf between them.  What they need most is to talk out the situation. But Braden is shutting her out and Joss is loving faith in him.
Neither one will listen or even talk,  since each fears that the other is ready call it quits.   These two people who thought love would overcome fear must learn that this is a war they will always fight or they will lose what is most important to them.
THOUGHTS:
It is always great to go back in a series to a favorite character. I hope more authors will start doing this.  On Dublin Street was a great story, and Braden and Joss made a wonderful couple.
This short story is shows us that a HEA is not that simple.  Joss has issues trusting people and letting them into her heart. That doesn't go away once we hit The End and our H/H admit their love. So when Joss falters under her old feelings of fear of losing someone, she is surprised that Braden isn't there to catch her. Braden is dealing with his own fears at Joss's reaction to some news.
While they are both wrapped up in their own reaction and their fear of hearing what the other has to say, their whole relationship is slipping away from them. They will both need to learn to conquer their own fear and have the courage to listen to their partner's fear or their marriage won't survive longer than their honeymoon.
I also want to give another thumbs up on this series to Samantha Young.  Her presentation of the last short story Until Fountain Bridge was very creative in writing style and this short short was a great example that just because we hit the HEA, doesn't mean life becomes all wine and roses.
Received an ARC from the publisher in exchange for an honest review.
---
Favorite Scene:
He was beautiful.
Just looking at him caused a different kind of ache inside of me.
This was a man who'd fought long and hard to keep me, even when I was bent on self-destructing us. This was a man who understood I could be difficult and stubborn and a little bit irrational (okay, maybe a freaking lot irrational), and still loved me. I wasn't the best at expressing my emotions. I'd spent so long guarding them so I wouldn't be vulnerable to heartbreak that even now I wasn't the gushy, emotional type of girl who could tell her boyfriend every single day that she loved him.
But Braden knew I loved him.
Sometimes I wondered, though, if he knew how much. I wondered if he knew that just watching him sleep made me scary happy, breathless even. I wondered if he knew that he was absolutely, without a doubt, everything to me.
Usually that wasn't something I'd want anyone to know because it meant admitting it out loud, and if I admitted it out loud and then lost that person, then I couldn't pretend I'd never felt so much for them in the first place. But that was the old me. Dr. Pritchard, my therapist, wouldn't be happy with me if I held on to that kind of thinking.
I wouldn't be happy with me.
I snuggled a little closer, just needing to feel the heat from his body against my skin. My eyes dropped to his mouth, his beautiful mouth, which said and did a lot of nice things to me.
I was everything to Braden. I knew this because he told me so. He never made me doubt how much I meant to him.
"Is there a reason you're over there and I'm over here?" he suddenly muttered, his eyes still shut.
I'd jerked back at the sound of his voice but was now smiling as I slid closer. "You're awake," I whispered, wrapping my arm around his waist, entwining my legs with his as he draped a strong arm over my back and snuggled me against his firm chest. I sighed. Content.
"I've been awake for the past ten minutes waiting for you to get your arse back in beside me."
I snorted at his disgruntled tone.
His warm hand slid down my back, caressing my butt before smoothing back up my spine.
"You get what you needed to get down?"
"Mmmhmm. Finished my chapter."
"Good, babe. Now go back to sleep."
I smirked against his chest. "Okay, caveman."
A minute or so passed and just as Braden was drifting back off I whispered, "You're my everything. You know that right?"
His arm tensed around me at my words and then I found myself pushed back, his eyes boring intensely into mine. After searching them, his sleepy mouth curled up at the corners. "You don't need to sweet-talk me to get sex, babe."
My eyes smiled. "Well that kind of knowledge could have saved me months of uncomfortable expressions of love."
Wide-awake now, Braden tightened his arms around me and as he flipped onto his back, he hauled me with him so I was sprawled across his chest, my legs straddling his hips. A note of seriousness entered his gaze as he drew his thumb across my mouth. A shiver rippled through me and I loved that he excited me so much. "I know how you feel abut me. I feel the same way. You never have to worry that you don't tell me enough, okay?"
There he went again, being all perceptive to the point of being creepy psychic mind reader guy.
"You're creepy psychic mind reader guy."
He raised an eyebrow. "Creepy?"
"In a hot way."
"There's a hot way to be creepy?"
"Slide your hand south and creepy will certainly become hot."
Braden's teeth flashed in the dark, his wicked smile jump-starting my heart.
Related Posts