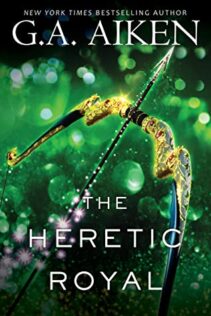 The Heretic Royal (The Scarred Earth Saga, #3)
by
G.A. Aiken

Series:
The Scarred Earth Saga #3
Published by
Kensington Publishing Corporation
on December 27, 2022
Genres:
Fantasy
Pages:
304
Format:
eBook
Source:
Netgalley



I received this book for free from Netgalley in exchange for an honest review. This does not affect my opinion of the book or the content of my review.
This post contains affiliate links you can use to purchase the book. If you buy the book using that link, I will receive a small commission from the sale.
In this riveting, feminist tale perfect for fans of Katee Robert and Nalini Singh, two sisters battle for a single throne, warring factions take up arms, a land is divided, and uncertain allies become very certain lovers. With subtle commentary on today's political polarization, this riveting epic celebrates strong female characters and champions the underdog with diverse, expert world building.
Gods save the queen!
Ainsley Farmerson has always planned to break free of the family business—and the family drama. But what was once farming, smithworking, and bickering over the dinner table has turned into open warfare between sisters. Sides have been taken, lives are on the line, and Ainsley has no doubt which sister must be queen. She'll do whatever is necessary to take down the soulless Beatrix. Even if that means joining forces with angry battle nuns, irritating monks, and overbearing centaurs.
Gruffyn of the Torn Moon Clan has no time for human beings. And yet . . . there is something about the uncontrollable princess that he can't ignore. Maybe it's the way her eldest sisters underestimate her. Or her bravery facing down dragons and mad queens from distant lands. Whatever the reason, Gruff is willing to fight by this human's side. Not only for the entertainment value, but because she's right. Beatrix must never be queen. So whatever he has to do, whoever he has to destroy, Gruff will battle beside Ainsley. Fast. Hard. And with absolutely no mercy . . .
---
I didn't think I would ever finish.  This will be a little ranty.
If you are a fan of Aiken's Dragon Kin's series, you will be deliriously happy about this third book in the Scarred Earth Saga.    I only read the first book and that was about five years ago.   I am embarrassed to say that it took me awhile to figure it out what was going on.   I probably should have figured it out at the end of book 2 when the dragon shows up, but I wasn't thinking cross over series, I was thinking they were introducing new characters.
I loved the first two books in this series.  The characters were bizarre and unusual and the whole thing was funny, as I would expect from this author.  Queen Keeley the blacksmith wasn't what you would expect as a future Queen, and her sister, Gemma, the Battle Monk, wasn't what you would have expected from a Princess.  The choice of the heroes of the story being centaurs goes along with these usual characters.   Both stories were enjoyable and brought in an interesting cast of secondary characters.
When we got to this third story, I wasn't so excited about Ainsley.  Heck, her little sister toddling around with her baby hammer (which I imagined as more like a tiny version of Thor's hammer) was more interesting as she whacked everyone with it.    The most we saw from Ainsley was the fact that she kept climbing trees to get away from her family but of course, we knew that the author would make Ainsley shine in her own book.  So I excitedly grabbed a copy of The Heretic Royal.  The problem was  there really wasn't too much Ainsley in Ainsley's book.   Even for her love interest, we had new centaur Gruffyn of the Torn Moon Clan, who everyone thought was mute since he only grunted at everyone, everyone except Ainsley.  Gruff held the title of Keeper of the Grudge for his Clan as they held a grudge against Caid and Quinn's clan.  I thought a title like keeper of the grudge would warrant further attempts at humor, but it doesn't really come up again.
We spent a lot of time reminiscing with the dragons and being reminded this guy was the scholarly one and that one is very vain and don't forget that Annwyl the Bloody is absolutely crazy.
Again, if you are a fan of the Dragon Kin, this book will make your dance with joy, but I wanted to find out about the final battle with Beatrix.   And…it never came.  What?   I thought this was going to be a trilogy, but is it going to be a series?  I mean Keeley, Gemma and Ainsley have a ton of siblings.  Their parents seemed determine to populate the planet by themselves, but most of these kids are young still.  Are we doing to be fighting this battle with Beatrix for the next decade so they all grow up to have stories of their own?
As I said, because I never read the rest of the Dragon Kin series, I wasn't fan-girling this story.  The majority of this story was just the dragons and mostly, Gemma going back and forth whether or not one party could trust the other enough to make an alliance to defeat Beatrix.   That was it.  I can't even tell you how many pages were dedicated to just Annwyl and Keeley wanting to go off and talk Queen things and discuss what to do but their respective families kept fighting with them that the other party was dangerous and not to trust them.   And on…and on…and on.  That was most of this story plot.
I can't tell you how many times I put this book down and read another or just put it aside to do dishes.   I just wanted to see how the final battle would play out or I would have tossed it aside halfway through.   Once I realized that we were not going to get a conclusion, I was more than  simply disappointed, I was pissed off.
Beatrix was actually the best part of this story even though she was only in about 10 pages of the entire thing but in those 10 pages she let an underworld God know that she was unimpressed with his offer to help and wasn't even impressed by his grotesque visage.  Only Beatrix could turn her back on an evil God of the underworld and yawn.
With so much of this story now split with the Dragon kin characters, I don't think I am coming back for any more of this series.  There is a hostage swap which was finally agreed to where one of the dragons will stay in Keeley's kingdom and one of Keeley's younger sisters is going to the dragon kingdom, so I am going to imagine that there will be at least two more stories before we can have a conclusion but I think unless there is a story featuring the baby hammer-wielder, I am done.   I can't enjoy a story with 300 pages that does nothing to drive the story arc forward.
Related Posts