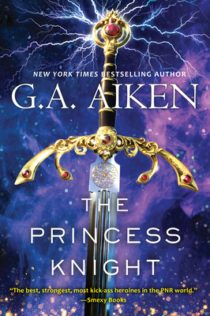 The Princess Knight (The Scarred Earth Saga, #2)
by
G.A. Aiken

Series:
The Scarred Earth Saga #2
Published by
Kensington
on November 24, 2020
Genres:
Fantasy
Pages:
352
Format:
eBook



I received this book for free from in exchange for an honest review. This does not affect my opinion of the book or the content of my review.
This post contains affiliate links you can use to purchase the book. If you buy the book using that link, I will receive a small commission from the sale.
In New York Times bestselling author G.A. Aiken's gripping new fantasy romance series, the Blacksmith Queen must confront armies and pretenders desperate to take her new-won crown. But with the Princess Knight at her side and a centaur warrior clan at her back, she'll risk everything for victory . . .
LONG LIVE THE QUEEN
Gemma Smythe dedicated her life to the glory of battle. With her fellow War Monks, she worshipped the war gods, rained destruction on her enemies, and raised the dead when the fancy took her. Until her sister Keeley became the prophesied Blacksmith Queen, and Gemma broke faith with her order to journey to the Amichai Mountain and fight by Keeley's side.
The Amichai warriors are an unruly, never-to-be-tamed lot, especially their leader-in-waiting, Quinn. But when the War Monks declare support for Gemma's ruthless younger sister Beatrix, the immaturity of her key ally is the least of Gemma's problems. She has to get to the grand masters, dispel their grudge against her, and persuade them to fight for Keeley and justice. If her conviction can't sway them, perhaps Quinn's irritating, irreverent, clearly unhinged, ferocity will win the day . . .
---
G.A. Aiken has assembled quite the cast of characters for this adventure.
This is the second book of a fun new series by G.A. Aiken. The second story features my favorite two characters from the first book. The first is Gemma, sister to Keeley, the Blacksmith Queen. Keeley never understood why Gemma would leave her family to become a nun and dedicate herself to a god instead of her family.  But the simple peace nun part was only a disguise.  My favorite parts of the first story is when Gemma would approach some warriors that were trying to attack them and they would laugh at the nun and she'd rip off the nun cloak and underneath was her chainmail and order markings and suddenly warriors were screaming "War Monk" and running away.   Gemma had risen quickly among the monks of her order but shockingly, not every loves the bristly Gemma, not that she cares at all, but there were some who objected to her rising to a leadership role. Her future among the monks was thwarted when her mentor sends her back to her family to protect them from an assassination attempt by her younger sister, Beatrice, who had delusions of grandeur that she was to be queen of all the land, and who is now married to the Old King's son and rules half of the country, while the Blacksmith Queen rules the other half.
The hero of this story is Quinn who is an Amichais (or Centaur) and he is the brother of Caid (Keeley's lover). Quinn is the polar opposite of Gemma. While Gemma is always on guard and no-nonsense, Quinn can't stay serious for five minutes straight. He is simply incorrigible and the more somber a situation, the more he needs to screw with everyone for no one's entertainment but his own.  Quinn is the youngest son of the family and will likely never be a leader to his people.  Hence he has no real responsibilities and as the baby of the group, he never has any worries.
Quinn has made himself part of Gemma's protection. Protection that a well-trained War Monk doesn't need but as Gemma is a princess now to her sister Keeley's throne, she find herself mostly being tossed back behind Quinn as Gemma is usually out front in any battle with sword in hand. Romance-wise, Gemma and Quinn's connection is more laid back. We have seen this dynamic in prior G.A. Aiken/Shelly Laurenston stories, especially her honey badgers, where the hero is very laid back and really just follows around the heroine who is kind of bat-shit crazy in a hold-my-hoops, already ready to fight way.   His job is to guard her back while she's kicking butt and taking names and maybe, sometimes, stop her before she tries to take on someone too big to battle alone.  While there is no grand gesture romance or passionate longing looks, we do have Quinn always ready to stand beside Gemma in every battle she gets into or starts…mostly starts.
In The Princess Knight, someone is attacking and killing the various religious orders in the country. Monasteries, churches, temples, etc. are all being burned and the leaders inside murdered. Keeley always feels the need to protect everyone, which makes her a perfect Queen.  So regardless of the fact that none of these factions and their various gods get along,  Gemma agrees to locate surviving witches, peace monks, temple virgins, divine assassins and the like and offer them a place a safety with Queen Keeley. Gemma also wants to go take care of the War Monks of her Order, none of whom knew about her assignment to protect her family, and even knowing they believe Gemma abandoned her duties, she goes to offer them safety with Keeley.
And while Gemma is out and about the countryside, she decides its time to visit little sister Beatrice's castle to find out whether or not she is behind the attacks on the religious orders and even if she isn't (and who else could it be) but knowing Beatrice, that evil brat is to be up to something, and Gemma is determined to find out what before Beatrice and  her army sneak up to Keeley's door. Of course, the various religious misfits Gemma and Quinn have collected want to come along.  Well, maybe having a common enemy will keep them from killing each other.
This series is just so fun and it is an interesting twist on the usual G.A. Aiken/Shelly Laurenston stories but like most of her stories, the cast of characters is such an eclectic collection of oddballs that you have to keep watching just to see what they are going to do next. We meet some more crazy characters at the end so I am not sure who will be the focus of the next book.  Whether it will be another little sister since Gemma's parents can't seem to stop procreating, or one of the new characters just tossed it, we will need to wait and see.
---
Favorite Scene:
"And you expect us to trust you? A traitor?"
"I'm not a traitor, but in this instance, you don't have to trust me. You can trust the queen."
"Which queen? I've heard there are two."
"Yes, but one comes with the son of the Old King attached."
"And the other comes with the Amichais and a treacherous cow."
Quinn glanced over at the wall. Saw a steel spear he liked the look of; that he could do a nice bit of damage with. Since it was starting to seem as if that would necessary.
But he'd barely moved when the doors to the Alcove of Annihilation were flung open, startling everyone inside. Three monks–appearing as if they'd just stepped off a battlefield–stormed inside. They pushed past the monks attempting to stop them and crowded around Gemma.
"Wait–" was all Gemma got out before she was grabbed by the scruff of her chainmail and yanked back toward the doorway.
"Brother Katla!" the master sergeant yelled from his mighty dais.
"Back off!" was all one of the monks barked before absconding with Gemma.
Laila immediately went after Gemma, and the rest of their unit immediately went after Laila. The monks attempted to stop them, as well, but Farlan and Cadell easily shoved them aside so the rest of them could get through without much bother.
They didn't have to go far. The foursome were standing right outside the doors. A dark-haired woman, a little taller than Gemma, threw out her arms.  At first, Quinn thought it was an open challenge. But then she said. "So where have you been?"
"Before you start yelling–" Gemma began.
"I'm not yelling."
"You have to let me explain, Katla."
"I don't have to do a gods-damn thing." She gestured to Gemma. "She's all yours, Kir."
"Katla, no!" Gemma cried.
The big man quickly moved forward, wrapped his arms around Gemma, and lifted her off the ground while he…sobbed?
Quinn leaned around the large man so he could look Gemma in the eyes and mouthed, Is he crying?
Gemma stroked the big monk's shoulders and soothed, "It's okay, Kir. It's okay."
"But you just left!" the big monk openly sobbed. "You just left us!"
He is! Quinn continued, shocked. He's sobbing!
Stop it! Gemma mouthed back.
But I love him. I love him, Gemma.
Quinn moved around so he could study the hugging monk. He was huge. Wide as a house. Quinn had hunted bears that were smaller. He arm-wrested dwarves that weren't as wide. But those big blue needy eyes filled with copious tears utterly confused Quinn. As did the nasty scar across his neck that said this sobbing monk had almost lost his life at least once. When their eyes met, Quinn smiled at him.
"Hello."
The hugger scowled. "Who are you?"
"I'm Quinn. I'm traveling with Gemma. Part of her protection unit."
"Brother Gemma needs no protection."
"That's very true. But she's Princess Gemma now."
"You're a princess now?" the subbing monk asked Gemma.
Gemma didn't respond. She was too busy crawling onto the sobbing monk's shoulder so she could get into what appeared to be a whispering fight with the female monk called Katla. Quinn couldn't make out what they were saying to each other, but now Gemma was balancing herself on that massive shoulder so she could gesture at the female.
Unable to help himself, Quinn said to the monk, "You know what I'd like, Brother?"
"What's that?"
Quinn threw his arms open. "A hug."
The monk grinned and threw his own arms open, sending Gemma flipping off his shoulder to the ground as the two males happily embraced.
"Gods-dammit, Quinn!" Gemma exploded from the floor.
"What? I was getting a hug."
Related Posts