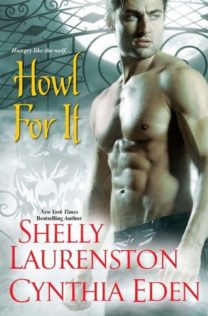 Howl For It (Includes: Pride, #0.5)
by
Shelly Laurenston

Series:
Pride #0.5
Published by
Brava
on August 28th 2012
Genres:
Paranormal/Urban Fantasy
Pages:
336
Format:
Paperback



I received this book for free from in exchange for an honest review. This does not affect my opinion of the book or the content of my review.
This post contains affiliate links you can use to purchase the book. If you buy the book using that link, I will receive a small commission from the sale.
---
"Like A Wolf With A Bone" by Shelly Laurenston
Quiet little Darla Lewis couldn't be happier when the most-feared member of the South's rowdiest pack kidnaps her. A girl gets real tired of being overprotected by her own shifter family, and there's nothing like an oh-so-big bad wolf to start a pack feud, unleash her instincts–and have her surrender however and whenever she wants. . .

"Wed Or Dead" by Cynthia Eden
Gage Ryder knew his human bride had a wild side. But spending their honeymoon night on the run from hunters out to finish him and his pack is sure not the kind of fun he was looking forward to. No problem–Gage will do whatever it takes to lay bare Kayla's secrets and find the truth. If he can keep from being captured by his own seductive game.
---
In this wolfy anthology, we are taken for a run through the woods by our big, sexy wolf protectors.
"Like a Wolf with a Bone." Shelly Laurenston gives us a sexy wolf protector in Egbert Ray Smith. Eggie is a marine, part of a special division. Eggie specialty is killing. While home visiting his family, his brothers' sister-in-law Darla Mae, the youngest Lewis sister, is targeted by a group of human killers. Now Eggie is not much of a people-person, but he has taken it upon himself to protect Darla from those who are hunting her, and he'll do whatever is necessary to keep her safe.
"Wed or Dead." Cynthia Eden takes us to the quicky Vegas wedding of wolf shifter Alpha Gage Riley and human Kayla Kincaid. Gage knows Kayla's little secret. He knows that she is a Hunter and that she's been sent in to get close to him to kill him. But he has plans of his own and they include having a bite of the delicious Kayla before he springs a trap of his own. When Kayla refuses to kill Gage, he now needs to protect them both from her own people.
These were both quick reads, great stories that drew you right into the action, and very enjoyable. They featured strong, sexy heroes and no nonsense heroines who can really hold their own. I like both writers and have read several of Shelly's stories as well as Cynthia's. These plots were simple ("protect the girl") but very enjoyable and they had a lot of action (and hot wolf shifters). You can read them together or just enjoy each as a quick read between other books.
My only complaint – "Eggy" really??? A hot, sexy hero named Eggy??
Received ARC from Kensington Books. Thank you.
---
Favorite Scene:
Her hand clenched around the knife's handle. Gage was supposed to be dangerous. Lethal. The strongest paranormal badass to claim Vegas in years.
Because he was a paranormal. The supernaturals were real and breathing…and many were hiding in the shadows of Sin City.
He was the perfect target right then. Tousled hair. Sated male. Defenseless. It would be so easy. Just lift the knife. Drive the blade into his flesh.
"Oh, I think I already know all the secrets you have, sweetheart," he murmured, his voice a low and sexy growl.
Kayla shook her head. Damn tears. "No, you don't—"
In a flash, he rolled toward her. He leapt up and came at her with claws ripping from his fingers.
Not defenseless.
Claws…because Gage Riley wasn't human.
Shifter.
His blue eyes shined at her with the light of the beast and he put those too-sharp and too-long claws of his at her throat.
The move actually seemed only fair, considering that she had her knife pressed over his heart.
"Hello, hunter," Gage whispered.
Her own heart shoved hard against her chest. "How long…" Kayla licked her lips. Why was her mouth so dry? "How long have you known?"
He brought his head in close to hers. Inhaled her scent. Pressed a light kiss to her cheek. Did he taste the salt of her tears? "Since the first time you walked into my bar."
What? Kayla shook her head, lost, confused. He'd known since then, and he'd still—
His claws skated lightly over her throat. He didn't break the skin. Didn't hurt her. But she knew one slice would cut open her jugular.
"Are you really going to kill me now?" Gage asked as he pulled back to study her with a cocked head. "On our wedding night?"
She was supposed to.
That was her job. As a hunter, she was the one sent out to keep the humans safe in this world. When a supernatural crossed the line and started killing, her team was sent in. They delivered justice. They were the heroes.
Only she didn't feel like any kind of hero right then.
Killer.
"Was screwing me part of the deal?" Gage demanded as his voice roughened.
Her eyes slit at that. Maybe it was deserved, and maybe it damn well wasn't. Instead of stabbing him, she wanted to punch him right then.
"If so, Gage continued with a shake of his head, "that was a rather fatal mistake."
They were at a supernatural standoff. Claws versus silver. If he'd just sheathe his claws…
"Cause now that I've had you…" Gage smiled at her, and revealed his growing canines. sharp "I think I want another bite."
Related Posts