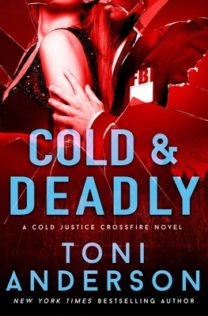 Cold & Deadly (Cold Justice #11; Crossfire, #1)
by
Toni Anderson

Published by
Self Published
on February 12, 2019
Genres:
Crime Drama
Pages:
400
Format:
eBook



This post contains affiliate links you can use to purchase the book. If you buy the book using that link, I will receive a small commission from the sale.
Hostage Negotiators can talk themselves out of anything—except falling in love.
FBI Supervisory Special Agent Dominic Sheridan is an accomplished expert in the Crisis Negotiation Unit. Practiced, professional, used to dealing with high-stake situations under tense conditions, Dominic is a master at manipulating people. Everyone, that is, but the headstrong rookie agent bent on destroying her fledgling career.
As a child, Ava Kanas put her life on the line when the mob executed her father. Now someone has killed her mentor, the man who inspired her to become an FBI agent—and she's the only one who recognizes it was anything but a tragic accident.
When another agent is murdered and Dominic nearly dies, it becomes obvious a serial killer is targeting the FBI. Together Dominic and Ava search for clues in the investigation, all the while fighting a forbidden attraction that will complicate everything, especially when the predator sets their sights on Ava.
In this exciting crossover series, Toni Anderson introduces new characters alongside some reader favorites. Read the thrilling Cold Justice - Crossfire series today.
---
A surprise find which I think will lead me into a whole new series.
Special Agent Ava Kanas might be a rookie age but she knows beyond a doubt that her mentor, Van Stamos, did not take his own life. The problem is no one will believe her. After someone starts shooting at the agents at the funeral, Ava makes her beliefs known to the Director, which of course makes her boss look bad. That's Ava's biggest problem. She wants to be a team player but she doesn't have the patience to wade through some of the bureaucracy. They told Ava specifically she cannot investigate Van's death, but she isn't going to let a good man's reputation die with him. She intends to prove that Van's death was no "accident" while the big bosses try to sweep the whole thing under a rug.
Supervisory Special Agent Dominic Sheridan is Ava's total opposite.  Sheridan is a seasoned agent and his job as a hostage negotiator means he always needs to keep a cool head and be ready to wait things out. Van was also a mentor to Sheridan once upon a time. While he wants to believe Ava that Van did not commit suicide, Sheridan knows that there aren't always visible signs to give someone away. In fact, he is just getting tired of all the funerals that he has had to attend in the last year…which makes him realize that there have been way too many fatalities from his former FBI Office. But some of those deaths were nature and some were accidents, weren't they? Could there be a connection? Could someone be targeting FBI agents? Or is Dominic just channeling some of Ava's desperation to make sense of Van's death.
Ava and Sheridan start investigating these sudden deaths on their own, even after being warned off by their boss, which might just lead to an amazing break in the case or might mean they lose their jobs.
I have been trying to grab some books from authors that I haven't read before and sadly, I have been pretty disappointed with the stories I have read so far. This was on sale last month for $.99 (big spender that I am) and the description intrigued me. I decided to give it a try between deadlines and was happily surprised by how gripping the story plot was and how the characters drew me in. We had an interesting underlying story of FBI agents being targeted and while we did have small chapters from the POV of the killer, there really wasn't much to give away who they were and I found myself quite surprised when we got to the ending.  Just like in reality, Van's death and the possible FBI target (which they weren't supposed to be investigating) isn't the only case which Ava and Sheridan need to focus on so we are constantly on the move in this story.
We see the bureaucracy in the FBI at work in the different ways Ava and Sheridan are handled/disciplined by the higher ups in the agency. Ava is a rookie agent from a working class family who always wanted to be an FBI agent.  Sheridan is a seasoned agent but he also has a father who is a governor and a godfather who is the President. When things go sideways for them, Ava is threatened with suspension and Dominic is threatened with being reported to internal affairs. Even though no one would have been investigating these suspicious deaths without Ava putting her neck out with the higher ups, but her astuteness is considered a discipline issue for a female rookie.  In fact, it is Ava's ingenuity and her stubbornness that gets the right things happening time and time again.
The only thing I didn't like is after constantly reminding himself that he was almost like her boss and getting involved with a rookie was inappropriate and would not been good for her career or his, Sheridan still managed a what can you do and they end up having sex in a questionably inappropriate place and time.   It's like me telling myself that I shouldn't eat the chocolate cake, while I am shoving a piece in my face.   He tells himself he has more control and hold himself to a higher standard but oops, gives in at the first opportunity regardless of any consequences.
We also meet some other characters who came in to assist when things heat up in the investigation who are from prior novels in the series which I am sure made fans happy and who intrigued me enough to want to read more on them. Surprisingly (not really) it appears that I already have copies of Books 1, 2 and 5  in the Cold Justice series which I must have purchased at some point.    Cold & Deadly is the first book in a spinoff series or would be book 11 if considered part of the original Cold Justice series. I am going to pop the other books up in my TBR list and see if the rest of the series can bring as much excitement as this one.
Related Posts