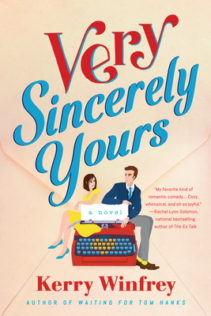 Very Sincerely Yours
by
Kerry Winfrey

Published by
Berkley Books
on June 15, 2021
Genres:
Contemporary
Pages:
384
Format:
eBook



I received this book for free from in exchange for an honest review. This does not affect my opinion of the book or the content of my review.
This post contains affiliate links you can use to purchase the book. If you buy the book using that link, I will receive a small commission from the sale.

A charming and heartwarming new romantic comedy by the author of Waiting for Tom Hanks, Kerry Winfrey.

Teddy Phillips never thought she'd still be spending every day surrounded by toys at almost thirty years old. But working at a vintage toy store is pretty much all she has going on in her life after being unceremoniously dumped by her longtime boyfriend. The one joy that she's kept is her not-so-guilty pleasure: Everett's Place, a local children's show hosted by Everett St. James, a man whom Teddy finds very soothing . . . and, okay, cute.
Teddy finds the courage to write to him, feeling slightly like one of the children who write to him on his show. He always gives sound advice and seems like he has everything figured out--and he pretty much does: Everett has a great support system, wonderful friends, and his dream job. But there's still that persistent feeling in the back of his mind that something's missing.
When a woman named Theodora starts writing to Everett, he is drawn to her honesty and vulnerability. They continue writing to each other, all the while living their lives without meeting. When their worlds collide, however, they must both let go of their fears and figure out what they truly want--and if the future they want includes each other.
---
All stars go to Everett. He was sweet and adorable and makes up for my lack of interest in Teddy.
I know characters need some kind of growth to give a story interest, but Teddy doesn't really achieve it even by the end of the story.  Theadora "Teddy" Phillips used to be a daredevil kid but a trauma in her childhood left her letting everyone make her decisions for her. When she went off to college, she was rudderless until she meets her boyfriend and decides to "major in Richard." Ugh!  That was sad enough but as you can imagine, he eventually decides he wants something more  interesting and asks her to leave.   Like right now as he is eating the dinner she just made him.   And…she does.  She leaves the house that night, bringing nothing with her and having nowhere to go. Teddy goes to crash with friends but she even goes running back when Richard calls her saying he misses her (read: he's hungry and he misses her having food ready for him when he gets home). Teddy does realize her mistake and she is ashamed of herself. Thankfully, she has some good friends until she gets her life together and help her to do things that are out of Teddy's comfort zone so she can figure out what she wants to do with her life.
One of Teddy's little secrets is her love of a local kid's show, Everett's Place. Everett is so sweet and he is always so positive with the children who write to him with their questions or problems. He also tries to bolster their self confidence. Since Teddy is severely lacking in self-confidence, she writes an email to Everett telling him how much she enjoys his show and telling him a bit about her life. Everett's producer intended to delete that email, not forward it on, but since she did, Everett writes back to Teddy which begins their cute email romance.
Like I mentioned, Teddy was a bit too sad sack for me and while she is no longer a doormat by the end of the story, she still didn't know what she wanted.
What kept me interested is Everett and the sweet way he was with the kids.   Opposite to Teddy, Everett has always know he wanted to do something like the show he works on now which is kind of inspired by Mr. Rogers. His plan from childhood was to attend a certain college in Connecticut where he could master in puppetry.   It is Everett's friends who try to convince him that he needs a life outside of Everett's Place and his puppets.  I was also intrigued by his kid sister who was about 18 years younger than he was but who acted more like a mini adult. In fact, Everett and his entire family were the most interesting part of this story even though it was mostly told from Teddy's POV.
The story had good moments but they were mostly focused on Everett.
---
Favorite Scene:
Dear Teddy,
I would like to clarify one thing before tonight: I do own drinking glasses that aren't Muppets themed and from the 1980s. In fact, usually I drink out of perfectly normal adult glasses.
Mostly because the Muppet glasses are collectibles and I don't want to break them.
Do you have a specific place you want to ride? A trail? The sidewalk? A street? The Tour de France (may be difficult logistically, since you aren't registered and it isn't occurring right now but I think I could figure something out)?
Drinking out of a basic, boring clear glass.
Everett.
Dear Everett,
My roommates' favorite mug is one that has a picture of a dachshund and says "DON'T SQUISH THE WEEN," so I'm not really in a place to judge anyone for their choice of drink ware. Seriously, we all fight over the mug, but this morning I won.
As tempting as the Tour de France is, I wouldn't want to show anyone up. Likewise, I didn't want to be hit by a car on the road or a fast jogger on the trail, so let's try a parking lot. I know a good, particularly empty one that's usually only occupied by teenagers, attempting to practice for their driver's test by maneuvering around orange cones.
Drinking out of an inappropriate mug,
Teddy
Dear Teddy,
Thank you for including a picture of the mug. It's adorable, perhaps made even more so by the juxtaposition of the horrific sentiment.
A parking lot it is! And this way, no matter what happens on your bike, at least you'll be able to heckle teenagers who don't know how to drive yet.
I'm assuming you know how to drive a car or I'm going to look like a huge asshole,
Everett
Dear Everett,
I do know how to drive a car. You'd think that would be scarier than riding a bike, but what can I say? I like to do things a little bit differently, i.e., I like to let a childhood fear of bicycles follow me into adulthood.
Uniquely,
Teddy
Dear Teddy,
Well, prepare to conquer that fear. Should I see if I can affix training wheels to the bike? You know, for safety/reassurance purposes?
Helpfully,
Everett
Dear Everett,
Please don't. The teens will point and laugh. I need them to think I'm cool.
Pulling down my sunglasses,
Teddy
Dear Teddy,
See you tonight. I can't wait.
Everett
Related Posts