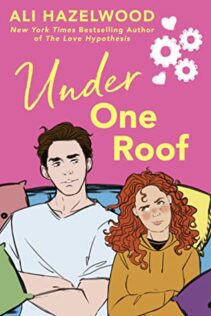 Under One Roof (The STEMinist Novellas, #1)
by
Ali Hazelwood

Series:
The STEMinist Novellas #1
Published by
Berkley
on February 8, 2022
Genres:
Contemporary
Pages:
112
Format:
eBook
Source:
Amazon



This post contains affiliate links you can use to purchase the book. If you buy the book using that link, I will receive a small commission from the sale.
From the New York Times best-selling author of The Love Hypothesis comes a new steamy, STEMinist novella….
A scientist should never cohabitate with her annoyingly hot nemesis – it leads to combustion.
Mara, Sadie, and Hannah are friends first, scientists always. Though their fields of study might take them to different corners of the world, they can all agree on this universal truth: when it comes to love and science, opposites attract and rivals make you burn….
As an environmental engineer, Mara knows all about the delicate nature of ecosystems. They require balance. And leaving the thermostat alone. And not stealing someone else's food. And other rules Liam, her detestable big-oil lawyer of a roommate, knows nothing about. Okay, sure, technically she's the interloper. Liam was already entrenched in his aunt's house like some glowering grumpy giant when Mara moved in, with his big muscles and kissable mouth just sitting there on the couch tempting respectable scientists to the dark side…but Helena was her mentor and Mara's not about to move out and give up her inheritance without a fight.
The problem is, living with someone means getting to know them. And the more Mara finds out about Liam, the harder it is to loathe him…and the easier it is to love him.
To listen to Sadie and Hannah's stories, look for the novellas Stuck with You and Below Zero, coming soon, available first on audio!
---
This not my favorite of the three short stories simply because it didn't have a real conflict.
In Under One Roof, Mara's mentor dies and leave Mara her 1/2 interest in a house in Washington, DC. It just happens that Mara's new post-graduate job is with the Environmental Protection Agency in DC. She decided that since she owns half the house, she will live there until she gets her feet under her and pads her bank account so she can find something else she might like. She sends an email on ahead of her announcing this to the co-owner of the house, Liam Harding.
Mara, not being much of a people person, is shocked at first that Liam isn't excited about her arrival. In fact, he doesn't understand why his aunt would leave half of his house to a stranger, especially one who decides she is moving in with him without so much as a conversation asking if he has any issues with that news.
This story starts off with an obvious conflict of two people who aren't friends and who misunderstand each other's relationships with the now deceased Helena. They are forced to live together which is something that could have simply been handled better if Mara contacted him directly and indicating she needed a place to live short-term and since she part-owed the house, she wanted to stay there for a time. Obviously, Liam doesn't want Mara, a complete stranger, moving in and he actually offers her a lot of money to sell her half of house, which she refuses to do on principle. He doesn't understand why, if it is about saving up for her own place, she won't sell out to him. Mara is holding onto the house for sentimental reasons as Helen gifted it to her but she isn't going to try to explain herself to Liam. It is a lot of misunderstandings. Regardless of he desires, Liam allows her to not only move in but he doesn't aggressively work towards forcing her out. He accepts that she has a right to be there and mostly tries to avoid her.
As time goes by Liam and Mara strike up a friendship, watching The Bachelor and bad SciFi movies and actually look forward to hanging out together. After they establish their friendship and an almost domestic routine to their lives together, Mara fears that Liam overhears her phone conversation where she tell her friends that she wants Liam to bend her over that real nice kitchen counter. First of all, Liam either didn't hear it or was pretending he didn't hear it as a courtesy or a lack of interest. So either Mara should have approached Liam or she could have simply pretended that he didn't here it either. Her sudden need to leave was awkward and rude, if he actually didn't overhear the conversation.
All three short stories are told in the same style where there is a chapter in the present where we see an after conflict exploding and we are left curious to figure out what went wrong, then the next chapter is in the past where we see the building up of the relationship until at the end where past and present meet up and we finally figure out what happened between the two main characters. It worked well in Books 2 and 3, but here it simply didn't work here. We are given breadcrumbs that Mara is finally moving out and that something happened that makes it necessary for her to move ASAP even though she now has feelings for Liam. The problem is when we pop into the past, the conflict of their being forced to live together slowly becomes a moot issue as we see their relation evolve. Liam and Mara not only become good roommates, they become good friends. So why the need for Mara in the present to move out? Why is she still pushing that agenda of getting out of Liam's hair since they seem quite content with their new friendship/roommate-hood. Yes, Mara is developing feelings for Liam which she isn't sure are reciprocated but that doesn't necessitate her sudden need to rush out of the house. Telling it in the same back and forth time jump, didn't add intrigue or mystery for me. If just left me confused as to why she felt that Liam wanted her to leave. They were long past any antagonism.
It was a fun enemies-to-lovers, forced proximity story but it doesn't have the draw or the nerds in love that I have enjoyed from Ali Hazelwood. Books 2 and 3 are much better.
---
Favorite Scene:
"Is this because last night we watched Transformers?"
I looked up. Liam, a soft smile on his face, is standing on the other side of the kitchen island, taking in the microwave oven parts I meticulously laid out over the marble countertop.
I might have made a mess.
"It was either this or writing Optimus Prime fanfiction."
He nods. "Good choice, then."
"But also, your microwave isn't working. I'm trying to fix it."
"I can just buy a new one." His head tilts. He studies the components with a slight frown. "Is this safe?"
I stiffen. "Are you asking because I'm a woman and therefore unable to do anything remotely scientific without causing radioactive pollution? Because if so, I–"
"I'm asking because I wouldn't know where to start, and because I am so ignorant about anything remotely scientific that you could be building an atomic bomb and I wouldn't be able to tell," he says calmly. As though he doesn't even need to be defensive, because the idea that me being a puny-brained girl never even entered his mind. "But you clearly can." A pause. "Please don't build an atomic bomb."
"Don't tell me what to do."
He sighs. "I'll made room for the plutonium in the cheese drawer."
I laugh, and realize that it's the first time I've done it in hours. Which, in turn, makes me sigh. "It's just…Sean is being a total dick. Again."
His expression darkens with understanding. "What'd he do?"
"The usual. That deco project I told you about? I was explaining this really cool idea about how to fix it, but he only let me talk for half a minute before telling me why it wouldn't work." I fiddle with the magnetron, then start reassembling the oven. The second both my hands are occupied, a strand of hair decides to fall into my left eye. I blow it away. "Thing is, I'd already considered all of his objections and found solutions. But did he let me continue? Nope. So now we're going with a much-less-elegant method, and…"I trailed off. At this point, Liam gets two to four Sean-related rants a week from me. The least I can do is keep them short. "Amyway. Sorry for being defensive."
"Mara. You should report him."
"I know. It's just…this constantly belittling behavior is so hard to prove, and…" I shrug–bad idea, since my hair is now back in my eyes. I feel a little stuck. A lot stuck.
"So, what's Sean's last name?" Liam asks.
"Why?"
"Just curious." He tries to sound casual, but he's so bad at it. He's clearly the worst liar in the world–how did he get through law school? It makes me smile every time.
"You need to practice," I say, pointing my screwdriver at him.
"Practice?"
"Practice telling…"
My voice trails off. Because Liam is reading up to brush his fingers against my cheekbone, a faint smile on his lips. My brain short-circuits. What–? Did he–?
Oh. Oh. My hair. My lost, wayward strand of hair. He tucked it behind my ear. He's just being nice and helping his ginger klutz roommate, who in turn is having a major brain fart. Classy, Mara. Very classy.
"Practice telling what?" he asks, still staring at the shell of my ear. It's probably misshapen, and I never even knew it.
"Nothing. Lies. I…" I clear my throat. Get it together, Floyd. "Hey, you know what?" I try to keep my tone light. Change the topic. "The beginning of this cohabitation was an absolute nightmare, but I like this a lot."
"This?"
"This thing." I begin to screw the back plate of the microwave. "Where we chat without throwing chairs at each other and you offhandedly ask for the last names of dudes who are mean to me with the obvious idea of committing unsanctioned acts of vigilante justice against them."
"That's not what I–"
I lift my eyebrow. He blushes and looks away.
"Anyway, I like this much better. Being friends, I guess."
He glares at me. "I'm not your friend."
"Oh." I almost recoil. Almost. "Oh. I–I'm sorry. I didn't mean to imply that–"
"The other night Eileen gave Bernie a rose, and you said that it was a good move. That's not something I can accept from a friend."
I burst out laughing. "Come on, he's cute. He is a dog trainer. He likes K-pop!"
"See, this? The reason you're my sworn enemy." He shakes his head at me, and I laugh harder, and then my laughter dies down and for a second we're just smiling at each other and an unfamiliar liquid warmth spills inside me.
Related Posts