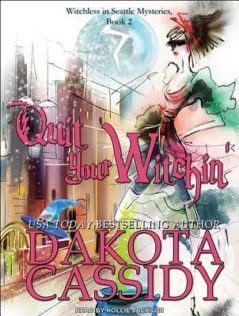 Quit Your Witchin'
by
Dakota Cassidy
,
Hollie Jackson

Series:
Witchless in Seattle #2
Published by
Tantor Audio
on July 20th 2016
Genres:
Paranormal/Urban Fantasy
Format:
Audiobook
Narrator:
Holly Jackson
Length:
6 hrs 3 min



I received this book for free from in exchange for an honest review. This does not affect my opinion of the book or the content of my review.
This post contains affiliate links you can use to purchase the book. If you buy the book using that link, I will receive a small commission from the sale.
There's been another murder in Ebenezer Falls, Washington State, and Stevie, Winterbottom, and Belfry are on the case…sort of! USA Today bestselling cozy mystery author Dakota Cassidy's newest addition to the Witchless In Seattle Mysteries, Quit Your Witchin' is a hilarious thrill ride of food trucks, suspects, and spirits for our intrepid spy-in-training. This whodunnit will keep you guessing from beginning to end!

Poor Tito the Taco Man…it's "nacho" lucky day…

Yo quiero taco man!

Hello again! It's me, Stevie Cartwright, ex-witch and new Madam Zoltar! I was fresh off the murder-suspect list and just settling into MZ's psychic medium shoes-with the help of my bat familiar Belfry and spirit spy Win-when another death rocked sleepy little Ebenezer Falls, Washington State.

Tito Bustamante, my beloved purveyor of mouth-watering Mexican munchies, has been found dead in the food truck court! Rumor has it Tito was stickin' his chimichanga where it didn't belong, and my gut-not to mention his less-than-natural death-says murder.

No one is above suspicion. Not Tito's own wife and daughter, not his arch food truck enemy Jacob…certainly not the son Tito didn't know about, newly arrived in Ebenezer Falls and getting cozy with my hired help.

Do join me (and try not to point and laugh) as I juggle catching a killer with the home renovations from hell, snooping for clues about Win's previous life, gabbing with and eavesdropping on the locals, and enduring a visit from my very unwelcome, very annoyingly gorgeous ex-coven leader-all while continuing to adjust to my new witchless existence!
---



[box style="rounded" border="full"]This series is adorable, paranormal fun.  I love the banter between Stevie and Win, and Belfry always makes my chuckle.  [/box]
Dakota Cassidy has several light-hearted, fun paranormal series.  I am sure I will make my way through them all eventually, but right now I am loving the Witchless in Seattle series.   I adore these characters.
Former witch, Stevie Cartright has stepped in as Madam Zoltar 2.0, the new psychic medium in town.  Not all of the locals believe Stevie is the real deal, but still they come to try and get in touch with loved ones.   And when she is not in the store, Stevie, with the help of everyone's favorite British spy ghost, Crispin Alistair  Winterbottom, and her cottonball bat, Belfry,  tries to solve murders around what used to be the sleepy town of Ebenezer Falls.
This time around it is Stevie's favorite food vendor, taco man Tito who is found dead.   Tito was drowned in a vat of melted cheese.   Of course, Tito's spirit doesn't stay around long enough to tell Stevie anything directly.   With the secrets Tito was hiding, it is not surprising.
As always, the local police want Stevie to stop meddling in their investigation, but she can't step away when after someone would be so heartless to kill someone as kind as Tito, even if he was calling Stevie a murderer not so long ago.  But he has made it up with extra tacos since then.
There are many suspects, especially after Tito's wife comes in with her children for a reading and a not very benevolent spirit trashes Stevie's store in a rage…just after announcing that Tito has another child.
And Tito's murder isn't the only thing that has Stevie's attention right now.   She has been working with Win's contractor, Enzo, to fix of Win's house and her Spy Guy has all kinds of opinions of what needs to be done.  Really, why does a ghost need a pizza oven so bad?  Hmmm.
While she tries to wait for Win to tell her more about his life, or more particularly his death, Stevie happens upon some information which she simply can't keep to herself.
The narrator, Holly Jackson, is perfect for this series.   Her voices are perfect whether it is suave Spy Guy, Win,  the tiny voice of Belfry, or even, Enzo, the New York contractor.  I would be happy to listen to her Stevie, Win and Belfry make jokes and banter back and forth even without the investigations.
This series is perfect for those who enjoy an amusing and entertaining paranormal with just enough mystery to keep you investigating along.
---
Favorite Scene:
"Mornin', Stevie," Enzo groused as I hobbled over a pile of crown molding in the middle of the kitchen, tightening the belt on my bathrobe. "Coffee's ready and the missus sent ya some blueberry-apple muffins."
I sighed with happiness when I saw the fat, golden-brown plate of muffins dotted with plump blueberries on the counter next to the coffeepot, the scent of almonds and cinnamon in the air. "Remember that marriage proposal I made to you yesterday, Enzo?"
He tipped his Yankees cap at me. "Yep."
"I rescind. I'm saving all my proposals for Carmella. Tell her as we speak, I'm hoarding away my pennies for a big fat diamond and doves at our upcoming nuptials."
"You want I should tell her to pack her bags?" he teased.
Biting into the moistest muffin in the history of muffins, I nodded. "I want. Please thank her for me, and thank her for the tray of lasagna, too. It was amazing. Thank her for all the wonderful meals she includes me in. You have no idea how grateful I am for you two."
Enzo grunted as he grabbed his nail gun. "Sometime ya oughta come to the house and eat one with us. We worry about ya, ya know? Out here all alone. No neighbors."
My heart melted a little. How long had it been since someone had worried over me? "I'm fine, Enzo. Promise. I'm not as alone as you think."
He scrunched up his round face. "Talkin' to yourself don't count."
I frowned, taking a sip of my coffee–which was its own special heaven. "Talking to myself?"
"Uh-huh. You do it all the time. Always mumblin' about somethin'. And I been meanin' to ask ya, who's Spy Guy?"
I froze. I needed to be more careful or Enzo would worry me right into the crazy bin. I chose to play dumb. "Um, no clue what you're talking about."
Enzo cocked his head, his half-smile crooked. "Yeah? Well invite the voices in your head for dinner, too."
I grinned, saluting him with my amazing cup of coffee and heading off to shower, my head still full of the events of last night. Grabbing the local paper from outside the front door, I still marveled at how tenacious the kid who delivered them could be. He somehow climbed my treacherous stairs each and every day to drop it at my front door. I tipped accordingly.
"Morning, Stevie."
I plodded up the stairs, hanging a right to my bedroom. "Morning, Spy Guy," I whispered.
"Why are we whispering," Win whispered back.
"Because Enzo thinks I'm nuts."
"You are."
I giggled. "Follow me to the bedroom."
"Well, well. Cheeky this morning aren't we?" he asked, accompanied by a deep chuckle.
Related Posts