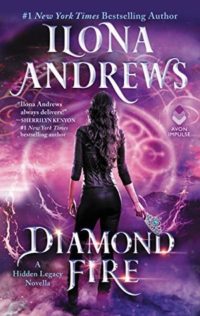 Diamond Fire (Hidden Legacy, #3.5)
by
Ilona Andrews

Series:
Hidden Legacy #3.5
Published by
Avon Impulse
on November 6, 2018
Genres:
Paranormal/Urban Fantasy
Pages:
160
Format:
Audiobook
Narrator:
Emily Rankin
,
Renee Raudman
Length:
3 hrs 56 min



This post contains affiliate links you can use to purchase the book. If you buy the book using that link, I will receive a small commission from the sale.
Nevada Frida Baylor and Connor Ander Rogan cordially invite you to join their wedding celebration. Summoning, weather manipulation, and other magical activities strictly forbidden.

Catalina Baylor is looking forward to wearing her maid of honor dress and watching her older sister walk down the aisle. Then the wedding planner gets escorted off the premises, the bride's priceless tiara disappears, and Rogan's extensive family overruns his mother's home. Someone is cheating, someone is lying, and someone is plotting murder.

To make this wedding happen, Catalina will have to do the thing she fears most: use her magic. But she's a Baylor and there's nothing she wouldn't do for her sister's happiness. Nevada will have her fairy tale wedding, even if Catalina has to tear the mansion apart brick by brick to get it done.
---
Diamond Fire is for fans of the Hidden Legacy series and help us turns the focus from Nevada and Connor to younger sister, Catalina.   If you haven't read the Hidden Legacy series yet, it would give you an introduction to the series without giving away any spoilers for the first three books, except that Rogan and Nevada get together…in a romance?  Unheard of right?
If you are a fans of Ilona Andrews like I am, you have read and enjoyed their Hidden Legacy series, and like me you were probably excited and disappointed to hear the news of the release of Diamond Fire as part of the Hidden Legacy series;  excited because there are more stories coming but disappointed that Nevada and Connor are not the focus of the new stories.  But remember, Ilona Andrews never disappoints and you will quickly switch from wanting more Nevada to wanting more Catalina.
Diamond Fire, the audiobook, started out being narrated by Renee Raudman in the prologue when we were again focusing on Nevada, but once we reach Chapter 1, the narration is taken over by Emily Rankin. I think it was a smart choice to change narrators. Renee Raudman narrates most of Ilona Andrews' audiobooks.  It is hard enough keeping in mind that Hidden Legacy or The Edge are not Kate Daniels and while there are similarities to the worlds and the magic therein, they different stories.  Hearing the same voices can make you forget.   Switching the narrators, while it was disorienting at first to hear familiar characters with new voices, it helped to remind the audience that our focus has changed from Nevada to Catalina.
In Diamond Fire, Catalina takes over as head investigator on the matter of Nevada's missing tiara since Nevada is (1) focused on a kidnapping and (2) they are trying not to piss off/freak out the bride. Meanwhile, Catalina and little sister, Arabella, are acting as wedding coordinator since Nevada has had a few bridezilla moments and had fired or scared off all of the others.
Catalina was declared a Prime when House Baylor underwent the trials to be declared a House and her designation was noted as a Siren. Simply, Catalina can draw anyone in under her spell. It is dangerous to her because those she draws in become obsessed with her to the point that they would tear her apart to have a piece of her. Catalina has spend the majority of her life trying to bury that part of her and keep it from leaking out. As a child, adults and children alike were obsessively drawn to her.
After all these years, Catalina now needs to learn how to use her ability and control just how much power she leaks and how it will effect those around her. In the Hidden Legacy series, Catalina stepped up a few times to help Nevada and Connor, but there she used her power en mass against the forces trying to take over Texas and she was taken away by Connor's people before the masses could attack her.  She didn't control her magic in any way, she just used it. Where Nevada can detect a lie and can force someone to tell the true, when Catalina unleashes her power, they trip over themselves to tell her everything she would want to know.
While I will definitely miss Nevada and Connor and hope to see them pop up in Catalina's story, I am also interested to see what Catalina brings to the series. I presume that Alessandro Sagredo, who appeared as her test subject for the trials, will be her love interest. Catalina is very interested in him and he seems to be interested in her but Catalina fears that his interest is only due to her Siren ability and not any real interest in Catalina. But since Alessandro's power seems to be a antistasi Prime who isn't affected by other Prime's powers, he would be the best candidate as a love interest. He only shows up in this novella in the prologue and, even though he is a Prime, he doesn't even rate an invite to the wedding of the year.
There is no question that I will be picking up a copy of the next book in the series.
---
Favorite Scene:
We get an introduction to Catalina's power..
"You are here because someone broke into the shop last night."
"Oh yeah? Did they take anything?"
When my magic was evaluated by a panel of Primes, the Keeper of Records, who registered the members of every House in Houston, had to come up with a name for my brand of power. He called me Siren. Most people thought of sirens as mermaids, but in the original myths, they had feathers and wings. I had wings too. Mesmerizing, beautiful wings that glittered with magic. Nobody ever saw them, except me, but when I opened them, people focused on me and forgot about everything else.
For most people using magic required conscious thought and effort. Like punching a bag or doing a push-up. They practiced and got stronger. For me, it was the opposite. Keeping my wings closed when I was around strangers was like always holding my breath. Opening them was effortless.
I didn't need my full power for Jeremy. I only need a tiny bit of it, so I let him see a bare hint of my feathers. He blinked and smiled at me.
I opened my mouth and my magic stretched forward, fused with my voice, and wound about him, an invisible thread that lured him in. The effort to hold back my power, only letting a tiny bit through, was exhausting.
"They smashed some wine bottles. Do you like wine, Jeremy?"
He was focused completely on me now. "I'm more of a beer guy. I like all kids of beer. I like IPAs the best. You know, when you can really taste the hops. It's a real beer. It's like studying surrealism. You drink an IPA and there is nothing abstract or vague about it. It's citrus and hops…"
I had him.
Related Posts