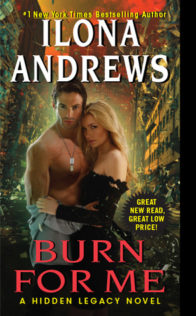 Burn for Me (Hidden Legacy, #1)
by
Ilona Andrews

Series:
Hidden Legacy #1
Published by
Avon
on October 28th 2014
Genres:
Paranormal/Urban Fantasy
Pages:
400
Format:
Audiobook
Narrator:
Renee Raudman
Length:
12 hrs 45 min



This post contains affiliate links you can use to purchase the book. If you buy the book using that link, I will receive a small commission from the sale.
#1 New York Times bestselling author Ilona Andrews launches a brand new Hidden Legacy series, in which one woman must place her trust in a seductive, dangerous man who sets off an even more dangerous desire…

Nevada Baylor is faced with the most challenging case of her detective career—a suicide mission to bring in a suspect in a volatile case. Nevada isn't sure she has the chops. Her quarry is a Prime, the highest rank of magic user, who can set anyone and anything on fire.

Then she's kidnapped by Connor "Mad" Rogan—a darkly tempting billionaire with equally devastating powers. Torn between wanting to run or surrender to their overwhelming attraction, Nevada must join forces with Rogan to stay alive.

Rogan's after the same target, so he needs Nevada. But she's getting under his skin, making him care about someone other than himself for a change. And, as Rogan has learned, love can be as perilous as death, especially in the magic world.
---






As always, the world building and the characters are phenomenal. I picked up White Hot and Wildfire as soon as I finished with Book 1. I may be late to this party, but I am very happy that because I waited, I have more stories to binge on.
While it must be hard to beat their own world-building from the Kate Daniels series, Ilona Andrews does give it a try in the Hidden Legacy series.
This world is the same as ours except that in 1863, scientists created the Osiris serum which gave people magical powers, which was mostly used by the already rich and powerful. After realizing the flaw in giving God-like powers to people who already have too much power, they stopped manufacturing the serum, but those who already had taken the serum were passing on those powers to their children and their children's children. Those with the most magic are called Primes and the families with many Primes are called Houses. Wars between the Houses are common.
The magical abilities varies as talents usually do and it is interesting to see what keeps popping up.  Not every magic user is a Prime, and this story is told by Navada Baylor, a Private Investigator (part of an investigative family) who is a human lie detector. Her magic buzzes when someone tries to lie to her. She has a strong connection to her family and a strong moral compass.
In Burn for Me, the Baylor Investigative Services, or more particularly, Navada is brought in by MII, her parent company, to apprehend a Prime known as Adam Pierce. Adam thinks of himself as a rebel but he is more of a spoiled bully from the powerful House Pierce. The only problem that this spoiled bully can control fire and he is wanted by the police for burning a security guard to death during a bank robbery. Navada doesn't want anything to do with this suicide mission she is being sent on, since it is way above her pay grade but she is told that MII will take her company's business and holdings (specifically where they live) if she does not. She knows that MII expects her to fail, and is planning on using her as a scapegoat to House Pierce when she fails.
Navada also knows the only way she can bring Adam in and hope to survive is by trying to convince him to turn himself over to his house, which would be so much better then waiting for the angry police officers to find him and shoot first. The only thing that would screw up her plan would be if House Rogan were to become involved since Adam's accomplice was the nephew of Connor "Mad" Rogan. But lucky for Navada, Mad Rogan doesn't seem to want anything to do with his family, so she might just be able to pull this off.
That is until she is kidnapped by Mad Rogan, tied up in his basement while he tries to use magic and force her to give him information on Adam Pierce. Rogan can't break Navada, so he forces his way into her investigation.
Sparks fly between Navada and Rogan but I love the fact that even though Rogan is an extremely deadly magic user, trained by the military, Navada continually stands up to him.   She also has to stand up to herself, as she is quite effected by the sexual tension between them, but holds strong knowing that even if Rogan isn't truly psychotic and dangerous as she knows he is, Navada will always come out on the losing end since she doesn't have the magical strength or financial power to be an equal to Rogan.  There would never be a long term future for them so it would eventually end in heartache for her.
There is no slow in an Ilona Andrew novel. There is either character building, world building or full out action going on in every scene.
While there isn't an official cliffhanger, there is a continuing conspiracy thread which continues with the next two stories as well as the continuing sexual tension between Rogan and Navada.
As soon as I saw that Rogan and Navada were the main characters of all three stories, I quickly picked up the other books in the series and began my binge. The only issue I have is that Renee Raudman is the same narrator for the Kate Daniels series.  Renee does a good job but it took some brain power to remember that I was in a whole other story.
---
Favorite Scene:
My cell phone rang on the table. I never went far without it, even in the house. I picked it up. An unlisted number. Oh goodie.
"Nevada Baylor."
"I need to talk to you," Mad Rogan said into the phone. "Meet me for lunch."
My pulse jumped, my body snapped to attention, and my brain shut down for a second to come to terms with the impact of his voice. I'd slap myself except my mother and grandmother already thought I was nuts, and hurting mysel fwouldget me committed for sure.
"Sure, let me get right on that." Hey, my voice still worked. "Should I bring my own chains this time? Or do you have bigger plans, and this is some sort of freaky murder foreplay"–why did the word foreplay just come out of my mouth?–"and I'll end up cut up into small pieces inside some freezer at the end? I can just spray myself with mace and shoot myself in the head now and save you the trouble."
"Are you done?' he asked.
"Just getting started." I was so brave over the phone.
"Lunch, Ms. Baylor. Concentrate. Pick a place."
"You seem to be under the impression that I work for you and you can give me orders. Let me fix that." I hung up.
Grandma looked at my mom. "Did she just hang up on Mad Rogan?"
"Yes, she did. Did you know that Adam Pierce showed up at our house last night?"
Grandma's eyes went wide. "He was here?"
"She met him outside."
Grandma swung toward me. "Did you take any pictures?"
My phone beeped. Unlisted number again. I answered it.
"I'm not a man of infinite patience," Mad Rogan said.
I hung up.
"Pictures or it didn't happen!" Grandma declared.
I scrolled through my phone and pulled up the shot of Adam Pierce in a Mercer T-shirt. "There you go."
Grandma grabbed the phone. It beeped. She answered it. "She'll call you back. Nevada, can I email Adam's picture to myself?"
"You have to hang up first."
She hung up and clicked the phone, typing with her index fingers. "Arabella is going to flip."
My mother sighed.
Grandma passed me the phone. "Here's your phone back."
Another beep.
"Yes?"
His voice was quiet and precise. "If you hang up on me again, I will slice your car into small pieces and hang them on your roof like Christmas wreaths."
"First, destroying my property is a crime, just like kidnapping me is a crime. Second, how exactly is mincing my car into small pieces supposed to convince me to come to lunch with you? Third, if you're close enough to slice my car, I'm close enough to shoot you in the head. Can you deflect bullets if you don't know they're coming?"
"I'm trying to be reasonable," he said. "Come to lunch with me and we can exchange information or…"
"Or what? My mother and grandmother are right here. Shall I pass the phone to them so you can threaten them with terrible things if I don't agree to lunch?"
"Will it do any good?"
"Probably not."
"What would make you feel safe?" he asked.
"An apology would be a start."
"I apologize for kidnapping you," he said. "I promise not to kidnap you before during or after lunch. This is a business conversation. Where would you be comfortable meeting me?"
Comfortable? The memory of his magic was still burning my brain. there was no such thing as being comortable where he was concered. I could meet him in the middle of city hall, surrounded by SWAT, and he could nuke them and me without breaking a sweat. But I would have to talk to him. He wanted to meet me, and he would get what he wanted one way or the other.
"Ms. Baylor?"
"Hold on. I'm trying to figure out a place where nobody will recognize us."
"If you prefer, I could acquire a windowless creeper van, and we can huddle in it and have greasy takeout."
Huddle? "Tempting, but no. Takara, in an hour…"
He hung up.
I rolled my eyes.
"Is this a good idea?" Mother asked.
"I don't know. He mentioned exchanging information, so he might have something to trade. I don't think avoiding him will work. He won't take no for an answer. I can meet him on my terms or on his. I've tried his and I don't like them. Besides, Makarov said not to use shockers on anyone with low magic. Mad Rogan is a Prime." I made grabbing motions with my fingers.
"Mom?" Mother turned to Grandmother.
"What?"
"She's going to lunch with her kidnapper!"
"Take a picture for me," Grandma said.
"This family will put me into an early grave," my mother growled.
Related Posts