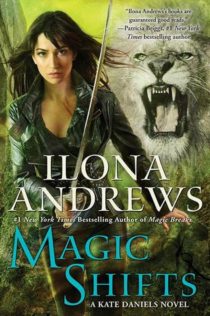 Magic Shifts (Kate Daniels, #8)
by
Ilona Andrews

Series:
Kate Daniels #8
Published by
Ace
on August 4th 2015
Genres:
Paranormal/Urban Fantasy
Pages:
342
Format:
Audiobook
Narrator:
Renee Raudman
Length:
14 hrs 10 min



This post contains affiliate links you can use to purchase the book. If you buy the book using that link, I will receive a small commission from the sale.
---



[box style="rounded" border="full"]As much as I love this series, after all the excitement of Book 7, this story was almost a let down. Was it still awesome? Hell yeah! Magic Breaks ended with a turning point in Kate and Curran's lives and some of this story is setting down the new relationship. [/box]
Some spoilers are involved if you are not current with the series. Step away and come back when you are ready to discuss with the group.
As we start the Magic Shifts, Kate and Curran need to defend Atlanta.  Kate has claimed this territory for her own to keep it out of Roland's hands.   Someone is calling ghouls towards Atlanta, whether to start trouble or are they expecting to clean up a feast of dead? Who is compelling them towards Kate's territory? Is it Roland or is he just sitting back to watch the bloodshed?
Find out who the newest bad guy in town isn't the only problem that Kate and Curran have. Curran may no longer be the Beast Lord but most of his assets are tied up in the pack's investments so they are finding finances a little tight and guarding Atlanta doesn't come with a paycheck. The pack doesn't exactly want to cash in their business assets to pay off Curran so they offer him the pack's interest in The Guild. It's not worth everything the pack owes Curran, especially not once Curran and Kate find out that the powers that be are trying to cash out of the Guild themselves, the Mercs haven't been paid for a while, and the Clerk, who kept the whole place running, was let go and the Guild is just days from collapsing.   If Kate and Curran take the pack's shares, they are going to have to rebuild the Guild and quickly before this sinking ship hits rock bottom, and then their only asset will have no value.
There are several close member of the pack who have separated with Curran and Kate, such as Derick, and others like Jezabel who have not. While this story lacks the excitement of Book 7, it is an important story to set up the new dynamics outside of the pack, as well as how the pack will react to Curran and Kate under Jim's Beast Lordship.
Book 8 is very important to set up the new world that is Kate and Curran and how life outside the pack will be from now on. Andrea is Kate's best friend but also the new alpha of Clan Bouda since Aunt B died. Will Andrea's loyalty be split or will pack have to come before friendship? We need to hammer out all this information before the series goes forward.
Meanwhile, Roland keeps in touch hoping to play Daddy to Kate, and welcoming Curran and Julia into the family. He's excited for the upcoming wedding and is so excited to be part of Kate's life, but they know there just has to be some deeper, darker plan behind Roland's sudden excitement to find the daughter he tried to kill before she was born. Again, where does Roland fit into everything that is happening to Kate and Curran? He says he sent Hugh d'Ambray away as punishment for what he did to Kate, but did he really? Hugh has been Roland's warlord since Voron left, is he so willing to throw him away over Kate?
Kate can't go to the witches for help since they are pissed off at Kate. Kate was supposed to keep Roland from claiming Atlanta, not take it for herself. They have important information about Kate's future but they don't want to give it to her. A psychic flash will give Kate the answer to what the witches have been hiding as well as Roland's ultimate goal and will be another turning point leading us into Book 9.
Don't get me wrong. Even a slow Kate Daniels book is full of fighting, paranormals and magic. It is great storytelling. It is just after the big bang of Book 7, the attack from Hugh, the meeting of Roland and the separation of Curran and Kate from the pack; here in Book 8, learning that Kate and Curran are having problems with the HOA of their new neighborhood and that Curran in his lion form scares the poop out of the mailman, while funny, it is not on the same level as the prior book.
The goods news is once we finish Magic Shifts and know the new rules of life for Kate and Curran, the level of excitement quickly shoots back up for Book 9, Magic Binds. We will get into that more tomorrow.
---
Sorry gang.  I forgot to mark a favorite scene. 🙁
Related Posts