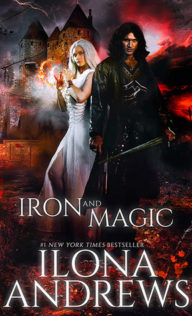 Iron and Magic (Kate Daniels, #9.5)
by
Ilona Andrews

Series:
Kate Daniels #9.5
,
The Iron Covenant #1
Published by
NYLA
on June 26th 2018
Genres:
Paranormal/Urban Fantasy
Pages:
322
Format:
eBook



I received this book for free from in exchange for an honest review. This does not affect my opinion of the book or the content of my review.
This post contains affiliate links you can use to purchase the book. If you buy the book using that link, I will receive a small commission from the sale.
No day is ordinary in a world where Technology and Magic compete for supremacy…But no matter which force is winning, in the apocalypse, a sword will always work.

Hugh d'Ambray, Preceptor of the Iron Dogs, Warlord of the Builder of Towers, served only one man. Now his immortal, nearly omnipotent master has cast him aside. Hugh is a shadow of the warrior he was, but when he learns that the Iron Dogs, soldiers who would follow him anywhere, are being hunted down and murdered, he must make a choice: to fade away or to be the leader he was born to be. Hugh knows he must carve a new place for himself and his people, but they have no money, no shelter, and no food, and the necromancers are coming. Fast.

Elara Harper is a creature who should not exist. Her enemies call her Abomination; her people call her White Lady. Tasked with their protection, she's trapped between the magical heavyweights about to collide and plunge the state of Kentucky into a war that humans have no power to stop. Desperate to shield her people and their simple way of life, she would accept help from the devil himself—and Hugh d'Ambray might qualify.

Hugh needs a base, Elara needs soldiers. Both are infamous for betraying their allies, so how can they create a believable alliance to meet the challenge of their enemies?

As the prophet says: "It is better to marry than to burn."

Hugh and Elara may do both.
---
Hugh d'Ambray is the villian everyone loves to hate but he has met his equal in Elara Harper.  Watching these two fight each other for dominance is almost as exciting at the supernatural attacks where they need to join forces  to protect their people.
Hugh d'Ambray is the villian everyone loves to hate. I loved Hugh as Kate's nemesis in Magic Breaks. I appreciated Hugh as the antagonist because he was more evenly matched with Kate as a magic user and as a swordsman. He is just a lot more vicious. A lot more.  For the first time in the series, I felt a moment of real anxiety when Hugh had Kate helpless.   Roland loomed in the background, always a threat but since he was all-powerful and god-like there couldn't be any real clash between Kate and Roland which would allow Kate a fair chance, at least not at the beginning of the series.  Hugh gave us our first flesh and blood villian to fight.
We cheered when Kate manipulated Roland by telling him of Hugh's attack on her knowing Roland would tossed aside Hugh as his warlord. You know you did!  Now, we see the sad effect this had on Hugh after centuries by Roland's side. Hugh is a broken man at the start of Iron and Magic. He has spent the last few months drunk.  He realizes for the first time in centuries what it means to have nothing.  No money, no power, no entitlement.   Hugh has become used to being offered whatever he wants, the best of the best, and not worrying about such petty things as cost.  He now is left almost begging for aid.
Roland has given his Master of the Dead, Landon Nez, the green light to pick off Hugh's Iron Dogs.  Hugh needs money, supplies and a safe place for his men who have stayed loyal to him, not Roland.  He send scouts to find the Dogs someplace that would need their services, no matter the cost.    What they find is a castle in Berry Hill, Kentucky.  Roland wants their land and has sent Landon Nez to force them out.  They could use the Iron Dogs protection and Hugh's experience.  But after years of doing Roland's bidding, even abandoning allies as Roland demands, the only way they will agree to an alliance with Hugh d'Ambray and his Iron Dogs is he agrees to a marriage of convenience.
Elara Harper isn't any more interested in marrying Hugh as he is her, but they both need to protect their people.  She isn't going to allow a manipulative asshole like Hugh d'Ambray to take over either.  Everything between Hugh and Elara becomes a battle of wits and wills to stay one step ahead of the other, and everything is negotiable.  Especially once they both begin to realize just how much they like the  challenge of trying to outmaneuver the other.  Elara and Hugh might not be ready for wedded bliss, but they will stand together when death comes knocking on their castle door.
I enjoyed watching Hugh and Elara snipe at each other even as their respect for each other grows.  Once they realize they are both working toward the same goals, there is still fun in taking potshots at each other.   There is no doubt that Hugh and Elara enjoy their continued friction almost to the point of being an aphrodisiac.
What I love most about Iron and Magic is that the authors, in making Hugh the hero of the story, didn't try to make Hugh into a wonderful, kind soul and misunderstood man. He's a controlling, manipulative asshole from beginning to the end, but as long as he is not attacking our Kate or any of her allies, we can appreciate this controlling, manipulative asshole since he and his Iron Dogs are now focusing on protecting everyone in the castle that we come to care about.
"How is it that (he) made more holes in you than in swiss cheese, but your assholeness survived?"
"(He) doesn't have a knife big enough to kill my assholeness."
Now, I am not saying the I like Hugh d'Ambray (although by the end I did) but we do come to see why he has the loyalty of the Iron Dogs.   Never forget he is the cold-blooded killer that Roland and Voron raised and in the end he does what is best for Hugh and for his Iron Dogs but he also comes to see the village and its people as his as well and risks his life to protect them.
There is still so much to learn about Elara and her people.  Goodreads notes that this book is The Iron Covenant #1.  I haven't read anything confirming this, but I do hope to see more stories of Hugh and Elara, even after the anticipated end of the Kate Daniels' series with Magic Triumphs, so that I can continue to hate  dislike…okay, cheer for Hugh d'Ambray.
---
Favorite Scene:
In front of him was an island with a cooktop and a prep sink. Between the stove and the island stood Elara, with her back to him. Her blue dress clung to her, draping over her butt. Her hair was braided and pinned up, and he could see her slender neck.
Mmmm.
He leaned in the doorway.
Elara grabbed something out of the stove and turned toward him. She was holding a metal platter, her hands in kitchen mittens.
She was wearing an apron. A frilly little apron white, with pink cherry blossoms on it and wide black ties, wrapped around her and knotted into a bow on the side.
He laughed.
"What's so funny?"
This couldn't possibly be real. It was another dream. "I wonder which part of my demented brain wanted to see the Ice Harpy in an apron. Baking cookies."
"These are not cookies."
He glanced into the pan. It was full of crepes, folded into quarters and drenched in melted butter. The heat had browned the crepe edges. She must've sprinkled them with sugar, because a thin layer of caramel dotted the edges. The last time he had a crepe suzette was in France, ages ago. He couldn't recall why he was there or what he was doing, but he remembered the dessert and bright red flames licking the crepes as it was flambéed at the table.
Elara pulled off her gloves. "Is that what I am, an Ice Harpy?"
"Yes." And he was on fire. He couldn't even think straight.
"You're not going to get any of my crepes with that attitude."
He moved toward her, stalking. She crossed her arms on her chest but didn't move. He walked behind her, slowly, aware of ever inch of space between them. She smelled of jasmine and green apples. Too subtle for a perfume. A hint of shampoo or a lotion, maybe. He wondered if he would taste it as he licked her skin.
"Be careful, Preceptor."
He reached down, caught the end of her apron tie, and tugged on it.
"Quit it," she told him.
Oh, he would enjoy this. "It's my dream," he told her.
"I don't care."
Of course she didn't. He laughed, his voice low, and tugged on the tie again.
"Will you stop it?"
"I told you to stay out of my dreams." He leaned in close inhaling the scent of her skin and whispered into her ear. "You're trespassing."
Her eyes widened. He looked into them and caught the exact moment where a hint of white flame burst in their depths. On the battlefield of Elara's mind, banners of war unfurled, and soldiers broke into charge. He'd learned to watch for this look when they arguged. That's when it got really good.
"Perhaps you should ask youself why you're letting me waltz in and out of your dreams, Preceptor. What is it you want?"
He was so hard, it hurt.
"Perhaps I'm hungry." He reached over her shoulder and stole a crepe from the platter. She tried to slap his hand, but he was too fast.
"They're not done yet."
"They look done to me." He help the crepe, out of her reach. "Do you want this back?"
"Yes."
He leaned closer. "What will you let me do to you to get it back?"
"Give me back the crepe, Hugh."
He held it in front of her. She snatched it out of his hand and turned her back to him to drop it back into the pan. He locked his hands on the island, caging her between his arms.
She stood completely still. He felt the tension vibrating in the angle of her spine and the set of her shoulders and it made him harder.
He leaned forward and kissed her on the right side, just below the ear. She gasped. Her skin felt warm and soft under his lips, like warm silk. He touched the sensitive spot with his tongue, painting heat over the nerve, and she leaned back slightly, looking for him in spite of herself. He wanted to crush her to him, to rip off her clothes, and lose himself in her soft body. It was a wild, uncontrollable need, simple and violent in its intensity. He wanted to pin her to the bed and run his tongue over the nipples of her breasts and then slide lower, over her stomach, down below. He wanted to hear her moan, to see her breathless, to watch her open her legs for him, and make her come like she never came before. He wanted her to love it, because he was doing it to her.
"Stop, Hugh," she whispered.
He caught a tendril of her white hair into his fingers and kissed it. "Why?"
"What if this isn't a dream? What if you're awake?"
"And you're cooking crepe suzette in the middle of the night in a pretty apron?"
"What if I am? If we wake up in the morning in the same bed, what then?"
"I don't know. Tell me." He kissed her neck again, on the other side. She took a sharp breath and swallowed.
"We finally learned to work together. If you don't stop…"
He bit her neck. pinching the skin between his teeth. Her voice broke. She shivered, and it almost pushed him over the edge.
"…if you don't stop, we'll go to war in the morning, because this isn't you. Your body was straining so hard to repair all the damage, you glowed for hours. You're exhausted and not in your right mind. You'll regret this moment of weakness. You'll make me pay for it."
His lips traveled down to the bend of her neck. Her breath was coming in ragged gasps. She wanted him. His whole body had gone hard, every muscle, every nerve screaming for her.
"I can't afford the price. Stop, Hugh. Stop."
The words finally penetrated. He could force her. It was a dream and he could do whatever he wanted to, but it wouldn't be enough. He wanted more, something his subconscious refused to let him have even in his dreams. This was another nightmare. He just hadn't realized it until now.
Related Posts