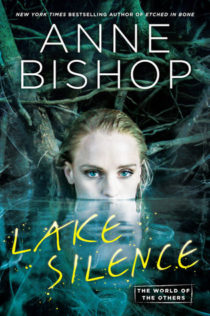 Lake Silence (The Others, #6)
by
Anne Bishop

Series:
The Others #6
,
The World of the Others #1
Published by
Ace
on March 6th 2018
Genres:
Paranormal/Urban Fantasy
Pages:
402
Format:
Paperback



This post contains affiliate links you can use to purchase the book. If you buy the book using that link, I will receive a small commission from the sale.
In this thrilling and suspenseful fantasy, set in the world of the New York Times bestselling Others series, Vicki DeVine and her lodger, the shapeshifter Aggie Crowe, stumble onto a dead body . . . and find themselves enmeshed in danger and dark secrets.

Human laws do not apply in the territory controlled by the Others–vampires, shapeshifters, and paranormal beings even more deadly. And this is a fact that humans should never, ever forget . . .

After her divorce, Vicki DeVine took over a rustic resort near Lake Silence, in a human town that is not human controlled. Towns like Vicki's have no distance from the Others, the dominant predators that rule most of the land and all of the water throughout the world. And when a place has no boundaries, you never really know what's out there watching you.

Vicki was hoping to find a new career and a new life. But when her lodger, Aggie Crowe–one of the shapeshifting Others–discovers a dead body, Vicki finds trouble instead. The detectives want to pin the man's death on her, despite the evidence that nothing human could have killed the victim. As Vicki and her friends search for answers, things get dangerous–and it'll take everything they have to stay alive.
---
I was drawn in from the opening scene. While this book is set in the same world building as the Others series, this is the book one in a spinoff.
This review may contain spoilers for the prior books.
I have read many shifter books, but this is the first time I stepped into a world where the shifters are not humans that can take on an animal form, but animals that take on human form. This switch is very important since we never think about what a wolf thinks about when he sees a shifter in wolf form, but it is quite obvious when you see the "odd" behaviors in the terra indigene.
They all smiled at me. Conan and Cougar hadn't seen enough smiling humans to get all the teeth sorted out. The result was unsettling. It also made me wonder how they enunciated as well as they did.
This spinoff novel focuses on The Jumble which is a rustic vacation lodge located on Lake Silence in an alternate United States Northeastern Finger Lake District. Vicki DeVine has recently divorce her verbally abusive husband and as a settlement, he dumped his abandoned family property on her that was in severe disrepair. Vicki's ex-husband is a real winner.  He's an "entrepeneur" or schemer who is upgrading from his "dumpy" first wife who supported him until he could come into his trust fund.  Vicki has some  issues with men after the number her ex did on her so we didn't quite get a romance with either the local bookstore owner or the local police officer.  Vicki was not ready for a romantic relationship.
The Jumble consists of some rustic cabins and a main house located with a private lakefront beach area which is the big draw. The only other access to the lake is either by a public beach which is very crowded and not as nice or the big lodge across the lake which is owned by the Sanguinati (vampires) which is not open to the public.   The Jumble could do a booming business with the city dwellers looking to rough it for a nice lakeside vacation.
The Jumble's buildings have been tranferred to Vicki but the land is owned by The Others and there are many rules that she needs to follow in order to be allowed to continue to run the lodge. She has worked hard over the last few months in order to have a few of the cabins restored to habitable conditions before the summer.  What Vicki also never realized when she moved into The Jumble is that it was originally created as a safe way for the terra indigene to integrate with humans and learn to adapt to the human world.   One of her first lodgers is a Crowgard (or crow shifter) who was sent in to see how Vicki behaves and reacts to the terra indigene.
Vicki was not aware of it, but she has been under a great deal of scrutiny. The terra indigene (or The Others) including the feared Elders and Elementals have been making sure that Vicki sticks to the rules, and so far, they have been very happy with Vicki.
Just as Vicki is ready to open her doors, her ex-husband and his new partners have plans to take back the property, rip down The Jumble and build a luxury resort for humans. When they attack Vicki, the terra indigene rally to protect The Jumble and Vicki who they have come to trust.  The humans have learned that when the terra indigene rally, it means blood and death for the humans.
This is my first book Anne Bishop novel and it will not be my last.  I have picked up an audiobook version of Written in Red which is Book 1 of The Others series.  Lake Silence is the first book in a spinoff The World of the Others series which will include stand-alone novels which take place in the same world created in her The Others series. I am sorry to find out that Vicki DeVine and The Jumble won't be the center of a new series since The Jumble is a very interesting place and we met a great many exciting characters.
Lake Silence was great storytelling and really unique world building and I am looking forward to more by Anne Bishop.
---
The opening scene:
I wouldn't have known about the dead man if I hadn't walked into the kitchen at the exact moment my one-and-only lodger was about the warm up an eyeball in the wave-cooker.
Until that moment, I hadn't known I had a scream that could crack glass; I hadn't wondered if an eyeball would puff up and explode in the wave-cooker like those animal-shaped marshmallows; and I hadn't relized my lodger—Agatha "call me Aggie" Crowe—was that kind of Crow.
She seemed so normal, if you overlooked her timely payment of the rent each week and the fact that she had taken up residence in The Jumble three weeks ago and seemed to be enjoying herself.
"You can't eat that!" I tried to sound firm, like a responsible human and business owner should. In truth, I sounded a wee bit hysterical, and I wished with all sincerity that I had walked into the kitchen five minutes later.
Then again, since the kitchen was one of the common rooms in the main building, I could have walked in when Aggie was halfway through her lunch, which I'm sure would have been more distressing for at least one of us.
"Why can't I eat it?" She looked at the eyeball rolling around in the small bowl that was now sitting on the counter. "Nobody else wants it. It's starting to get squooshy. And the dead man doesn't need it."
The worlds got me past the physcial evidence. "What dead man?"
"The one who doesn't need the eyeball." Little black feathers suddenly sprouted at her hairline, confirming the nature of my lodger. I was going to have to rework the rental agreement so that there was a space for unimportant bits of information like…oh, say…species.
"Where did you find the dead man?"
"On the farm track that runs alongside Crabby Man's place."
I should have pointed out that Mr. Milford wasn't usuall crabby, but he did get exercised when someone took one bite out of all the ripe strawberries or pinched fruit from his trees, since he and his wife needed the income they made from selling fresh fruit and homemade preserves. But there were other priorities.
"Show me," I held up a hand. "Wait. And don't nibble."
"But…"
"You can't eat it. It could be evidence."
Her dark eyes filled with reproach. "If I  hadn't wanted to warm it up because it was squooshy, you wouldn't have known about the dead man and I could have had eyeball for lunch."
I couldn't refute that statement, so I backed up until I reached the wall phone in the kitchen, and then I dialed the emergency number for the Bristol Police Station. Bristol was a human town located at the southern end of Crystal Lake. Sproing, the only human village near Lake Silence, was currently without its own police force, so Bristol had drawn the short straw and had to respond to any of our calls for help.
"Bristol Police Station. What is your emergency?"
"This is Victoria DeVine at The Jumble in Sproing. One of my lodgers found a dead man." Okay, Aggie was my only lodger but there was no reason to advertise that. Right?
I started counting and reached seven before the dispatcher said, "Did you see the body?"
"No, but my lodger did."
"How do you know the body is dead?"
"I'm looking at an eyeball that used to be attached to the body.
This time I counted to eight.
"We'll send someone." The words were slow in coming, but at least they were said and would be officially noted somewhere.
I didn't blame the dispatcher for hesitating to send someone to Sproing–after all, the police officer we'd had before last year's Great Predation had been eaten, and a couple of officers who had answered calls since then had provoked something in the wild country and never made it back to their station–but I resented that I could feel her blaming me for whatever the police were going to find. On the other hand I did withhold one tiny bit of information.
Just wait until the responding officer realized he had to interview one of the terra indigene.
Related Posts