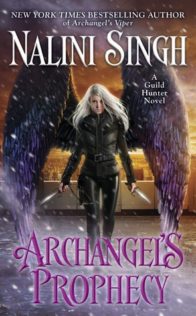 Archangel's Prophecy (Guild Hunter, #11)
by
Nalini Singh

Series:
Guild Hunter #11
Published by
Berkley
on October 30th 2018
Genres:
Paranormal/Urban Fantasy
Pages:
368
Format:
eBook



I received this book for free from in exchange for an honest review. This does not affect my opinion of the book or the content of my review.
This post contains affiliate links you can use to purchase the book. If you buy the book using that link, I will receive a small commission from the sale.
Return to New York Times bestselling author Nalini Singh's darkly passionate Guild Hunter world, where human-turned-angel Elena Deveraux, consort to Archangel Raphael, is thrust center stage into an eons-old prophecy....

Midnight and dawn, Elena's wings are unique among angelkind…and now they're failing. The first mortal to be turned into an immortal in angelic memory, she's regressing. Becoming more and more human. Easier to hurt. Easier to kill.

Elena and Raphael must unearth the reason for the regression before it's too late and Elena falls out of the sky. Yet even as they fight a furious battle for Elena's very survival, violent forces are gathering in New York and across the world.

In China, the Archangel Favashi is showing the first signs of madness. In New York, a mysterious sinkhole filled with lava swallows a man whole. In Africa, torrential monsoon rains flood rolling deserts. And in Elena's mind whispers a haunting voice that isn't her own.

This time, survival may not be possible…not even for the consort of an archangel.
---
I love Nalini Singh.  Her characters are vibrant and her stories are engrossing.
Archangel's Prophecy held me captive and then left me pulling the blankets over my head and crying…not the pretty, movie weeping, but that ugly, red-faced sobbing.
Warning:  Spoiler-ish.  You have been warned.
I received a copy of Archangel's Prophecy back in July and immediately jumped on it, and I have tried not to think about it since but as the release date is tomorrow, I am forced to relive this torment in print.  In fact, just trying to make myself sit down write this and I have gotten up to start the laundry, see if anyone needs lunch, and look through some of the paperwork piling on my desk.  I really don't want to talk about this story.
What is the most important thing you need to know about this story; the fact that you don't know what happens.  Nalini Singh brings you the most important twist in this series and she leaves you hanging.  It's brilliant and it is evil!!!
The story of Elena trying to track down whoever has been killing vampires is more than enough of a story to hold your interest.  We could have gone with that and happily paid our $7.99.  What makes this story so painful is that we see Elena deteriorating over the course of the story.  She loses more feathers than is normal for an angel and then more and more as her wings start to droop.  There is a lot more to her symptoms but let us say that the angels healers have no idea what is wrong with her.   They are also kicking up the investigation of old lore about other humans who were made by an angel by ambrosia to see why this is happening to Elena.  Is there something wrong with her specifically?  Is it because she was a hunter? Or is the transformation to angel temporary?   But even their best scholars are finding no written record of a prior transformation.  What is worse than not finding any records is the possibility that there were no prior human to angel transformation and it is all folklore.
Angels are supposed to be seen as perfect to the humans which is why angels with deformities, like Jess with her twisted wing, are kept secluded in the santuary.  Elena is a well-known angel in the New York area and hiding away will cause speculation so Elena needs to be careful to stay alert and keep her wings up when she is investigating the vampire killer.   Raphael assigns her another angel to look out for her in case she has another episode and cannot fly.  It is easy to disguise her escort as a bodyguard, but if she collapses and needs to be carried away, people will start to talk and her transformation will once again become a problem for angelkind.
There is no question that Nalini Singh knows how to do her job.   No matter how painful it was to see Elena falter and deteriorate, and no matter how many scenes there were between Elena and Raphael silently staring and thinking that each moment could be their last, I couldn't stop reading.  I had to know what happened to her (because of course she would be fine!) until I got to the end and then the screaming began.
In the Guild Hunter series, we have watched Elena make a miraculous transformation from a human/Hunter to an angel, growing actual wings and learning to fly.  Over the next nine books, we see Elena growing in strength and her flying ability.  She is becoming a capable angelic warrior.  So I am blaming what is happening now on all those fans who keep clamoring for an archangel baby.
In story after story, Nalini has written lines and made statements that not only are births a rarity to the long-lived angels but as a baby angel herself Elena is not strong enough to carry Raphael's baby.  It could take centuries for her to be on his level.  But no, fans want a baby NOW!  In Archangel's Prophecy, Nalini goes as far as to indicate that Elena and Raphael are so different that they might as well be two separate species.  (Now I am not talking about lions and tigers making ligers.  I am talking about mating a lion to an ostrich different.)  So now we have a prophecy that Elena needs to transform so she can become a vassal.  Oh, we are confused, says every character in the story, a vassal for what?  Duh! Angel baby, of course.  One that will be cute and adorable and have to go live at the sanctuary for years and then we will have to worry about him/her being used as a pawn and will Lijuan try to possess Raphael's powerful baby!   But people, here is the next rule:  if Elena transforms and becomes a "vassal" everything Elena disappears!!  She becomes a walking womb.   That is her transformation.
As I said before, we end this torture with no answer so make sure you have an industrial size box of tissues next to you before you start and a pillow to scream into; and yes, I will be knocking people out of my way to get to the bookstore on release day to get to Book 12.   I might even call in sick to work because I have to know what, in a world of humans, vampires and angels, what could Elena possibly become that better be cooler than being an angel?
---
Favorite Scene:
The publisher offered up a scene to share which I am using instead of cracking this open to look at it again. I am not brave enough until the next chapter comes out.
Illium turned in a direction that would take them to the Catskills if they kept on going.
Sweeping closer to him, she said, "You just want to fly?"
Hair rippling in the quiet but cutting wind, he twisted down in a complicated fall before flying back up to her side. She laughed at his showing off. That was Illium. An angel of violent power who had a heart that might almost be mortal. And, these days, she could appreciate his tricks again. Not a single angel in the city had been ready to witness his acrobatics in the immediate aftermath of the day he'd crashed out of the sky.
Elena would never forget her screaming fear.
To his credit, Illium had flown with absolute discretion for months, letting the memory dull and fade.
When he returned to her side today, his face was flushed, the gold of his eyes rich. "Sky's too beautiful to shut ourselves away in a club."
"Just don't forget I'm not as fast as you. Also, I'm currently lame."
Illium lifted one cupped hand close to his shoulder, the other moving back and forth . . . and she realized he was playing a tiny violin in response to her morose tone.
"Crossbow, Bluebell." Narrowed eyes. "Remember the crossbow."
He dived, his wicked laughter floating up on the night air. Lips twitching, Elena continued to glide, letting the air currents sweep her along with cold but gentle hands. Illium, meanwhile, flew circles around her—but he never went far, always close enough to halt her descent should she tumble.
She landed a number of times to rest her wings, once in an isolated park whispering and dark. A luminescent insect appeared then disappeared from sight before she could truly see it, an earthbound star. The ghostly owl sitting on a tree branch watched her with eyes even more luminous.
A sigh deep in her mind, an old, old presence restless in Sleep.
The hairs rose on her arms.
Then Illium shot them both up into the sky again, and together, they flew far beyond the diamond-bright skyline of the city and over the sleeping homes of ordinary people who lived in a world of vampires and angels, blood and immortality.
Another rest stop for Elena.
Another throb of pain from the cut on her forearm.
Another watchful owl, this one landing on Illium's shoulder without his knowledge. Ashwini had told her not to be afraid of the owls, so Elena ignored the goose bumps and said, Hello, with her mind. A good night to fly.
A vein began to throb at her temple.
The answer came a long time later, after they were in the air again, the glow of the sinkhole visible from the distance.
It has been an eon since I flew.
Related Posts