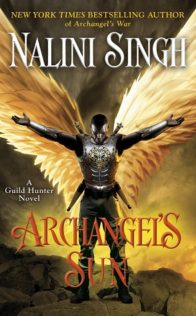 Archangel's Sun (Guild Hunter, #13)
by
Nalini Singh
Series:
Guild Hunter #13
Published by
Berkley
on November 24, 2020
Genres:
Paranormal/Urban Fantasy
Pages:
400
Format:
eBook



I received this book for free from in exchange for an honest review. This does not affect my opinion of the book or the content of my review.
This post contains affiliate links you can use to purchase the book. If you buy the book using that link, I will receive a small commission from the sale.
A horrifying secret rises in the aftermath of an archangelic war in New York Times bestselling author Nalini Singh's deadly and beautiful Guild Hunter world...
The Archangel of Death and the Archangel of Disease may be gone but their legacy of evil lives on—especially in Africa, where the shambling, rotting creatures called the reborn have gained a glimmer of vicious intelligence.
It is up to Titus, archangel of this vast continent, to stop the reborn from spreading across the world. Titus can't do it alone, but of the surviving powerful angels and archangels, large numbers are wounded, while the rest are fighting a surge of murderous vampires.
There is no one left…but the Hummingbird. Old, powerful, her mind long a broken kaleidoscope. Now, she must stand at Titus's side against a tide of death upon a discovery more chilling than any other. For the Archangel of Disease has left them one last terrible gift…
---
The Hummingbird is no longer "broken" and she is feisty. We are going to need to change her nickname.
We have met Illium's mom several times of the past 12 books in this series. The Hummingbird was a fragile, broken woman that everyone treated with deference and respect because her art was so beautiful.   Two things turned Sharine into a fragile women.  The first is that her parents decided to sleep when she was only 80 years old and abandoned her at what would be the equivalent of a human abandoning their 12 year old to raise themselves.  Then Sharine's first love, Raan, simply died in the middle of the night.  Angels don't just die.  Remember, these are creatures that can be beheaded and they're like "No, no, it's not a problem.  Leave him.  He'll be fine in a few hundred years."  So for Sharine to wake up and find Raan dead was frightening, especially since she was still rather young.   But it was Aegaeon's cruelty that finally shattered her, but even shattered, she took care of young Illium and Aohdan and raised them to the men they are today.  So she was never completely broken.
But Sharine has started to reclaim herself after being given the task of caretaker for the city of Lumia and their great art treasures.   Lumia is one of the few places on the planet  that survived unscathed by Lijuan's and Charisemnon's attacks.   All of the Archangels who survived Lijuan's attack on New York are exhausting themselves trying to deal with the aftermath of Lijuan's reborn and the destruction of their lands.   So Raphael comes to Sharine and asks her to travel to Southern portion of Africa to help Titus.  The war against Lijuan is over but Titus is still losing humans and vampires in his territory.  Charisemnon used his cascade given gift and enhanced Lijuan's reborn so they are smarter and more dangerous.  Titus and his people have been trying to destroy the nests of reborn without being caught in their ambushes.
Titus has asked for help in his territory and although he knows that the other archangels are very busy with their own territories, he is not excited to find that Raphael is sending The Hummingbird to his court.  He doesn't have time to rest, let alone try to entertain the fragile angel but he knows he cannot be rude to her since she is a treasure to angelkind.   Titus  has prepared himself and his household as best he can for the Hummingbird's arrival but he is flustered when she arrives in comfortable clothes more for a warrior than the flowy robes of delicate lady.  She actually has the archangel of Africa quite flustered for most of the story.  As Sharine works with Titus to locate the hiding reborn, she rediscovers more and more of herself and the powers she has inside that she has long let atrophy.
While I try to avoid other reviews before I write my own so not to be influenced, I did catch a couple of comments which I found entertaining which were basically discussion of Sharine being Illium's mom and they weren't excited about the old lady getting a romance.   When we get into stories where the characters are literally ageless,  we have to remember it is not just the main characters like Raphael and Illium who will appear in their mid- to late twenties.   If we were casting this series for a movie, neither Sharine nor Caliane would be cast by older actresses.  They would physically look as young as siblings to their grown sons.  It is also possible for Sharine and Titus to have a baby of their own before we even get a romance for Illium since, again, they are ageless.  My favorite example of this agelessness was in Jessie Lane's Big Bad Bite series, where one of the men is checking out the hot redhead in the miniskirt and makes a comment to his friend about how hot she is, and his friend's response is a very angry,  "Hey, that's my Babuska!"  In a fantasy series like this when everyone stays young and sexy, MILF takes on a whole new meaning.
I loved Titus with the loud booming voice.  He just isn't a character that can fade into the background.  I also loved watching Sharine reinvent herself from the woman we have know through the prior 12 books.   And when we finally get a showdown between Sharine and Aegaeon, it is perfect for the strong woman she is becoming.
---
Favorite Scenes:
Sharine is finding herself once again and now that she is no longer living in a fog, she has pretty feisty and poor Titus doesn't know what to do.
Rising to his feet in a flowing movement, Titus said, "Let's eat so I can get back to my duties." His voice was of an archangel giving an order.
Sharine had been in sympathy with him until then, but now her fingers twitched once more for her blade. Surely she began to understand why New York Tower's internal walls had holes that could only be explained by knives slamming into them. It must be most satisfying for Elena to throw such blades at Raphael's head when he acted the fool.
But Raphael would never dare speak to Elena so preemptively–he respected her as a follow warrior. Titus, meanwhile, considered Sharine a broken bird he had to babysit. "I wouldn't want to keep you," she said in a voice that dripped with honey.
The look he gave her was a scowl mixed with pure befuddlement. An extraordinary expression to witness on the rough-hewn handsomeness of his face, but it quickly gave way to a calming smile. "You must be tired by the journey." Soothing words, the natural volume of his voice irritatingly modulated. "Come, a little food will be exactly what you need."
He was treating her like a fractious horse. She'd give him calm in a minute.
Spine taut, she waved off his offers of help and seated herself at the table, her wings falling gracefully to either side of the specifically designed chairback. The table in front of them was set with sumptuous dishes–far too complicated a meal for a citadel that was fighting a deadly battle–and it just lit a fire under the already simmering temper.
————-
"Your people have incredible courage."
Titus had no need for those words–he knew that truth to his bones. But it was nice to hear the acknowledgment. "Raphael told me something when he came to help me." The pup had kept his word, given Titus so much of his time. Titus knew Raphael would return when he was able. "A truth he learned from the Legion fighters who lived in his home territory for so long."
Those fighters had given up their lives so that the Cadre could defeat Lijuan, and for that, Titus honored them.
"Well?" A crisp demand. "Do you plan to tell me?"
Scowling, he glanced at her. "What is wrong with you?" It came out a boom of sound. "You're not acting like the sweet and kind Hummingbird!"
Her response was a glare that would've stripped his skin from his bones were he not the son of First General Avelina, and the brother of Euphenia, Zuri, Nala, and Charo. "I have told you," she enunciated through gritted teeth, "my name is Sharine. I would be most pleased if you should deign to use it."
Perhaps she was suffering from the trauma of the war. She was an ephemeral creature. Having so much devastation on her doorstep had no doubt caused damage that was emerging as this strange, antagonistic behavior.
"Sharine," he said with his most charming smile.
Her response was a baring of teeth that had him glad he wasn't within arm's reach. "What did Raphael tell you?" she snapped.
Affronted, he swept away from her for long wing beats. Until he'd calmed down enough to return to fly at her side and just ahead enough to ease her journey. She didn't look the least bit abashed at having driven him away.
Instead, she raised an eyebrow when he looked at her, and said, "Feeling better?"
Titus's chest rumbled. If she were not the Hummingbird…
Related Posts