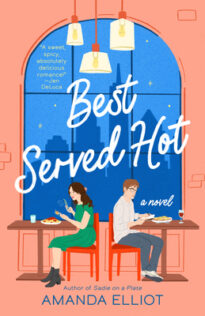 Best Served Hot
by
Amanda Elliot

Published by
Berkley Books
on February 21, 2023
Genres:
Contemporary
Pages:
352
Format:
eBook
Source:
Netgalley



I received this book for free from Netgalley in exchange for an honest review. This does not affect my opinion of the book or the content of my review.
This post contains affiliate links you can use to purchase the book. If you buy the book using that link, I will receive a small commission from the sale.
Two restaurant critics learn their opposing tastes might make for a five-star relationship in the next foodie romantic comedy from the author of Sadie on a Plate.
By day, Julie Zimmerman works as an executive assistant. After hours, she's @JulieZeeEatsNYC, a social media restaurant reviewer with over fifty thousand followers. As much as she loves her self-employed side gig, what Julie really wants is to be a critic at a major newspaper, like the New York Scroll. The only thing worse than the Scroll's rejection of her application is the fact that smarmy, social-media-averse society boy Bennett Richard Macalester Wright snagged her dream job.
While at the Central Park Food Festival, Julie confronts the annoyingly handsome Bennett about his outdated opinions on social media and posts the resulting video footage. Julie's follower count soars—and so does the Scroll's. Julie and Bennett grudgingly agree to partner up for a few reviews to further their buzz. Online buzz, obviously.
Over tapas, burgers, and more, Julie and Bennett connect over their shared love of food. But when the competitive fire between them turns extra spicy, they'll have to decide how much heat their relationship can take.
---
Old school and new trends clash in this delicious tale.
Julie Zimmerman was an assistant to an eccentric (read: rich) boss.  It pays the bills and provides medical and dental.  But Julie's passion is her time as an up and coming restaurant reviewer on social media known as @JulieZeeeatsNYC.  She has a small but growing fan base.
She was hoping that that was enough to get a response from The Scroll, the big NYC newspaper giant.  They have been looking for a new restaurant critic and Julie had hoped they would recognize her fresh new ideas and the fact that people were trending toward social media platforms like hers.  She was more than disappointed to see the announcement that Bennett Richard Macalester Wright (how pretentious) was their new reviewer, just another stuffy, old, white man from the proper social circles who was probably buddies with the CEO.
Even after learning that Bennett was about the sane age as Julie, she could tell just from his first review, it would be same old, same old at The Scroll.   No new, up-and-coming restaurants or ethnic foods.  While she was jealous of Bennett Rigatoni Mushroom Wright's expense account and better health plan, Julie would rather review the new, fresh restaurants always popping up in Manhattan, than sitting in some stuffy, overpriced restaurant where only the rich could afford to eat.  Okay, the expense account would be really, really nice but Julie's followers liked her and her food choices.
Julie catches sight of Bennett at a popular outdoor food fest in Central Park.  When it becomes clear from his attitude that Bennett looked down upon influencers like Julie and simply the idea of reviewing something so plebian as a food festival, the gloves come off.  Julie tells Bennett just what she think of his pretentious newspaper and their audience and the fact that it was time to step into the 21st century. Really? Who still reads newspapers?   While Julie argues reviews with Bennett, her friend is still filming for Julie, and catches the whole argument.   The video goes viral and bumps Julie's audience by thousands of new followers. Then she receives an email from Bennett that his paper is also getting a boost on social media, and The Scroll wants Bennett to collaborate with Julie. As much as she hates the idea of spending time with Bennett, the idea of finally growing her audience to real Influencer Level is just too tempting.
Spending time with Bennett doing the one thing they both love best—eating—clear shows that they are very much alike in  their appreciation of good food—it's just their interpretation of a proper review where they can't find a middle ground.   By the time The Scroll decides the social media boost just isn't there anymore, neither Julie nor Bennett want to give up the camaraderie they have found together.
Thoughts:

I enjoyed the enthusiasm for food that the author gives to Julie and Bennett, although I couldn't imagine ordering and eating that much food at one sitting, especially at NYC prices.  If real, Julie would have been a good reviewer to follow with her descriptions of the foods and the blends of tastes in each item and each bite.  I liked Julie a lot in this story.
There was a line drawn in this story between the ultra rich that we can find in Manhattan (go ahead and zillow an apartment or condo in Greenwich Village or overlooking Central Park, I dare you)  and the general working class "poverty" of the rest of us, but I think the author softballed it.
Julie's boss is semi-retired and rarely in the office.  She spent the day alone so Julie used some of her working day handling her social media.  It isn't like we spend a lot of time with her being oppressed  by her boss or belittled.   Julie has most of her interactions with the mega-rich with her boss's younger daughter, Emerson Leigh, who jumps from one frivolous business idea to the next.  Her latest being yoga for pets.    So the frivolous daughter with no understanding of why someone can't just borrow money from their parents is our only view into the world of the wealthy here.  She is friends with Bennett and at one point I wasn't certain if she was trying to step between Julie and Bennett or was trying to push them together.
I would have liked to meet Bennett's family. We understand that Bennett grew up living the life of the ultra rich.  Julie goes to  Bennett's apartment, which is one of his father's holdings, which is roomy with amazing views.   Bennett  is mostly down-to-earth and seems to understand that he was raised in privilege, even getting his job through his family as Julie first surmised.
We don't learn much of Bennett's upbringing or where he went to college.  If we are referencing a financial gap, we haven't gotten too much reference on this except Bennett's large family apartment. His restaurant budget is paid by his newspaper. We don't see Bennett waving around his giant stack of hundreds in Julie's face. What about his family? Are his parents also down to earth? Are they clueless as to how their wealth protects them?   Do they welcome Julie or see her as a gold digger?  Do they see her attempt to be an influencer as frivolous as Bennett did?
There was no hard hitting or even sharp pokes at how the ultra rich at so insulated from and ignorant of the plights of everyone else who live paycheck to paycheck.  Okay, this was a romance and not a dramatic fiction on the social classes but if it is going to be brought into the story, give it some weight or don't bother.   Emerson Leigh was more clueless than mean.
I enjoyed the storytelling and most of the secondary characters were fleshed out enough that I checked to see if this was a book 2 in a series.  Bennett's sister could have spent more time in the story.  She was there but not for long enough to determine whether or not she would be a character we could like.
---
Favorite Scene:
I gasped at the inside. The tables of artisan faux-fur scarves and self-published poetry books by Maisie's friends were back in their places, but an aisle of lit candles wove its way among them, tracing a path deeper into the store. Banishing thought of how wise it was to have lit candles flickering a little too close to what appeared to be very flammable polyester, I followed the path back to the stairway, where candles framed every step. They danced and glowed beside me as I climbed, making me feel a little like I was tracing a fairy path in the forest.
"Julie." My heart leaped at the sound of Bennett saying my name. There were more candles upstairs, some lit, some not. In the middle of the open space, topped by candles and a bouquet of peonies so fresh I could smell them from where I stood, sat a white-clothed table for two.
And of course there was Bennett, standing beside one of the chairs, the flames reflecting against his glasses, giving him fire in his eyes. His button-down was red and purple checked today, his hair in that characteristic swoosh, and my heart squeezed hard at the sight of him.
"I hope we're not summoning demons tonight," I said, sweeping my arm out at the candles. Bennett's lips quirked. "Though if we are, I call dibs on not being the blood sacrifice."
A buzzer sounded downstairs. Bennett stepped around me. "That's the blood sacrifice now," he said.
"You really can get anything delivered in New York."
Related Posts