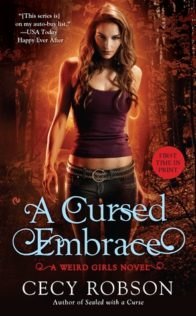 A Cursed Embrace (Weird Girls, #2)
by
Cecy Robson

Series:
Weird Girls #2
Published by
Signet
on July 2nd 2013
Genres:
Paranormal/Urban Fantasy
Pages:
368
Format:
eBook



I received this book for free from in exchange for an honest review. This does not affect my opinion of the book or the content of my review.
This post contains affiliate links you can use to purchase the book. If you buy the book using that link, I will receive a small commission from the sale.
---
Celia Wird and her three sisters are just like other twenty-something girls—with one tiny exception: They are the products of a curse that backfired and gave each of them unique powers that made them, well, a little weird…

After Celia Wird and her sisters help master vampire Misha save his family, their powers are exposed to the supernatural community of the Lake Tahoe region. But fame comes at a price, and being "weird" isn't always welcome.

To make matters worse, Celia desires the love of Alpha werewolf Aric, but his pack is bent on destroying their relationship to preserve his pureblood status. And once weres start turning up dead—with evidence pointing to the vampires—she must face the prospect of losing Aric forever. But the chaos only masks a new threat. An evil known as the Tribe has risen—and their sights are set on Celia and her sisters.
---
In her second book of the Weird Girls series, Cecy Robson takes us on an action packed adventure involving nausea-inducing demons, and a rollercoaster ride of emotions as things between Celia and Aric heat up, yet vampire master, Misha, isn't going to wait quietly in the wings to see if love blossoms.
Celia and her sisters are humans who were cursed at birth. Celia can shift into a tiger, always ready to protect her younger sisters. Taran harnesses the power of fire. Shayna can turn any metal into a blade and any wood into a weapon. Little sister, Emme, has the ability to heal her sisters, as well as move things with her mind.
As we begin book 2, Celia's sisters, Shayna and Emme are settling into their new romances with their werewolf boyfriends, while Taran is frustrated with Gemini's overprotective, but standoffish demeanor. Celia would even welcome a pat on the head from werewolf Alpha Aric, at least she would have a better understanding where she stands with him. As always, Celia knows that vampire Master Misha would welcome more than just a friendly relationship with Celia.
Little did Celia know that the day she had a wereraccoon's dead body in her living room would be the most normal day for her in long, long time. Someone has unleashed evil into Tahoe and it's focusing all its attention on the Wird sisters.
When couples start going missing, the weres start investigating only to find the partially eaten corpses of the men. Only they got off easy. What is happening to the women is the stuff out of nightmares. Someone has unleashed a demon from hell who is trying to spawn his own demon army—using the unwilling human women as hosts. Now, spawning with human women does the job, but he has his sights on the enchanted Wird sisters. They would bring an essence of magic to his spawn.
Demons are not known for waiting patiently for what they want. While Celia and her sisters are quite a force together, they are also protected by Aric and his werewolves and Misha and his vampires. But if you wait long enough and cause enough chaos, a clever demon might just get what he's after.
THOUGHTS:
Wow!! Fighting, sex, magic, werewolves, vampires, maggot-filled demons, cranky old neighbors…this book has it all, and makes damn good use of them all.
It was a little slow in the beginning and I started out feeling a little disappointed since I was so looking forward to Book 2. It was still funny and enjoyable but not all that exciting…oh boy, was I wrong. When she started adding demon spawn, the action took off like a bat out of hell (he,he) and just didn't stop. Now, the demon raping (not described in detail, thankfully) turns this fun Urban Fantasy series a little gruesome, but there is no doubt that it added some nail-biting excitement every time a demon managed to get too close to a Wird sister.
Add to this a rollercoaster rider of emotions as things between Aric and Celia start heating up. Although the naked monkey sex brings them in the direction that Celia wanted to go, you can tell Aric is holding back and you don't know why, and you can only worry if he's going to break Celia's heart in the end. Throw in a sexy vampire that wants the same girl to stir up the pot, and you've got an emotional love triangle worth watching.
I absolutely loved this story and can't imagine how she's going to top this with her next book, but I am excited to see what happens next.
Received an ARC courtesy of the author and publisher. Thank you.
---
Favorite Scene:
So many great scenes, so hard to decide…
"Please sit, Celia, so that I may tend to your wounds."
The redhead spread a blanket on the ground and motioned me to it. I did as Misha asked and positioned myself on the ground, holding tight to my wound. Misha moved my hand with ease and spread my knees apart. Like an idiot, I forgot vampires didn't use first aid kits. A gush of blood spurted out and splattered against the blanket. Misha didn't panic. He bent forward and licked the inside of my thigh very slowly. The wound sealed, but he didn't stop. He continued to lick me in teasing strokes, sending a wave of paralyzing chills up my spine. And call me crazy, but I failed to see how his look of seduction was beneficial to my injury.
"Ah…What?…I…" Words failed me. It took another flick of his tongue to finally jar me out of my shock. I slammed my knees together and quickly scrambled to the edge of the blanket. But I was too late. From nowhere, a snarling wolf appeared at my shoulder.
Aric changed back to human. Misha rose to meet him. They stood nose-to-nose. The scent of Aric's fury scorched the air around us. Misha remained blissfully calm. After all, he'd just eaten. Challenging growls and hissing surrounded us as Misha's vampires and Aric's wolves prepared to attack.
I squeezed between them in an attempt to prevent all-out war. "Aric, stop." I tried to push him back, yet couldn't even manage to nudge him. Aric typically out-muscled me, but at the moment he was an impenetrable wall of livid energy. I didn't want them to fight, and I sure as hell didn't want anyone to die. So I threw in my only weapon—the weak and helpless card.
"Aric, please, Misha just saved me from a bunch of weres.
"I was coming for you!"
"Yes, but you might have been too late. I was already badly wounded, and the weres had caught up to me. Misha was just trying to help."
"By trying to seduce you?" Aric's muscles tensed and shook violently beneath my hands.
My breath sputtered as I released it. "I was bleeding from a deep wound in my thigh. All he did was seal it." I glanced back at Misha, hoping he'd back up what I was saying. He didn't. Bastard.
Aric ground his teeth. "What is he even doing here?"
Misha flashed him one of the wickedest smiles in his arsenal. "Celia was in danger and thought my name. Thus, I responded. And now that I have tasted her blood, our call is that much stronger."
Great. More bars, in more places. Having a vampire's digits just got better and better.
Aric went perfectly still. In a way, that was way scarier than the angry, growling, red-faced wolf he'd been seconds before. I swallowed hard. The weak and helpless card clearly wasn't working, so I tried to reason with him. My hand gently touched his face. "Aric, this is not the time. Something terrible is happening. We were attacked by vampires several months back. Yesterday it was a horde of demon children, and today some strange weres. What's going to happen tomorrow? Misha isn't the enemy. We have to figure out who is."
Misha whipped his head away from Aric to glare at me. "You were attacked by a horde of demon children yesterday? And you did not inform me?"
I threw my hands in the air. Great, now they're both pissed at me.
Related Posts