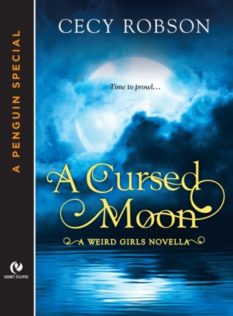 A Cursed Moon (Weird Girls, #2.5)
by
Cecy Robson

Series:
Weird Girls #2.5
Published by
Signet Eclipse
on December 3rd 2013
Genres:
Paranormal/Urban Fantasy
Pages:
98
Format:
eBook



I received this book for free from in exchange for an honest review. This does not affect my opinion of the book or the content of my review.
This post contains affiliate links you can use to purchase the book. If you buy the book using that link, I will receive a small commission from the sale.
---
Meet the furry big brother that the Wird sisters never had…

Bren is a cocky, brash hound of a werewolf who loathes the idea of belonging to Aric's pack—much less finding a mate. But Bren's hotheaded behavior lands him in the doghouse when he defies Aric's authority in front of his pack, bringing up a sore subject that's bound to make the Alpha wolf's blood boil…

Luckily for him, no one can stay mad at Bren and his wild charm for long. And when some frightening ghosts launch a hostile paranormal takeover, Bren will team up with Celia to take down the evil ghouls before they hurt someone they both love…
---
Bren is a lone wolf—or werewolf that is. He has been without a pack since his parents died when he was a kid and the elder's wouldn't allow him to join his father's pack. Bren is okay with that because his "pack" consists of the people who matter to him: his roommate, Dan and Celia Wird and her sisters. They are the only people he can count on, the only people he can trust, and the only people he would die to protect.
And to protect those he loves against the growing danger from the demons and the witches of The Tribe that keep calling together the evilest of supernaturals, he would even agree to join Aric's pack, even though the pure-blooded bastard broke Celia's heart.
That doesn't mean he is going to play by Aric's rules like a good little pup. Bren's mouth has a habit of writing checks his ass can't cash and mouthing off to an alpha-were might not always be the best way to show that you are willing to be part of the pack.
When their friend Dan is kidnapped by soul-sucking ghouls, Bren has to quickly decide if he can trust the pack or will he and Celia go it alone to find Dan before it is too late.
THOUGHTS:
As the Weird Girl series is told by Celia's point of view, this was interesting to read from Bren's perspective. He gives us some insight into his friendships with Dan and Celia and why he they mean so much to him. We also learn why he is a lone wolf and why he likes it that way.
This story continues on from where we left off after A Cursed Embrace. There is plenty of action since the witch is now calling forth cursed souls and will try to possess bodies and they keep showing up around Bren and Celia.
It was an enjoyable addition to the series and gives Celia's friends a little more depth to their characters. I don't know what I enjoyed more: watching Bren torment his roommate Dan or Celia, Bren mouthing off to Aric, Bren riling up Aric's new fiance or the always entertaining disapproving neighbor, Mrs. Mancuso.
Received an ARC courtesy of the author in exchange for an honest review.
---
Favorite Scene:
I jumped out and ambled toward the blue Colonial. Mrs. Mancuso, the girls' elderly neighbor, was sweeping her front steps by the light of her lawn jockey's lantern, a freak-ass little statue with bright red pants and a lazy eye. Despite the late hour she brushed her little broom back and forth with quick precise motions, even though any sap could have eaten off of the wooden steps as they were. She was probably bored, and lonely. The Wird sisters seemed to be her only form of entertainment.
She buttoned the top of her coat to protect her frail body against the cold. As a were, I'd keep the majority of my strength and reflexes till my dying day. Little old humans like her didn't have that luxury. I grinned with my new set of chompers and winked her way. "Hey, sex-uh lady."
Mrs. Mancuso smiled and tucked her neck skin into her brown wool scarf. "Oh, Brendan, you're such a good boy to flirt with an old lady." She furrowed her penciled in brows and glanced over at Celia's former home sweet home. "Too good a boy in fact to be hanging out with those Wird girls."
I nodded in agreement. "Don't worry, Mrs. M, I'm trying to help them see the light. I plan to spend the next few hours reading to them from the Bible. They'll come around, just leave it to me."
The front door of the Wird house crashed open. There stood Celia—five-foot-three inches of long lethal muscles in skinny jeans and a tight white long sleeved T-shirt. The breeze picked up, sweeping her long mane of brown curls around her face. She pushed her hair out of the way, exposing her narrowing green eyes. Her supersized hearing had obviously picked up my chat with their not-so-favorite neighbor.
I waved. "Hey, Ceel. What's wrong? Still mad I made you cancel your porn subscription?"
It was really hard not to laugh at her reaction. Celia subscribing to porn was like me joining a Justin Bieber fan club—so not happening. I'm sure she's probably seen a website like www.nu-bay.com/categories/45/asian before, but a full subscription isn't quite her thing. Her eyes shot open only to narrow further at Mrs. Mancuso's stiff, reprimanding middle finger.
Celia stormed to the edge of her front porch, and while a wide driveway separated both houses, I still caught her golden skin reddening beneath the whitening glare of her porch light. "Mrs. Mancuso, I do not have a porn—"
"Harlot!" Mrs. Mancuso shot back. She lifted her broom defensively, daring Celia to cross the driveway and step foot on her property. Celia pinched the bridge of her nose. In a Mancuso/Celia Wird smack-down, Mrs. M won every time. Not that Celia couldn't crush her like a fistful of berries, but because Ceel didn't pick on those weaker than her, no matter how much they annoyed her.
I placed my hand on Mrs M's shoulder. "It's okay, honey-bunches. I won't stop until the sin is washed from her wanton soul."
"Bren, that's enough out of you."
Mrs. M patted my arm, ignoring Celia. "You're a good boy, Branden," she said once more.
She flipped Celia off again before shuffling into her house.
Related Posts