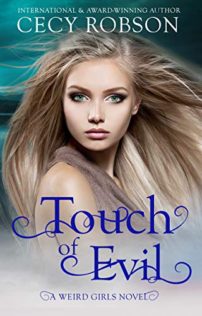 Touch of Evil (Weird Girls, #10; Touch, #1)
by
Cecy Robson

on October 13, 2020
Genres:
Paranormal/Urban Fantasy
Pages:
209
Format:
eBook



I received this book for free from in exchange for an honest review. This does not affect my opinion of the book or the content of my review.
This post contains affiliate links you can use to purchase the book. If you buy the book using that link, I will receive a small commission from the sale.
The award-winning Weird Girls urban fantasy romance series continues to blow away modern fantasy and adventure fans with heart-stopping action and romance. Centered around four unique and powerful sisters, it's time for Emme Wird, the youngest sister, to step into the supernatural spotlight.
Emme Wird, the healer and powerful telekinetic in the Wird family, hasn't had the best of luck with males. While her sisters have found their mates and forever loves, Emme has found males that are better left as lost. Is a decent meal with polite conversation too much to ask for? Yes, it is.
When a pack member that Emme has dinner with is discovered dead and dismembered, it is up to Emme and her werewolf friend, Bren, to solve the murder. But spine-tingling danger and touches with evil have ways of bringing close friends closer.
Could the male that Emme searches for be right in front of her? Or will evil snatch him away from her, just as it did once before?
---
Bren is one of my favorite characters in the series. Unfortunately, Emme is not. I hope as this story arc continues, we will see Emme become a woman equal to her formidable sisters.
While I wouldn't call this a stand alone, you could read this story without having read the rest of the series. The story itself runs separate to the rest of the series. Knowing most of the other characters referenced or talked to in this story always gives you a deeper connection with the story, but Touch of Evil gives us a new story ARC featuring Bren and Emme.   Bren has been one of my favorite secondary characters of this series. And while we know that he has a wry sense of humor, he also has all levels of trust and commitment issues, even in making friends and joining the wolf pack. So far we haven't really got in depth as to what about his parents and his childhood created these issues. For quite some time, Bren was considered a Lone Wolf in the pack's territory and was only tolerated because he was a friend of Celia's. Bren has since been convinced to join the pack but he mostly stays on the fringes and while he helps out when needed, he shuns getting too involved with the pack or making friends with the other wolves. We really don't get any more in depth into Bren's issues in this story, but I would hope we will finally find out what traumatized him so much that he shuns all close ties except with Celia and his BFF Danny.
In Touch of Evil, the rest of the pack is busy dealing with all the paranormal insanity currently taking place around Lake Tahoe, so Bren is nominated to take over investing a murder in Town and taps the local (non-pack) shifters in Town to help him. Emme had come to visit him at the bar where he works after her date turned into a total loss. It is Emme who can feel an evil presence which is following her and which is all over the murder scene so she sticks around to help Bren investigate.
Emme has always been attracted to Bren but after he turned her down flat several years ago, she moved on to dating Liam, who was a member of the wolf pack and friend of all her sister's boyfriends. But unlike her sister's boyfriends, Liam knew Emme wasn't his mate, which eventually leads to more insecurity for Emme, when Liam eventually find his mate and dumps Emme.
Emme has telekinetic powers plus the power to heal. Being telekinetic should have made Emme badass but unless one of her sisters is in grave danger, Emme doesn't use her telekinetic powers offensively. So far in the series, Emme just seems to be there to heal Celia, who, unlike the wolves, can't heal quickly from all the injuries she receives.
I must confess the Emme hasn't been my favorite character in this series. Celia is the protector. Taran is the foul-mouthed fighter.  Shanna is always upbeat, Dude.  They are all very vibrant characters that catch your attention and are ready to kick ass in a supernatural fight. In contract, Emme is very sedate and her sedate nature doesn't come off as calming, it just comes off as apathetic.  Now, she wants to pursue a relationship with Bren even though he has told her that he is not interested and thinks of her as a kid sister. They do eventually sleep together and while he keeps giving off that dominant wolf, my woman growl, Bren is staunch in his I don't do relationships stance. This leaves Emme used and abandoned yet again, and while you might say she just accepts this with stoic grace, it comes off more like pathetic. I wanted to see her get mad at Bren's treatment, not accept it quietly. Since this is the first book which focuses on getting to know Emme better, I am hoping that Emme will finally blossom into a more interesting character in the series.
I am a little confused on the timeline since in Of Flame and Fury (Taran's last book), Bren and Emme were acting awkward around each other and everyone was questioning what was up and if they had sex. It seems to me that this book should be before Of Flame and Fury in reading order but Cecy's website shows that the reading order of the series is the same as the release date order. (see response in the comments for clarification)
---
Favorite Scene:
Bren is so rude but so very funny…
"Bren, I realize you're hesitant to align with the others and that you're anxious to leave. I am, too," I whisper. "But I'm not certain we can find our way out without some help and I'm less certain we can take Una on without them.
Bren rubs his jaw, considering our choices. "Em, all this is not what I expected," he says. "Except while I don't trust them, I do trust you. We'll try it your way."
"Flounder," he calls. "Hey, Flounder."
"It's Farrah," I say, speaking low.
Farrah stops swimming. Her body remains very much post-coitus red despite the non-intercourse and despite the cold water. "You talkin' to me?" she asks.
"You got it, fish face."
"Bren," I admonish. "That's awful."
He throws out a hand. "Come on, Em. It's not like this gal doesn't know she has gills." He looks at Farrah. "You know you have gills, right, Nemo?"
If fish could freeze someone with one look, Bren would be a popsicle. "Yes, wolf," she snaps.
Bren continues, unaffected by the dirty looks and the way her googly eyes spin with annoyance. "If this bubble pops, or if my girl Emme here finds herself under water, you're in charge of getting her to safety." He points at her. "That means land. She can't swim and if she drowns, you're the one I'm coming after."
"I don't respond well to threats," Farrah fires back.
A sense of ire encompasses Bren, warming the frigid air encasing us. He takes a step forward, Farrah stumbles away from Bren and all but scales the wall. "It's not a threat, Dory. It's a promise. You got yourself into this shit. You will get the person helping you out of it."
Related Posts