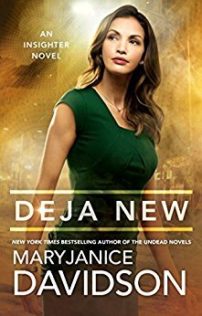 Deja New (Insighter #2)
by
MaryJanice Davidson

Series:
Insighter #2
Published by
Berkley
on November 7th 2017
Genres:
Paranormal/Urban Fantasy
Pages:
320
Format:
eBook



I received this book for free from in exchange for an honest review. This does not affect my opinion of the book or the content of my review.
This post contains affiliate links you can use to purchase the book. If you buy the book using that link, I will receive a small commission from the sale.
The New York Times bestselling author of the Undead Novels takes on reincarnation in this unforgettable Insighter Novel about the pitfalls in past—and love—lives…

Leah Nazir lives in a world where the past can and will come back to bite you in the ass. No, not teething ghosts—reincarnation! As an Insighter, it's Leah's job to delve into the murky and (often) deadly former lives of her patients. And she knows a thing or two about danger after killing her mother's murderer with the help of new beau, Archer Drake.

Isn't he the best?

Now, it's time to take their relationship to the next level, but not in any way Leah could have predicted. She and Archer head to Chicago to meet his parents—and try to figure out why Archer's dad killed his brother decades ago. When someone tries to sabotage their investigation, Leah must decide if the Drake family past is a deal breaker…
---



Great concept for a series. I wish that not all the past lives were famous people.
First, you need to read the author's notes in the beginning of the book to give you a head's up on some of the past lives being presented or you won't have any idea whose past life is being discussed. Second, just to save you any confusion, even though the cover model matches book 1 and there is no indication on the book description, this story is mostly being told by Archer's cousin, Angela, and her love interest, the cop who has taken over on the closed case of her father's death. While we do hear from Archer and Leah, they are not the main focus of the story and I found that confusing at first when we didn't stay with Leah.
While I like the concept of this series, I was expecting this to stay in the POV of Leah so it took me (probably longer than it should) to realize the series was not going to continue with Leah and her ability as an Insighter.  There were two things about this story that I found very distracting. The first being the footnotes that the author has all over the place. In the paperback, they are on the bottom and in the digital copy, if you touch it, it either pops you to another page or brings up a little box (it depended on whether I was on my Kindle Paperwhite or on my Nook Kindle App). Some of them are important or further explanations and some are just the author making funny comments and those were more distracting and unneccesarily draws you from the story.
The second is you will read several past life experiences and it is not until further into the book that you will understand whose past life you are experiencing and you will finally realize that they are not all for the same person.  There is a mystery to be solved in this story and there I look forward to getting further into the story before I have that epiphany moment. The story itself shouldn't require me to be halfway through before I understand all the little side vignettes.
Leah and Archer go to visit Archer's cousins because Leah is a world renowned Insighter and they are hoping she would be able to see what happened the night that Archer's father supposedly killed his brother.  While Archer's father confessed years ago, everthing about the case and his actions since being sent to prison seem very off to cousin Angela who keeps investigating.  Unfortunately, there is no epiphany and we Angela, working with the new detective who inheritted that case, continue to try and unravel what happened that night.
There is a more interesting side story going on with Leah and Archer.  Leah is pregnant and she knows it is a little girl.  She knows this because she is dreaming the girl's past lives.  Past lives Leah knows very well because they are her mother's.  Leah and her mother have never gotten along, not in any of their past lives together.  This time around, her mother made her become a child star and then was very angry and jealous because Leah became more famous.  When Leah's mother was killed in Book 1, Leah thought she might finally have a calm and quiet remainder of this lifetime, except now she is pregnant with her mother.
Now THAT is an interesting concept and that I want to know more about.
Leah was nervous enough since this will be the first lifetime where she has a child.  But the question to be answer will be whether the fact that Leah is the mother this time around will have any effect on Leah's mother's unquenchable thirst for attention?
My thoughts on this story is that the author put more focus on the uncle/father murder and while it had its interesting points, it certainly isn't more interesting that Leah, Archer and her mother-baby.  We will have to see where she goes with the next book.
Related Posts