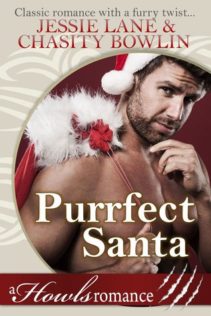 Purrfect Santa: Howls Romance
by
Chasity Bowlin
,
Jessie Lane

Published by
Self-Published
on December 12th 2017
Genres:
Paranormal/Urban Fantasy
Pages:
110
Format:
eBook



I received this book for free from in exchange for an honest review. This does not affect my opinion of the book or the content of my review.
This post contains affiliate links you can use to purchase the book. If you buy the book using that link, I will receive a small commission from the sale.
A woman afraid to love …

Nikki knows what it is to lose those you love. With her focus on her orphaned sister, she hasn't given herself the chance to process her own grief over the loss of their parents. Life is chaos and the last complication she needs is a mate.

A lion alone for too long …

Joe Miller knows chaos. Being orphaned as a child, he's never had a family to call his own. Crashing with a friend for the holidays, he's hoodwinked into playing Santa Claus at a local mall. The last thing on his mind is finding a mate.

A love worth the risk …

With her baby sister on her hip, sadness in her eyes, and a longing in her heart, Nikki waits in line with her sister to see Santa. From the moment he scents her, Joe is in deep. It's going to take everything he has to convince Nikki the love outweighs the risk to her heart. Luckily for Joe, he has fate and Nikki's adorable baby sister on his side. After all, who can say no to the Purrfect Santa at Christmas?
---


I had no interest in finishing this story. It turned me off from the beginning and I simply couldn't work up the interest to finish.
This was a standard shifter finding that one true mate made only for them story. Joe is spending Christmas with friends and is convinced to play Santa for the kids at the Mall. He smells his one true mate on line and is slightly upset to see her holding onto another man's child but unlike lions in the wild who kill cubs fathered by other males, Joe has decided he is going to have his mate and her cub as his own. This all goes through his head before Nikki and her sister hit the front of the line. He should have thought twice once he met Nikki.
Nikki is also a shifter and she too smells her mate and knows before they get to him that Santa is her one true mate. She also decides before she makes it to the front of the line that she is going to tell him to take a hike. Nikki's parents just died. Her mother died instantly in a car crash and her father decided to allow himself to die in the firey wreck rather than live without his mate. Nikki is upset that he would choose to die rather than live to raise her three year old sister. So Nikki is determined to be there for her little sister and has not time to devote to a mate.
So, from the get go, this story annoyed me. In the one-in-a-million chance to find that one, just one, person who fate deemed for you to mate with, Nikki won the lottery and found her mate.  Now she is going to toss all that away without even talking with Joe. Instead of thinking, maybe he will help me raise my little sister, as a good mate would, and thereby give her a more stable life with two parent figures, Nikki jumps on the I have no interest in you train.  Immediately, based on smell?, she decides that fate had picked a total asshat to be her mate?
Joe explains the he was also orphaned as a small child and understands their pain. He wants a few days, until Christmas, to prove that he would be a great mate for Nikki and father for Sarah.
Joe and little Sarah hit it off right away, but every time Joe proves what a great guy he is, Nikki is all "He's just trying to impress me. It will be different if I agree to mate with him." Again, why would you presume your fated mate would be an ass?  Hell, her father chose to die because he was so devoted to his mate.  Nikki doesn't give us any internal explanation of how many of her friends were screwed over by their fated mate so why does she immediately jump to the conclusion that her mate will screw her over and ruin her sister's life before they even say hello to each other?
Nikki was very angry and negative and she bothered me immensely.  I tossed this book aside after I realized I just didn't care how we got to a HEA. In fact, my last thought on this story was that I hope she falls for Joe and then he tells her to go jump in a lake because he didn't want a mate who was such a judgmental bitch.
I am sure there was a happy ending but I disliked Nikki enough from the beginning that I simply didn't care.
Related Posts