---
New York Times and USA Today Best Selling Author, Dianne Duvall, returns with the much-anticipated 5th book in her paranormal romance Immortal Guardians series, NIGHT UNBOUND!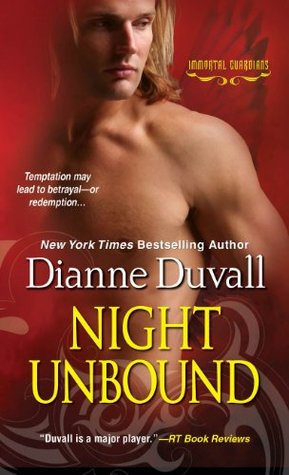 ABOUT THE BOOK:
Title: Night Unbound
Series: Immortal Guardians #5
Author: Dianne Duvall
Format: eBook/Mass Market Paperback, 432 pages
Publication: September 2nd 2014 by Zebra
ISBN: 1420129805
Genre: Paranormal Romance
Goodreads: http://bit.ly/NdYdFy
Dianne Duvall's Immortal Guardians protect humanity from unspeakable horrors–but their hearts are as fragile as any mortal's.
For centuries, Lisette d'Alençon has been a warrior against the dark. She fights alongside her brothers and comrades. But when the dreams start coming, she can't bear to confess them to the Immortal Guardians' command. Dreams of a dark-haired man with soft eyes and brutal wounds, a man her heart aches for–and a man she knows has been declared a traitor.
Zach is an exile, a loner. He won't defend himself against false accusations or grovel to those who should have faith in him. But he'll damn sure defend the woman who kept him sane against a plague of super-vamps that seems to have appeared from nowhere. The Guardians will blame him, and that will make Lisette suspect, too. With life, death and eternity on the line, who can they really trust?
Pre-Order Links:
Amazon
Kindle
Barnes & Noble
Nook
iBooks
BAM!
Praise for the Immortal Guardians series:
"Duvall is a major player." –RT Book Reviews
"The Immortal Guardians series is one you'll want to follow." –The Romance Review
"These dark, kick-ass guardians can protect me any day!" –Alexandra Ivy on Darkness Dawns
"Whizzing along at light speed. . .this sophomore effort sizzles." –Publishers Weekly on Night Reigns
Book 1, Darkness Dawns – http://bit.ly/1m38HWH
Book 2, Night Reigns – http://bit.ly/1m38HWH
Book 3, Phantom Shadows – http://bit.ly/1m38HWH
Book 3.5, In Still Darkness – http://bit.ly/1m38HWH
Book 4, Darkness Rises – http://bit.ly/1m38HWH
Book 5, Night Unbound – http://bit.ly/1m38HWH
About the Author:
New York Times and USA Today Bestselling Author Dianne Duvall earned a bachelor's degree in English from the University of St. Thomas, where she studied fiction writing, playwriting, and poetry writing. Darkness Dawns, the first book in her Immortal Guardians paranormal romance series, was nominated for the RT Reviewers' Choice Award for Best Vampire Romance by RT Book Reviews and for Best Paranormal Romance – Vampire by The Romance Reviews. It was also deemed a Top Pick by The Romance Reviews and a Best Book by Long and Short Reviews. Night Reigns, the second book in the series, was nominated for Best Best Book of 2011 – Paranormal Romance by The Romance Reviews and declared an "utterly addictive" Top Pick by RT Book Reviews. Phantom Shadows, the third book in the series, has been declared a Top Pick by both The Romance Reviews and Night Owl Reviews. Her Immortal Guardians novella In Still Darkness was released in the Predatory anthology on May 7, 2013, and has received many fabulous reviews. Darkness Rises, the fourth book in the series, hit the USA Today Bestseller list, has been nominated for the RT Reviewers' Choice Award for Best Vampire Romance by RT Book Reviews and was deemed a Night Owl Reviews Top Pick.
Dianne has also completed two not-yet-published paranormal romance novels that are prequels to Darkness Dawns. A Sorceress of His Own is a medieval romance with paranormal elements that won awards in the Lone Star, Where the Magic Begins, Southern Heat, Picture This, Book of Your Heart and Suzannah national writing competitions. Rendezvous With Yesterday is a time travel romance and won second place in the Picture This writing contest.
In addition to writing romance, Dianne has completed a one-act play (comedy) and teamed up with an award-wining screenwriter to write a spec script for a new situation comedy. Several of her poems have also been published in anthologies.
When she isn't writing, Dianne is very active in the independent film industry and once even appeared on screen as a machete-weilding maniac not unlike the vampires she so loves to create in her novels.
Author Links:
Website – http://dianneduvall.com/
Facebook – http://www.facebook.com/DianneDuvallAuthor
Blog – http://dianneduvall.blogspot.com/
Twitter – https://twitter.com/DianneDuvall
Goodreads – https://www.goodreads.com/author/show/4400405.Dianne_Duvall
Pinterest – http://www.pinterest.com/dianneduvall/
You Tube – https://www.youtube.com/channel/UCVcJ9xnm_i2ZKV7jM8dqAgA?feature=mhee
---
Darkness Dawns
Immortal Guardians Book 1
Amazon • Kindle • Audio • Barnes & Noble • Nook
Favorite Quote:  "You stabbed me in the ass?"—Bastien
In this dazzling, sensual novel, Dianne Duvall beckons readers into a world of vampires, immortals, and humans with extraordinary gifts . . . where passion can last forever, if you're willing to pay the price . . .
Once, Sarah Bingham's biggest challenge was making her students pay attention in class. Now, after rescuing a wounded stranger, she's landed in the middle of a battle between corrupt vampires and powerful immortals who also need blood to survive. Roland Warbrook is the most compelling man Sarah has ever laid hands on. But his desire for her is mingled with a hunger he can barely control . . .
In his nine centuries of immortal existence, no woman has tempted Roland as much as Sarah. But asking her to love him is impossible — when it mean forfeiting the world she's always known, and the life he would do anything to protect.
Night Reigns
Immortal Guardians Book 2
Amazon • Kindle • Audio • Barnes & Noble • Nook
Favorite Quote:  "What did you think I'd do?  Ask her if I could braid her hair after we gave each other facials and painted each other's toenails?"—Marcus
Dianne Duvall portrays a world of temptation, loyalty, and heartbreak . . . a world where danger and desire walk hand in hand . . .
Ami isn't much for trusting strangers. She has a hard time trusting anyone. But she's no coward, and she's no pushover in the protection department either. So when she comes across a mysterious warrior taking on eight deranged vampires on his own, she doesn't hesitate to save his bacon. Of course, that was before she realized what one little rescue would get her into . . .
Marcus Grayden has been an immortal protector of humanity for eight hundred years, and at the moment he's not interested in backup. From the moment Ami arrives in his life, he can't deny that she's strong, smart, and extremely skilled at watching his back. But she's also destroying his protective solitude and stirring desires he can't bear to awaken. After all, whatever her secrets — how can she defeat death itself?
Phantom Shadows
Immortal Guardians Book 3
Amazon • Kindle • Barnes & Noble • Nook
Favorite Quote:  "All right.  All right.  Settle down.  We're all glad Sarah stabbed Bastien in the ass."—Seth
Dianne Duvall lures readers into a world of romance and suspense, where love can mean the difference between life and death . . .
Dr. Melanie Lipton is no stranger to the supernatural. She knows immortals better than they know themselves, right down to their stubborn little genes. So although a handsome rogue immortal seems suspicious to her colleagues, Sebastien Newcombe intrigues Melanie. His history is checkered, his scars are impressive, and his ideas are daring. But it's not his ideas that have Melanie fighting off surges of desire . . .
Bastien is used to being the bad guy. In fact, he can't remember the last time he had an ally he could trust. But Melanie is different — and under her calm, professional exterior he senses a passion beyond anything in his centuries of experience. Giving in to temptation is out of the question — he can't put her in danger. But she isn't asking him . . .
In Still Darkness 
Immortal Guardians Book 3.5
Favorite Quote:  "Is this going to get weird?  Like kinky weird?"—John
Originally published in "Predatory" – "In Dianne Duvall s world of Immortal Guardians, the stakes for mortals are high, but the cost especially to the heart might be higher "
It s not the first time Immortal Guardian Richart d Alencon has saved a human life from eternal damnation. Usually, he moves on, a nameless savior like a ghost in the night. But this time he can t seem to forget the woman who rewarded him with a sensuous kiss after he rescued her from a trio of vampires. While Richart knows that loving a human can only bring trouble, the taste of forbidden lust is too great to resist
Jenna never imagined she d end up a single mom working overtime to put her son through school. But she might have daydreamed once that a devastatingly gorgeous Frenchman would sweep her off her feet. Now that a package of tall, dark, and handsome seems intent on doing just that, doctors are telling her she may not have long to live. But Richart is telling her just the opposite. All she has to do is abandon her humanity.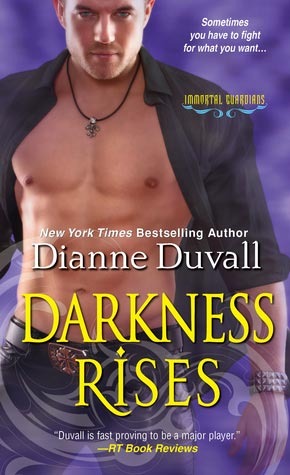 Darkness Rises
Immortal Guardians Book 4
Amazon • Kindle • Barnes & Noble • Nook • iBooks • Kobo • Walmart
Favorite Quote:  "Great.  There goes our security deposit."—Sean
Dianne Duvall returns to the world of the Immortal Guardians, where danger — and desire — make every decision count . . .
Krysta is used to getting the drop on vampires. Her "special abilities" aren't much, but the plan is simple — she plays helpless pretty young thing to lure them in. Then her shoto swords come out and it's bye-bye, bloodsucker. Until one night she finds herself with an unexpected ally. He's a vampire, all right, but different. Mysterious. Handsome. And more interested in saving her skin than draining it.
Étienne has been an Immortal Guardian for two hundred years — long enough to know that Krysta is special. He can't stop thinking about her long legs, even more than her short swords. Then he discovers the vamps she's exterminating have friends in high places, and the Guardians are in danger, too. He'll have to accept Krysta's help to save them. The stakes for a mortal are high. But the cost to his heart might be higher . . .