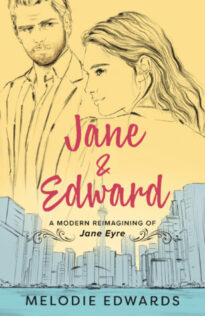 Jane & Edward: A Modern Reimagining of Jane Eyre
by
Melodie Edwards

Published by
Berkley Books
on March 21, 2023
Genres:
Contemporary
Pages:
352
Format:
eBook
Source:
Netgalley



I received this book for free from Netgalley in exchange for an honest review. This does not affect my opinion of the book or the content of my review.
This post contains affiliate links you can use to purchase the book. If you buy the book using that link, I will receive a small commission from the sale.
This powerful reimagining of Jane Eyre, set in a modern-day law firm, is full of romance and hope as it follows the echoing heartbeats of the classic story.
A former foster kid, Jane has led a solitary life as a waitress in the suburbs, working hard to get by. Tired of years of barely scraping together a living, Jane takes classes to become a legal assistant and shortly after graduating accepts a job offer at a distinguished law firm in downtown Toronto. Everyone at the firm thinks she is destined for failure because her boss is the notoriously difficult Edward Rosen, the majority stakeholder of Rosen, Haythe & Thornfield LLP. But Jane has known far worse trials and refuses to back down when economic freedom is so close at hand.
Edward has never been able to keep an assistant--he's too loud, too messy, too ill-tempered. There's something about the quietly competent, delightfully sharp-witted Jane that intrigues him though. As their orbits overlap, their feelings begin to develop--first comes fondness and then something more. But when Edward's secrets put Jane's independence in jeopardy, she must face long-ignored ghosts from her past and decide if opening her heart is a risk worth taking.
---
An exceptional modernization of Jane Eyre.
Author Melodie Edwards rocks this modern update to Jane Eyre in a way that follows the classic and yet still gives us a believable and absorbing contemporary story. Even if you haven't read Jane Eyre–and why not?–this is still an enjoyable contemporary romance.
In Jane & Edward, Jane Raine was orphaned at 13 when her father, a well-respected Professor, dies suddenly without making provisions for his daughter.    After she is finally released from the system after being tossed from foster home to foster home, Jane thinks her life will forever be stuck in the never ending drudgery of waitressing.  That is until she overhears her young co-workers discussing a legal assistant class at the local college.  With strict budgeting, Jane receives her certification and surprisingly, she is offered a position with one of the largest law firms in Toronto, Rosen, Haythe & Thornfield.  More surprising, Jane is shown her desk on the top floor with one with the senior partner, Edward Rosen.  Well, it's surprising until Jane runs into her new employer while he is beating up the coffee maker.
Most of Edward Rosen's assistants have each run quickly out of the building, some on their first day, but Jane is not put off by his brusque demeanor or the bellowing from his office.   She even finds his quirky behavior makes for an interesting day, even if a bulk of her day can be spent sending apology emails to other employees or opposing counsel regarding Mr. Rosen's frequent meltdowns.
Once Edward realizes that no matter what he does, he cannot fluster is new assistant, they begin a employer/employee partnership filled with mutual respect.    Jane and Edward grow closer as the months pass until love blooms, but when decisions of the past come back to haunt them, can they stand together or will these ghosts of the past destroy their hopes of a future together?
THOUGHTS:
At my house, we often watch older movies and discuss if they could stand up to modern changes, such as whether or not having a cell phone would make the whole problem moot or if you had Googled beforehand, would there have been no confusion.  When I caught this new release on a recent email from the publisher, I was very interested to see how the author would attempt to bring it up to date.   How much of the original story would still be left in tact and mostly, would Jane Eyre survive the modernization in a believable story as Jane & Edward?   I am delighted to tell you that this story captured the original spirit of Jane Eyre and still gave us a believable and enjoyable contemporary romance.
Jane Eyre is a favorite classic story of mine, even though I fluctuate between poor Edward and what a selfish asshat.  Jane is such a strong, unforgettable character. She is a poor relation, tossed out to institutional and almost abusive education.  The original Plain Jane, Jane still manages to catch the eye of her boss, the dark and brooding Edward Rochester.  Jane is so strong willed, even after falling in love with Edward, she won't bend on her principles even if that means tossing away their HEA, all while Edward it doing his best to convince her that leaving him will be selfish since poor Edward had such a hard life  (He really is a selfish asshat).
The background of a high profile law firm gave us the believable power difference between the senior partner of Edward and the new legal assistant, Jane.   Instead of an English household, we have a large law firm of junior partners, law clerks, IT, HR, paralegals and other legal assistance who are all watching and gossiping about the interactions between Edward and Jane.  We have a  French transplant and fellow legal assistant, Adele, who stands in for both young Adele and Mrs. Fairfax, as Jane's confident and friend who warns Jane that senior partners don't fraternize with and marry their legal assistants.  We have another partner hanging around who steps in for the Hon. Blanche Ingram as a contender for Edward's affection.  We have Steven Steppenwolf who stands in for the Edward's mysterious friend Mason.  We also have a potential romantic counterpart for St John Rivers for Jane. View Spoiler »While Edward doesn't have a mad wife living in the attic or even stowed in the basement, he does have a narcissistic wife living in California, a community property state, meaning any divorce would allow her to grab half of everything, including Edward's shares of the partnership. Divorcing her would allow her to dismantle the firm for its assets, as she wants to do, and all the people who rely on the firm for their livelihoods would be out of work. Again, it this all comes off as a believable obstruction to a HEA.  Even Jane's objections, over and above sleeping with a married man, are all reasonable. « Hide Spoiler
This story stays true to the original story of Jane Eyre and nothing is lost in the modernization.  Even if you have never read or watched an adaptation of Jane Eyre (again, why not?), this was still a very engaging contemporary romance and a wonderful story.
---
Favorite Scene:
For two days after the incident, Mr. Rosen was, Jane came to realize, on his best behavior. There was no yelling, no door slamming, no throwing of pens or paperwork, and minimal swearing. He went to meetings on time, and without reminder. He didn't make a single person cry, and Jane did not have to write any apology notes. He did not verbally or physically attack the coffee machine. On the third day of this strangeness, Isla, one of the assistants from down the hall who sat next to Adele, and who Jane was not on friendly terms with, grabbed her arm when they were alone in the elevator and asked what drug she had been slipping into Mr. Rosen's coffee.
"What?"
"Seriously, we've all been talking about doing it for years, but we couldn't figure out the logistics. Is it in the coffee itself, like a liquid sedative? Or is it like a pill you grind up and put in the bottom of his cup?"
"I'm not drugging him!"
"Okay, I get it. Plausible deniability." She winked as they exited the elevator together into the office.
Jane rolled her eyes and stormed off to her desk. She waited until 9:00 a.m. when Mr. Rosen strolled in. calmly bid her good morning, and seated himself in his office. Enough was enough. She walked across the hall and smacked her notepad with his morning schedule down on his desk.
"Whatever you're doing, stop it. Right now."
"Doing what?"
"Don't play innocent. This! This…being nice and polite and normal. It's freaking me out."
"I can't be polite?"
"People think I'm drugging you!" He snorted at that. "I'm serious! I just got asked if I'm using pills or liquid tranquilizers!"
He signed with exasperation. "I wasn't…I'm just trying to…When I misbehave, I know you get more work. I'm trying to give you less of a hard time. That's all."
"Well stop!" Jane exclaimed. "I don't like it!"
"You don't?" he asked, genuinely perplexed.
Jane paused as the truth of her words hit. She didn't like it. Sure, the job had been easier for the past three days, but it was also…boring. The day dragged on with only the monotone of administrative duties to fill her time. It was like the restaurant all over again. The dulling sensation of repeating the same tasks over and over again, before going home to a lifeless, quiet apartment. The chaos Mr. Rosen created had been stressful to deal with at first, but then it had become exciting. Life had become colorful.
More than that, he was colorful. She had never met anyone who so adamantly did not give a damn what other people thought. It was liberating. He was noisy and messy and energetic. It was lively and invigorating and fun. He was blunt like a baseball bat to the head, but he was honest, open; you knew where you stood with him always, and you could be honest and say what you thought in turn. He was stubborn to the point of ridiculous It was frustrating, but reassuring. He was constantly talking to inanimate objects; his desk, his old nemesis the coffee maker, and Lamp (still being mourned by him, unaware of a slow reconstruction process happening under Jane's desk. She was hoping to give it to him for Christmas.) It was endearing and it make her laugh. He was a smart ass…well, so was she, she had discovered. She liked their banter.
"Mr. Rosen, you and 'normal' have never really been on speaking terms. And I've gotten used to it, so let's just keep it that way, all right?"
A small, crooked smile stretched across his face. "You're actually okay with me…as is?" he asked. There was something strangely hopeful in his voice.
"Just…whatever, dial down the Stepford behavior, okay?"
The smile became a full-blown grin, his look suddenly as mischievous as ever. "I knew you liked me."
Jane rolled her eyes but couldn't help smiling. "I tolerate you, Mr. Rosen. Don't get carried away."
"I think you mean: 'Why Mr. Rosen, you are positively delightful as your natural self, and I adore you.' 'Why, thank you, Jane. I am rather adorable, aren't I?'"
"Are you bantering with yourself?" she asked, amused.
"Impressive, isn't it?"
She shook her head, exasperated, and went back to her desk. Within twenty minutes he was bellowing about jammed staplers. Alone in her cubicle, she smiled.
Related Posts