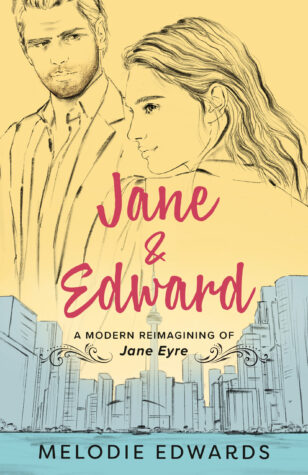 JANE AND EDWARD by Melodie Edwards
Berkley Trade Paperback; on-sale: March 21, 2023
With echoing heartbeats of the classic story, JANE & EDWARD explores gender, class, family, and the complexities of romantic relationships in a beautifully insightful and emotional way. Fans of Jane Eyre and contemporary romances will immediately fall in love with this debut that is a breath of modern air. Melodie Edwards' sophomore novel is a modern take on Persuasion (2024).
The story: Growing up as an orphan in foster care, Jane has not had an easy life. After struggling to make ends meet, Jane decides to take classes, and is offered an assistant position at a distinguished law firm in downtown Toronto. Everything is falling into place—everything except her new boss, the notoriously difficult Edward Rosen and majority stakeholder of Rosen, Haythe & Thornfield LLP. Except Jane is persistent and has faced worse trials in life than a cranky grown man. As each paycheck comes in, the more Jane is able to tolerate her boss' shortcomings.
Edward has never been able to keep an assistant—he's too loud, too messy, too ill-tempered. Until Jane. There's something about the quietly competent, delightfully sharp-witted Jane that intrigues him. And she's funny. Not in an obvious way though. Jane's humor is subtle, snarky, and potent enough to insight a chuckle.
As their orbits overlap, their feelings begin to develop—first comes fondness and then something more. But when Edward's secrets put Jane's independence in jeopardy, she must face long-ignored ghosts from her past and decide if opening her heart is a risk worth taking.
---
Melodie Edwards has a BA in English literature from the University of Toronto, a Master's degree in communications from McMaster University and Syracuse University (2023), and studied comedy writing at the Second City Training Centre.
She believes the importance of tea and biscuits while writing cannot be overstated.