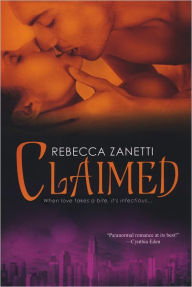 Claimed (Dark Protectors, #2)
by
Rebecca Zanetti

Series:
Dark Protectors #2
Published by
Brava
on October 25th 2011
Genres:
Paranormal/Urban Fantasy
Pages:
321
Format:
Paperback



I received this book for free from in exchange for an honest review. This does not affect my opinion of the book or the content of my review.
This post contains affiliate links you can use to purchase the book. If you buy the book using that link, I will receive a small commission from the sale.
---
A Daring Rescue

Emma Paulsen is a geneticist driven by science. But she's also a psychic, so when a dark, good-hearted vampire frees her from the clutches of the evil Kurjans, she realizes he must be the man who's been haunting her dreams. But with a virus threatening vampires' mates, Emma may discover a whole new meaning of "lovesick". . .

A Deadly Decision

As King of the Realm, Dage Kayrs has learned to practice diplomacy. Still, it's taken three hundred years to find his mate, so he'll stop at nothing to protect her—even if it means turning his back on his own kind. . .
---
In the world of the Dark Protector series, Vampires are born, not created.  Vampire genes are strong but they only create more male vampires.  The vampires must then find their mates among "gifted" human females; empaths, psychics, etc.  When the human females are mated to their vampires, their DNA structure is changed. This changed DNA creates a "mating allergy" in any male who simply tries to kiss a mated female.  Since gifted human females are rather rare, Kurjans (another and certainly less attractive race of vampires) have created a virus which destroys the mating bond, thereby alleviating the danger of the mating allergy, and allowing the Kurjans to steal the mates of the vampires for themselves.
Emma Paulson is a brilliant geneticist with a strong psychic gift.  She was unaware that the cure for cancer she was working on was actually the Kurjan's virus.  When Emma realizes something is not right about her research, she takes her findings and runs.  Until that moment, she was unaware of vampires, Kurjans and the world of the supernaturals.   She also learns that her sister, Cara, and her niece, Janie, were not only living with the vampires, but that her sister was now mated to a Vampire and pregnant with a vampire son. 
Dage Kayrs is the King of the Realm.  He has been for the last 325 years.  He is the most powerful vampire and he maintains peace among the supernatural allies and protects them from the Kurjan scourge.   The one thing he wants most in this world is to find her, his mate.  The woman he has been dreaming about for centuries.   When he first meets Cara, she looks so similar to the woman in his dreams.  He soon realizes that her sister, Emma, is the woman he has been searching for all these years.
Dage rescues Emma from the Kurjans who have captured her and were sending her to the leader of the Kurjans to be mated to him.  Dage brings Emma home to see to her sister.  Shortly after Emma arrives, Cara and several others are infected by the virus, right under the noses of the Vampires.  There is a traitor in their midst. 
While Emma is in a race to find a way to reverse the virus to save her sister and her unborn child, Dage is trying to reinforce his allies for the coming Kurjan war.  He allows an old friend, Caleb Donovan, and his people to return to the Realm after 150 years of banishment.  Caleb was banished to avoid a war with the Demons.  Now that Caleb has returned, the Demons don't believe in by-gone will be by-gone and they have given Dage a week to denounce Caleb before the Demon's declare war on the Realm.   Can Dage fight a war on two fronts, find the traitor and save the females from the virus, all while trying to win the heart of the stubborn Emma?
The science introduced in the changing DNA and the effects and development of the virus add a unique and very interesting aspect to this series which keeps it from being just another vampire story.  Add to that the impending war between the Vampires and the Kurjans.  This all makes for a very exciting series. 
Rebecca Zanetti's writing is both brilliant and frustrating.  While her stories are gripping and intriguing, this is a continuing saga and not all questions will be answered at the end of this story.   If you are thinking about reading this series, I would recommend starting soon.  Since it is a continuing story line, the further into the series we get, the harder it will be to just pick up the latest book. 
Received copy courtesy of Kensington Books.  Thank you!
---
I do have one thing to say to one of the characters:  Emma – You have a conversation with the very powerful King of the Realm where you both confess you have been dreaming of each other half your lives. You're about thirty, he's around 350. He's been dreaming of you for two hundred years. Not just someone special, but you specifically for two hundred years!!! Did you really think your speech of I'm not doing that mating thing. I'm here to see my sister, then I'm out. was really going to go over well? Did you think he was going to give you a hug, and a Thanks for last night. Call me next time you're in town. REALLY?? Although the ensuing power struggle was titillating to the rest of us, you don't have to be a brilliant geneticist with psychic abilities to know that you weren't going to make it to the door.
Favorite Scene:
A tingling set up through her veins as if carbonation mixed with her blood. Nerves flared to life in her extremities.
No. Anger and dread pooled near her solar plexus. "Did you mark me?"
He stiffened behind her. "Of course not. I said I wouldn't." Thick arms tightened their hold on her waist and his breath stirred her hair. "Tonight, anyway."
She ignored the not-so-veiled treat as well as the renewed desire beginning to hum throughout her pores. "I feel different. Powerful." What the hell had he done to her?
He shrugged. "You're my mate, love. Your body knows that, even if you don't. The marking is only one part of the process."
The mattress dipped and she found herself on her back, her gaze held captive by his. "I told you I won't be forced into this by fate."
He nodded and his lips whispered against her. "Yes, you did. But I'm not fate." He nipped her lip. "I'll give you time, Emma. But if you think I'm letting you go, you've misread me."
Related Posts