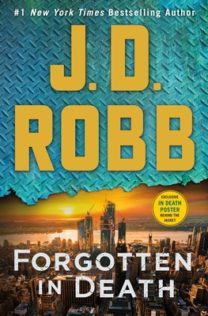 Forgotten In Death (In Death #53)
by
J.D. Robb

Series:
In Death #53
Published by
St Martins Pr
,
St. Martin's Press
on September 7, 2021
Genres:
Crime Drama
,
SciFi
Format:
Audiobook
Narrator:
Susan Ericksen
Source:
Amazon



This post contains affiliate links you can use to purchase the book. If you buy the book using that link, I will receive a small commission from the sale.
In the latest novel in the #1 New York Times bestselling series, homicide detective Eve Dallas sifts through the wreckage of the past to find a killer.
The body was left in a dumpster like so much trash, the victim a woman of no fixed address, known for offering paper flowers in return for spare change—and for keeping the cops informed of any infractions she witnessed on the street. But the notebook where she scribbled her intel on litterers and other such offenders is nowhere to be found.
Then Eve is summoned away to a nearby building site to view more remains—in this case decades old, adorned with gold jewelry and fine clothing—unearthed by recent construction work. She isn't happy when she realizes that the scene of the crime belongs to her husband, Roarke—not that it should surprise her, since the Irish billionaire owns a good chunk of New York. Now Eve must enter a complex world of real estate development, family history, shady deals, and shocking secrets to find justice for two women whose lives were thrown away…
---
Lt Eve Dallas is pretty busy in this latest novel. If you like watching Eve break suspects in the box, you are gonna enjoy this one.
NYPSD's Lt Eve Dallas started her morning standing over the body of a homeless woman found in a dumpster at a construction site. While interviewing witnesses, she is called over to another construction project which is underway by her husband's company, Roarke Industries. On the second scene, they find the bones of a woman and her fetus which has been walled up in the basement almost 40 years ago.
While Eve investigates the murder Alva Quirk, the coroner finds clear evidence of years of physical abuse going back decades. First Eve is going to find out who murdered Alva and then she is going after the person who tortured and beaten Alva so badly that living on the streets of New York was the safer option.
And while Eve finds justice to Alva, she has the Dr. DeWinter, the forensic anthropologist, working to find out who was the pregnant woman murdered and walled up so many years ago so that Eve can track down her killer and made them spend the rest of their lives walled up in a box.
Who doesn't love when Eve and Peabody put on their game faces and break a suspect in the box?  It's usually the best way to end these stories.   In Forgotten in Death, we get to watch Eve work her magic over and over again. First she has to solve first Alva's murder, then go back and determine who abused her, and then move on to the mystery woman in the wall, each of these investigations goes pretty quickly since we are cover several different cases so these investigations go lot quicker than normal.   Since one fact leads into another which leads into another,  it does make sense that it all falls in line right away.
As always, when there is more investigation, there is less personal growth of the characters. Most of that has been Eve's from her start as the solo cop with few friends and no true connections to now being a wife, a partner and all that self-awareness that has now allowed her to make so many friends and connections. Those bonds are not so strong with no more hidden secrets and it has been some time since we have really had any shocks or deeper understanding or bonding within the stories. Therefore, N.R. really needs to keep upping these investigations.
I am also getting as annoyed as Eve with the constant "I saw the vid or read the book" regarding the Icove Agenda and now with another book/vid coming out on Eve's prior cases, it is only going to get worse. I listened to Susan Ericksen's audiobook presentation, as this is one of my favorite narrators, or I would have done a search for how many times witnesses or suspects comment about that.
This is one of my favorite series so you know I will be right there waiting for the next book.
Related Posts