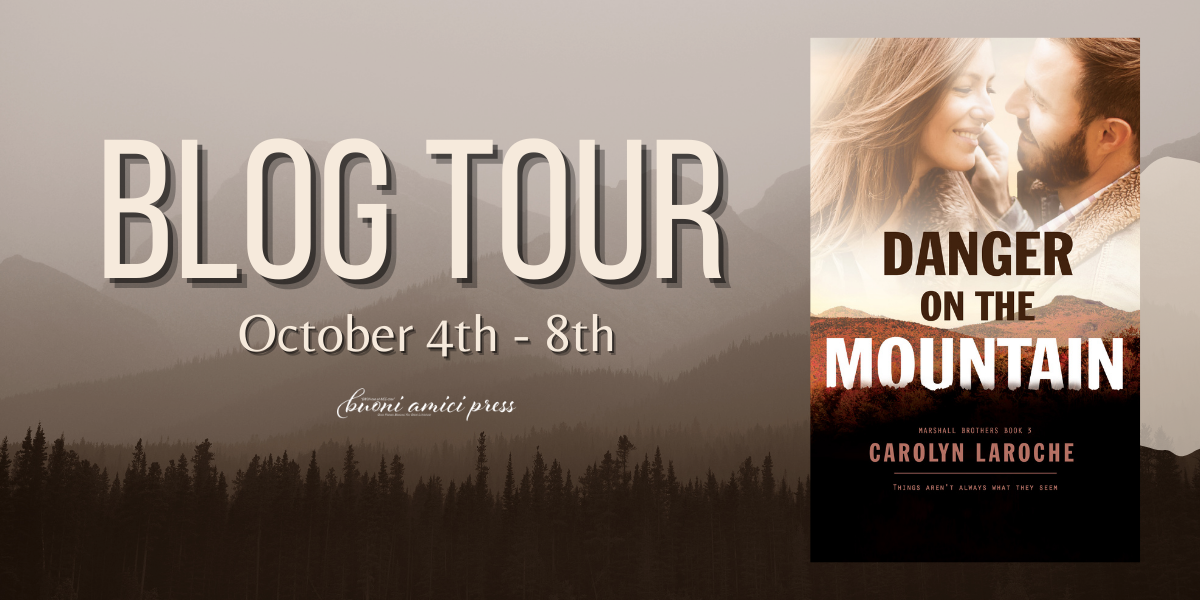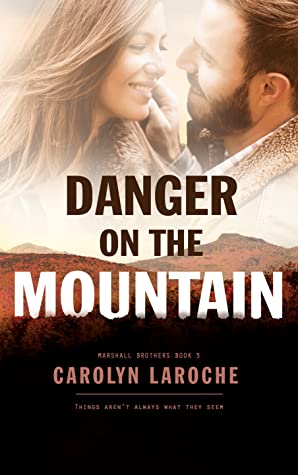 Title: Danger on the Mountain (Marshall Brothers, #3)
Author: Carolyn LaRoche
Genre: Suspense
Release Date: September 4, 2021
Cover Designer: Booksmith Design
Buy links:
Amazon: https://amzn.to/3zCDdzp
Apple: https://apple.co/3i7KfWU
Nook: https://bit.ly/3zBTlRH
Kobo: https://bit.ly/3eXPTJr
Book Description:
She's sold her soul to the devil for the last time…
When an unexpected inheritance comes her way, high-powered defense attorney, Layla
Evans, gives up everything she's known and seizes the opportunity to start over. The
mountain ranch is the perfect escape from a life she can no longer stand. In the solitude
of her mountain escape, she can wrestle her demons and never hurt anyone with her
job again.
She never counted on her past following her there.
Ben Marshall knows a thing or two about running away…
After a decorated military career ended in the worst way possible, Ben leaves his
Special Forces unit and seeks sanctuary high in the Blue Ridge Mountains. He needs
the solitude. It's enough, until a beautiful brunette, who has no business running a
ranch, literally falls into his life. When Layla's past catches up to her, Ben's old instincts
kick in. His need to keep Layla safe becomes stronger than his desire to protect himself
from her.
Can he protect Layla without risking his battered heart or will love truly conquer all?
Goodreads book link:  https://www.goodreads.com/book/show/57509917-danger-on-the-mountain
---
It pained him to hear the roughness of her voice. A solid reminder that he'd almost lost her. The battle that had waged inside him since meeting her had amped back up to full scale.
When the nurse was gone, Ben tried again to explain himself. "I was engaged once, you know."
"Nope. I had no idea," Layla answered without looking up from her drink. Her apparent indifference hit him right in the heart. "You haven't said much about yourself."
"Her name was Lauren. According to her, I'm not fit for a serious adult relationship."
"Just because it didn't work out with her you consider yourself unable to care about anyone else?"
Man, she isn't making this easy on me."It goes much deeper than that, Layla. I've seen things, done things."
"We all have regrets, believe me." She sounded sad and a little wistful. Like she had some serious secrets of her own.
"I was in the Air Force. Special forces. My job… well, things happened. Things I could never get over. Lauren knew it, and now, after messing things up with her so badly, so do I."
Layla set her cup down on the bedside table. "So, because things didn't work out with one relationship, you left your home, your family, and a job I think you loved to come live on a mountain, sentencing yourself to a lifetime of loneliness and self-pity?"
He exhaled slowly. "You don't know what it's like to live in my head. Besides, didn't you basically do the same thing?"
"This isn't about me!"
He leaned forward, looking her in the eyes. "Are you saying you don't have any secrets of your own? Secrets that sent you to the same isolated mountain as me? Secrets that seem to want to see you suffer, maybe even die?"
---
About Carolyn:
Science teacher by day, writer and baseball mom by night, Carolyn LaRoche lives near
the ocean with her husband, two boys, rescue puppy, and four cats. She loves
crocheting, books, food videos and trying new recipes.
AUTHOR SOCIAL MEDIA LINKS:
Facebook: https://www.facebook.com/CarolynLaRocheAuthor/
Twitter: https://twitter.com/CarolynLaRoche
Goodreads: https://www.goodreads.com/carolynlaroche
Instagram: https://www.instagram.com/carolynlarocheauthor/
Website: http://carolynlarocheauthor.blogspot.com/