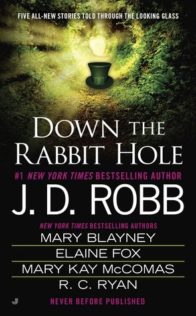 Down the Rabbit Hole (In Death, #41.5)
by
J.D. Robb
,
Mary Blayney
,
Elaine Fox
,
Mary Kay McComas
,
R.C. Ryan

Series:
In Death #41.5
Published by
Jove
on September 29th 2015
Genres:
Fantasy
Pages:
432
Format:
eBook


I received this book for free from in exchange for an honest review. This does not affect my opinion of the book or the content of my review.
This post contains affiliate links you can use to purchase the book. If you buy the book using that link, I will receive a small commission from the sale.
---
[box style="rounded" border="full"]Overall, I was disappointed with this book. Even as a big fan of the In Death series, the most I could give this collection was a "meh." [/box]
Each of these stories were supposed to be a twist on the Alice in Wonderland story. The only one that came close was the J.D. Robb novella, Wonderment in Death. In this short story, a man who considers himself the Mad Hatter, along with his accomplices Mrs. March and Dorbert Mouse, use tea laced with hallucinogens to fleece his grieving clients into believing they are actually talking with their deceased loved ones. When he has gotten all the money he can or if he simply get bored with his tea party guest, he sends his victims home with a special "Drink Me" bottle and a last suggestion to commit suicide. Once this Mad Hatter arrives in New York and sets up shop, he comes to the attention of Eve Dallas when he convinces Darlene Fitzwilliams she should reconcile with her brother Marcus and giving him a gift to show her sincerity. Except instead of flowers, Darlene gives her brother a pair of scissors through his heart before she takes a flying leap off the balcony of his fifty-second floor apartment into the waiting arms of her dead parents. Darlene and her brother, Marcus, were friends of Charles Monroe and Dr. Louise Dimatto, who convince Eve that there is more going on here than a sibling feud. Once Eve Dallas is on his trail, she will flush him out of his rabbit hole and put him in a cage where he belongs.
The other story I will give a thumbs up to would be the last book in the novella, Fallen by R.C. Ryan. In this story, Beth Campbell is sent to the Scottish Highland to convince the owner to sell his vast Estate to a corporation who wants to turn it into a hunting resort for the rich and famous. If she fails, she is fired. Upon arriving, she it told to get to the Estate before the sun sets and beware the Beast of the Highlands. About a mile from the house, her car breaks down and she needs to walk if she wants to get there on time. Walking in her very fashionable but inappropriate heels causes Beth to fall down, down, down and when she lands, she finds herself in the sixteenth century facing the Laird of the lands. Beth isn't certain if it is a sign of a severe head injury or the magic that has brought her here, but she swears that the people in the castle keep turning into animals, including the handsome Laird, who she sees as a magnificent stag. And if that was so, that would make him the Beast of the Highland.
Alice and the Earl in Wonderland is a notable story involving time travel but it appears to be a flip-side of another short story which Mary Blayney released a few years ago. In the prior story, Amy Kemp and Simon West use a magic coin to travel back to 1805. When they do this, they take the place of the Earl of Weston and Miss Alice Kemp. So what happened to the Earl of Weston and Miss Kemp? They take a magic trip to 2005 (which is the time of the original story). It is interesting seeing 2005 being introduced to someone from 1805. Ms. Kemp is shocked to be wearing men's clothing in public but amazed to find women holding important jobs such as running businesses or being doctors. There was a comment in the story about people tapping on their phones but the first iPhone didn't come out until 2007 so unless they are all tapping on Blackberries, this was an oops. (Yes, I looked that up.) In 1805, Miss Kemp refused the Earl's proposal since her parents were divorced and she didn't want that scandal to taint him, and the new Earl of Weston is trying to keep his family from financial ruin created by the prior Earl. They can't take anything from the future into the past but will they at least learn something about the changing society that will change their own futures. Although this was entertaining, it would have more meaning to anyone who read the prior story.
As to the remaining stories in the anthology, I believe they made a better pitch for this anthology inclusion than actual stories.
iLove by Elaine Fox involves a man, Jeremy Abbott, who is so obsessed with his iPhone that he doesn't even notice his girlfriend breaking up with him and walking away. He is so mesmerized by his phone that he eventually gets sucked into it. He ends up in an office environment where everyone is in their cubicles and so focused on the screens in front of them that they don't even notice each other. Apparently, the only way to escape is to go to the dating app, iLove, and try to make a real connection with someone. But Jeremy is already in love with his girlfriend who just dumped him. How is he going to make a connection with someone else in order to get free?  This is a very obvious kick at how everyone is too focused on their phones and what might be more exciting than the people right in front of them.
Lastly is the story of A True Heart, which again comes off as a fun concept but not a great story. Elise meets her sister-in-law at a costume warehouse to find costumes for an upcoming birthday party. Elise is very cynical and keeps people at arms length. With the help of Martin (No, I have no idea why is name is Martin), who keeps appearing in different costumes including Darth Vadar, Cat in the Hat, and Abraham Lincoln, and who doles out wisdom like the Cheshire Cat and helps Elise figure out why she is so hard to love so that she can finally accept the love of the man she walked away from.   It was a fun concept and I found it almost torturous to finish.
THOUGHTS:
Usually anthologies feature authors of similar writing styles and this is usually done to introduce new authors or different series to the followers of a well known author. Here the only similarity was the idea to twist the well-known story of Alice in Wonderland. Only the J.D. Robb and R.C. Ryan stories came close in their attempts. The remaining three were less focused and simply taking "Alice" and putting her somewhere fantastical.
I also didn't feel that any of these writers had a similar writing style or story type. Not everyone who would enjoy a futuristic fantasy/cop drama like the In Death series will enjoy a period piece about the Scottish Highlands or a time travel story dropping you back into Regency England.
This anthology is almost set up to fail as a collection since the stories are so different from each other in type and genre, there is no one that is going to enjoy all five of these authors. You might enjoy two or three but I can't see anyone excited about all five, and that would especially include fans of Alice in Wonderland who might not see any of them as an interesting twist on the original.
I would suggest that even fans of J.D. Robb pass this one by or simply put in a request for it at your local library. It didn't add enough to the series in general and the In Death story wasn't that fabulous to be worth the purchase.
Received an ARC from the publisher in exchange for an honest review.
Related Posts