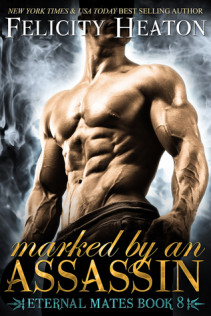 Marked by an Assassin: Eternal Mates Romance Series
by
Felicity Heaton

Series:
Eternal Mates #8
on October 30th 2015
Genres:
Paranormal/Urban Fantasy
Pages:
198
Format:
eBook


I received this book for free from in exchange for an honest review. This does not affect my opinion of the book or the content of my review.
This post contains affiliate links you can use to purchase the book. If you buy the book using that link, I will receive a small commission from the sale.
---
[box style="rounded" border="full"]I didn't finish this book. It is part of the series so I tried really hard to finish.  I even picked it up again after putting is aside and got 70% done but I just couldn't make myself finish it.[/box]
I have read books 4 through 7 of this series and I have been enjoying them and to a point, you really need to read them all.  I had forgotten about a scene where all of the different stories converge and all of the characters meet up at Cavanaugh's bar in their respective story lines.  I tried really hard to finish this one, but I just couldn't get into the story and I couldn't get into the characters.
Harbin is the brother of Cavanaugh (Craved by an Alpha) and the reason their tiny Snow Leopard shifter village was attacked by the human military group known as Archangel. Harbin was so horny, he kept going down the mountain in the human village for sex and met a woman who seduced and then drugged him for information about his hidden village. Because of Harbin, they were able to find the village and kill or capture all of the snow leopards. I am a little confused, because in Marked by an Assassin it seemed like everyone who wasn't killed was captured, but in Craved by an Alpha, Eloise leaves the village because a tyrant Alpha was running the place to find Cavanaugh (who was their true alpha) and bring him back.   So if Archangel knew where the village was, why would anyone continue to live there and why did they leave anyone alive to repopulate it.  I really am confused.  I don't know if the Village was completely destroyed or partially destroyed and if not, why did the military group leave anyone alive to come back? I am not sure what I missed in this part of the series.
Harbin and Aya have a history. They were each other's first kiss. Aya, in her internal reminiscing, seemed to want to do more, but then it seems she chickens out. Harbin, whose sex drive wakes up with that kiss, then sleeps with every single snow leopard in the village except for Aya and then moves onto the human women in town, causing the eventual destruction of his village because he can't keep it in his pants.
It is twenty years between the time of the destruction of the village and this story when Harbin getting an assignment to assassinate a snow leopard. The target turns out to be Aya and although they grew up together and were each other's first kiss, Harbin doesn't seem to realize that his target is Aya until much later in the story. He talks about her like she is just a target who catches his fascination, not "Holy crap, it's Aya from the Village."
What bothered me in this story was the combination of the survivor's guilt everyone seemed to suffer in this destruction of the village. First it was Cavanaugh in Craved by an Alpha and now Aya thinks it is her fault for Harbin needing to go find sex with the human women, and Harbin knows he is the one who brought them to the Village.
Aya has spent the last twenty years being very angry at Harbin because he slept with everyone but her and seems to leave out of her mental rants about chickening out.  She also, after twenty years being pissed off, quickly changes her mind about being mad at Harbin and decides she is being too hard on him.
What pissed me off the most and what I simply don't like it in any story is when the character realizes they are wrong about another character and then still rants about them.   What I mean is simply, Harbin thinks Aya has set him up to be captured by Archangel (like she was after the village was attacked), just like the human did twenty years ago.  He is now pissed off.  He then realizes that Aya is acting all wrong doesn't know the truth.  She doesn't know he was drugged and used by Archangel just like they are now using her.  He realizes that he has to be fair and give her all the facts and that she deserves to hear the truth from him and it's not her fault that she was deceived.  But then he starts ranting all over again about what a bitch Aya is for betraying him and seeming to forget that he just forgave her and was determined to let her know the truth.
I absolutely hate in any story, whether it is paranormal, contemporary, erotica, whatever, when a character goes from hating someone to having an epiphany that they were misjudging them, and then starts ranting all over again about how they were done wrong.   YOU HAD AN EPIPHANY!!  YOU FORGAVE THEM!   You had a rational internal discussion and realized that you were being an ass.  You can't just go back to hating them unless you have a reason or they have done you wrong again.  No.  No.  No.
We also have the issue of the fated mate which Aya picks up on quicker than Harbin.  Harbin is also a 99 1/2 year old leopard shifter who hits sexual maturity at 100.  So now we have a bit of a blurred line between whether oversexed Harbin (remember: the one who couldn't keep it in his pants and got all his people killed) is now oversexed because he found his mate or because he is hitting his sexual maturity and will start humping a tree if you leave him alone long enough.   At one point he is locked in a room with Aya separated by plexiglass.  He smells her and charges the glass, ripping and clawing at it until he captors want to see what he will actually do and they remove the glass.  He charges at her and even Aya isn't sure if he was going to kill her or rape her the way he comes barreling at her.  I am not even certain Harbin knew himself before he was distracted and she escaped.
I hope Aya and Harbin find their HEA but I don't really care.  I think she is better off without him.
I have a copy of the next book in the series, Possessed by a Dark Warrior.  This features the dark elf leader Bleu which a lot of fans have been crying for.  I think Bleu was featured more in Books 1-3 which I did not read yet and hopefully I will still be able to enjoy it, even without finishing Marked by an Assassin because that is not happening.
Received an ARC from the author in exchange for an honest review.
Related Posts