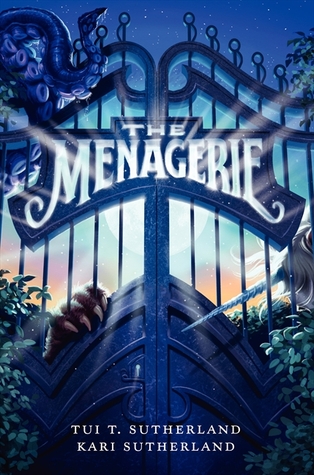 ORDER A COPY: The Menagerie
Publisher: Harper Collins
Publishing Date: March 12, 2013
Hardcover: 288 pages
Rating:  5 Stars
---
[box style="rounded" border="full"]Our blog was taken over once again by our Jr. bloggers for a quick review of a Young Adult adventure.[/box]
Filled with unicorns, dragons, phoenixes, and other fairy tale creatures, the Menagerie is a highly guarded secret facility in the small town of Xanadu, Wyoming. At least, it was a secret—until six griffin cubs escaped.  If Logan and Zoe don't get the cubs back fast, the entire Menagerie will be shut down. The race is on.
The Menagerie is a book about mythical creatures, suspense, mystery, and SABOTAGE!?
Sisters Tui T. Sutherland (Author) and Kari H. Sutherland (Author) wrote The Menagerie, The Menagerie #2: Dragon on Trial, and The Menagerie #3: Krakens and Lies.  They had to coordinate with each other because Tui lives in New Jersey while Kari lives in Boston.
THOUGHTS:
This book was intriguing firsts the cover BAM! Next the story WHAM! Then the end it hits you P-P-POW! SUSPENSE! AND AGAIN A CLIFF HANGER!! This book is great for a person who likes an adventure.