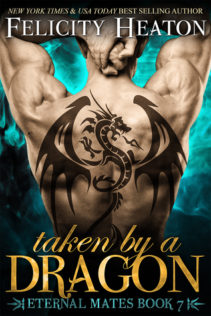 Taken by a Dragon: Eternal Mates Romance Series
by
Felicity Heaton

Series:
Eternal Mates #7
on March 9th 2015
Genres:
Paranormal/Urban Fantasy
Pages:
200
Format:
eBook



I received this book for free from in exchange for an honest review. This does not affect my opinion of the book or the content of my review.
This post contains affiliate links you can use to purchase the book. If you buy the book using that link, I will receive a small commission from the sale.
---
[box style="rounded" border="full"]Taken by a Dragon was definitely my favorite out of this series so far. With it's "stranded together" premise, Loke and Anais have time to get to know each other and build a relationship.  There is plenty of action before and after the get to know you's to keep it exciting. [/box]
The author recommends reading Book 1 in the series, Kissed by a Dark Prince, before reading this story. I purchased a copy, but I never got a chance to read it first. I can see why she suggests that since near at the end most of the characters who have been introduced so far will be showing up. I didn't get a chance to read Dark Prince. Although I didn't feel lost, I didn't have the connection to the characters that you normally would by Book 7.
In Taken, as a dragon Loke has some magic and premonitions is one of his abilities. When he foresee's Anais's death, he doesn't understand why it is so important, but he knows he must save her from her fate and kidnaps her from the battlefield where the Third and Fifth armies of Hell are fighting.
For her own protection, he takes her away to his dragon cave to keep her safe. He intends to keep her until the premonitions of her death cease, and Anais can't escape since Loke's cave of up a sheer cliff in the mountains, surrounded by more mountains and she doesn't know which way to go if she could escape. Loke's promise to return her to her friends once she is "safe" and his premonitions stop keeps Anais from trying too hard to get away and she relaxes enough to let down her guard with Loke. Like all the stranded together tropes, this gives Loke and Anais plenty of time to get to know each other and work out their "I'm a human, you're a dragon" issues until nature takes it's course and Loke realizes that his need to protect her comes from her being his one fated mate.
Loke and Anais are good together once she gets over the "my new boyfriend really does live a man cave" issue, and it is only once they are forced out of the cave that issues arise.
Once the other dragons find out Loke's been hiding Anais, there is a battle for the fair maiden so that Loke can keep his "war prize" which keeps the excitement up.
And of course, once love starts to bloom, someone has to come along and mess it up. Mistakes are made and hints of betrayal start to fester as our lovers are torn apart.
It was an enjoyable story that held my attention and left me wanting more.
THOUGHTS:
This was the last book in the recent Eternal Mates spotlights that I was working with Felicity Heaton on and I falsely presumed it would be the final of the series. No. No. No. That is definitely wrong since there was a lot of set up in this books for characters whose stories we will want to hear. There's Cavanagh's (Craved by an Alpha) brother. There is Anais' fellow hunter, Emelia, who was kept as a war prize, raped and broken by one of the other dragons. There is the elf Bleu, former fiance of Iolanthe (Hunted by a Jaguar). In Bitten by a Hell Cat, there was a captured dragon running from an elf who I had presumed would be the main character in this book. She does show up as a friend of Loke's but there are so many unanswered questions, including what's between her and the elf and what's up with her twin brother?
There is still so much still to tell in this series, and I am looking forward to seeing how it all turns out.
Received an ARC from the author in exchange for an honest review.
---
Favorite Scene:
"Wake now, Little Amazon."
Her eyelids fluttered and he withdrew his hand, rested his elbows on his knees and settled back on his haunches as he waited for her eyes to open. When they did, they immediately sought his face and the fear in them died as she locked gazes with him.
"Loke." His name softly spoken on her lips stirred heat within him, a fierce tempest of need and desire that had his heart pounding.
"I am here, Little Amazon." He brushed is knuckles across her cheek and smiled down at her eyebrows drew together, wrinkling her nose, and she groaned.
"The pain will cease soon. I swear it."
She closed here eyes and tried to evade his touch, and he sighed as he realized his words had wounded her. He hadn't meant his mention of a vow to be a reminder of the one she had broken. He had only wanted to reassure her.
"Can we go now?" she whispered and slowly opened her eyes as he helped her into a sitting position.
He held her upper arms and drowned in the deep blue of her eyes as they locked with his, every male instinct he possessed commanding him to obey her and take her away from this place so she would feel safe again.
He forced himself to shake his head instead.
"Not yet. There is something I must do first." He silently pleaded her not to ask the question that rose in her eyes because he didn't want to frighten her.
The gods must have heard his prayer because she asked another instead.
"Like break these?" she raised her hands between them, the chain that linked her manacles clanking as she moved. Her hopeful smile wobbled on her lips.
"Soon. I must secure the right to break them." He looked away when she frowned at him, unable to hold her gaze when he knew he was on the verge of making her feel more guilty about what she had done. "I will not be long. You will wait here. No one will hurt you. I swear it, Anais."
She grabbed his wrists before he could move, the tightness of her grip demanding that he look at her. He closed his eyes and sighed as it struck him that she wasn't going to release him until she knew what was happening.
"Why do you need to leave?" Her grip on him tightened, squeezing his bones together. "What is it you're going to do?"
Loke looked over his shoulder at the raised platform where Ren still stood, deep in discussion with Rayna, and then beyond to Zephyr where he was sharpening his curved blade outside his hut.
He sensed a shift in Anais's feelings. They turned colder, laced with fear that drew him into looking at her again so he could discover the source of it. Her blue gaze was fixed on Zephyr and he growled under the breath as he thought about that male stepping anywhere near her.
"I am going to win a contest."
Her eyes leaped back to him and widened. "You mean you're going to fight."
"I must. It is the way of my kind. I will secure your freedom, Anais."
"No," she barked and dug her short fingernails into his flesh. "You can't fight to the death for me. It's barbaric!"
Loke smiled softly. "And I am a barbarian…remember?"
Related Posts