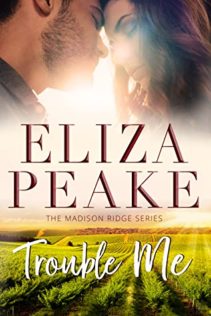 Trouble Me: A Small Town Billionaire Office Romance (The Madison Ridge Series #1)
by
Eliza Peake

Series:
Madison Ridge #1
on September 27th 2019
Genres:
Small Town
Pages:
226
Format:
eBook



I received this book for free from in exchange for an honest review. This does not affect my opinion of the book or the content of my review.
This post contains affiliate links you can use to purchase the book. If you buy the book using that link, I will receive a small commission from the sale.
She wants to stay sober. He wants her mother's land. When sparks fly at the vineyard, will their desires bear fruit?
Emma Reynolds needs a palate cleanser. Burdened by her mom's dying wish to keep the family home, its foreclosure could wreck the recovering alcoholic's hard-earned sobriety. And temptation doubles down when the only job paying well enough to save it is at a winery that comes complete with an intoxicating hunk of a boss.
Shane Kavanaugh wants the reins of his father's empire. And with his reputation on the rocks with the board, he makes plans to convert a local residence into a B&B customer-magnet to finally prove his prowess. But when his gorgeous new hire starts pouring herself into the company, keeping business before pleasure might just make him pop.
As her feelings bubble over, Emma risks exposing her secret abstinence if she lets her emotions run wild. And with his stunning employee becoming impossible to resist, Shane knows revealing his plans for her family's holdings could break their bond forever.
Will their bottled-up truths cost them the love of a lifetime?
Trouble Me is the electric first tale in the Madison Ridge contemporary romance series. If you like swoon-worthy attractions, off-limits affairs, and conflicted hearts, then you'll adore Eliza Peake's unforgettable story.
Buy Trouble Me to pour a glass of passion today!
---
After a shaky beginning, the story picked up and presented a number of interesting secondary characters.
Emma Reynolds sold her lucrative business in Atlanta and moved back to her home town of Madison Ridge to help her mother. Her father's gambling addiction left them severely in debt and it wasn't until his death that they knew just how bad it was. But Emma's father isn't the only one in the family with an addiction. Emma is a recovering alcoholic who quite literally hit rock bottom when a drunken fall leaves her in a coma.  Emma is two years sober and determined to stay that way.   She is also determined to keep her childhood home, a former bed and breakfast and once she manages to save the property from  foreclosure, she wants to return it to it to its former B&B glory.
But Emma can't do that on a waitress's salary and is hoping that she can land the job managing the Kavanagh Winery which was just purchased.   Emma sees the dark humor of a recovering alcoholic running a winery, but this job will pay the kind of money she needs if she is going to save her home.
Shane Kavanagh has been running the KVN since his father began cancer treatments and his first big project is getting the Madison Ridge property up and running.  His plans also include acquiring a property to house guests of the winery.  Shane has found the perfect property almost adjoining the winery which is a former B&B and is on the verge of foreclosure.   Shane is hoping to pick the property up for a steal from the current trust that is holding the property.  If not, then he needs the bank to hurry on the foreclosure because with his father's failing health, Shane needs to show the Board all the progress he is making on this new project if he is going to be named the new CEO without a fight.
Getting everything set up isn't  Shane's biggest problem because he has hired the very competent Emma Reynolds to run the day to day operations.  No, Shane biggest problem is that the lovely Emma haunts his dreams in a way that is very inappropriate for a key employee that Shane needs in the office more than should need her in his bed.  And how can they risk their working relationship by crossing that line, especially since there are way too many secrets between them.
The story started off a little shaky in establishing some plot points.  We start with Emma and Shane meeting at the diner the Emma is working the night shift at.  We find that even though Emma spilled a drink in his lap (complete accident), the lovely waitress hasn't left Shane's mind all day, and it wasn't because of being clumsy.  So much so that he is contemplating whether or not he should seek her out for some fun.   So surprise, surprise when the pretty Emma turns out to be Emmaline Reynolds his first interview for the manager of the winery.  Shane seems to be impressed with Emma's resume and everything seems to be going well, but since Emma used to hire and fire her own employees, she knows that Shane is suddenly giving her the brush off and confronts him that he won't find a better candidate.  He agrees but indicates that she is overqualified and he doesn't want the winery to be a stepping stone to something else.  Um…has everyone suddenly forgotten that they just met last night while Emma was waitressing at a diner?   They completely skip over this.  He doesn't ask why a woman so overqualified to run his winery is working the night shift at a diner?   He doesn't ask if she owns it or was helping a friend?  Or what caused her to sell her big company in Atlanta so she can work at a diner?  And Emma doesn't point out that, hey, the only job I could find here in this dinky little town was as a waitress even though she has these big business degrees and many, many contacts, so where would she be stepping off to?  Plot wise, they should have both been customers at the diner or Shane should have simply offered her the job or simply asked why she was waitressing because that really wasn't explained to us either.
Once they begin to work together, we have both Shane and Emma fighting their attraction since they need to be all business.  We really needed to be more build up here.  Maybe just references to lots and lots of working late together or something.  I found their attraction to each other presented kind of awkwardly such as when Shane is taking Emma on a tour of the operation but he is so out of sorts by what's happening below his belt, he can't function.  He is being charming and suddenly he is thinking she is cute and then he is angry and short tempered because he needs to have sex and the only one he wants is Emma.  Then he doesn't have time for a tour and is all snippy.   Really, a worldly, composed CEO can't rest his libido for long enough to show his new employee around.    When they suddenly decide to jump each other, Shane is like screw it and kisses her, no concern about consequences or even whether or not Emma is even attracted to him.  Then they end up in bed and again, its jerky since there is no discussion whether its a one night thing or since Shane will only be on location for a short time, will they just have sex while he is in town kind of thing, so they just keep having sex with no discussion of where they stand.  Again, we quickly went from all business to mostly all pleasure with no hint of what either was planning to get out of this and certainly none of the important I'm trying to buy your house out from under you information.
I love flawed characters and seeing what an author can do with them.  Emma as a recovering alcoholic fits the bill.  She has some moments of struggle with her addiction but that doesn't stop her from running the winery.  Again, we didn't get a complete picture of Emma.  We knew she had a very big company in Atlanta that went international and someone purchased it from her for millions which all went towards debt, but there was no real information of what kind of company.  Marketing?  Management?  Distribution?   She also indicates that the business created a lifestyle that was not good and was a crutch to her addiction.  Again, that wasn't really explained well.  Was she required to party all night at bars?  Was booze required at business lunches?
The story also could have used a little more information about the day to day business of the winery.  We had no description of the company except for the aborted tour.  For as much as the company was discussed, they could have simply made widgets.  The only reason to make it a winery is because Emma was going to be presented as a recovery alcoholic and because we needed a good reason that the company really needed to buy out Emma's B&B.
Once we ignore those niggling details and got into the story, the romance flowed a little better.  Shane and Emma had a nice chemistry and a very sexy strip poker scene.
This was a respectable debut novel and the author tossed in a quick introduction of several relatives of Emma as well as Shane's brother for future stories.  This story simply needed a little more: more details about the business; more building of the attraction between Shane and Emma to make it worth while to risk their careers and more building our interest in the secondary characters.   This was self-published, so there was no publisher overlord determining maximum pages allowed and even if there was, there are ways to provide more without needing to add chapters worth of detail.
Surprisingly, the  two cousins we spent the most with are not the subject of the next book.  Del Reynolds is the main character  of book 2 and we had an opportunity to get to know him when he accompanies Emma to California but we don't even get a page of them on the plane where the author could have piqued our interest in Del and the next story.
This was on sale for $.99 as of last night (as well as Book 2).  It is certainly worth the investment.
Related Posts