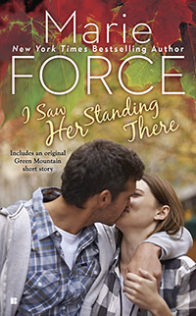 I Saw Her Standing There (Green Mountain, #3)
by
Marie Force

Series:
Green Mountain #3
Published by
Berkley
on November 4th 2014
Genres:
Contemporary
,
Small Town
Pages:
393
Format:
eBook



I received this book for free from in exchange for an honest review. This does not affect my opinion of the book or the content of my review.
This post contains affiliate links you can use to purchase the book. If you buy the book using that link, I will receive a small commission from the sale.
---
This is my first Marie Force series and her characters are so delightful that I wish I had the time to grab some of her other books. In this story, Lucy and Colton have been secretly seeing each other for several weekends so we jump straight into a story already in progress which gives us more pages to figure out how they are going to figure out the long distance issue rather than just the slow build of a new relationship.  
---
Lucy and Colton are absolutely adorable together. They truly are a magical couple with a great dynamic. Due to the fact that Lucy is a New Yorker and Colton lives up on the mountain in Vermont making maple syrup, Lucy is very hesitant to move the relationship forward into anything serious. She insists that she will not move from New York since Lucy is already working so hard to make up for the loss when Cameron left the company to live with Will in VT.  Also, her father, sister and young niece live close by her. Colton is aware that he knows everything about making tapping trees and making syrup, but not many other skills. He never went to college and hasn't done anything else since he was a teen so for him to move to New York City would leave him unmarketable and unemployed.
Obviously, this will be the very big wall between them and although they both know that their relationship is a rare gift, the reality is that  their worlds are located 6 hours apart. I must confess that I couldn't figure a way to blend their two worlds and couldn't wait to get to the end to see how Marie Force wrapped this one up.
Colton's family is aware that there is someone in Colton's life, and his father, always the matchmaker, gives Colton the keys to the family lake house and then gives a key to Will and Cameron who walk in on Colton and his "mystery woman." There is a reckoning since not only has Colton been sneaking around without introducing his family, but Lucy has been hiding it from Cameron as well.
Once it is out in the open,  Cameron convinces Lucy to give Colton a chance and see what happens without fretting so much about tomorrow. Colton, to get away from is busy-body brother, takes Lucy up to his mountain and has to introduce the tech-savy, city girl to his one room cabin in the mountain with no electricity and no indoor plumbing. I could wait to see that happen and  it certainly was entertaining to watch her get used to life which is one tiny step up from camping.
Lucy and Colton are trying to enjoy their weekend…alone, while the Abbotts are getting ready for the wedding of Nolan and Hannah. As wonderful as the time we spent with Lucy and Colton was, it was always overshadowed by the knowledge that they truly lived in different worlds.
This is a great series and I can't wait to read more.
There is a very funny bonus story at the end where Colton actually takes her camping. Lucy and I are in total agreement about how much camping sucks.
Received an ARC from the publisher in exchange for an honest review.
---
Favorite Scene:
In the time it took to talk across the small room, Lucy summoned her inner she-cat vixen and prepared to do battle. Unlike the visitor she'd heard Colton talking to outside earlier, this one sounded young. She'd bet there was no lack of women interested in spending some time with her mountain man.
Her mountain man. Where in the hell had that thought come from, and when had she begun to think of him as hers? Probably about five minute after she met him, if she were being honest with herself.
Realizing she needed to pull out her biggest guns, she tugged the neckline of her dress down to put her considerable cleavage to good use.
She cracked open the door wide enough to poke her head out, but not wide enough that the strikingly gorgeous blonde on Colton's doorstep could see inside. "May I help you?" Lucy whispered.
Cold brown eyes took a quick assessing look at Lucy and dismissed her as no significant threat. She was used to the instant dismissal as well as the disdainful look. She'd been on the receiving end of it from other women for most of her adult life. "Where's Colton, and who are you?"
"I'm Lucy, and Colton is under the weather."
"What does that mean? Under the weather?"
"He's not well."
Blondie took a step back. "Oh…Who are you again?"
"Lucy."
"And you're his…his…?"
"Nurse," Lucy said. "I'm his nurse. I was called in to manage his injury."
"Injury? What injury?"
"Oh, you didn't hear?" Lucy grimaced dramatically.  "The axe caught him. In a bad, bad place. Don't tell anyone I told you this, but he might not be able to, you know, ever again."
Blondie's eyes got all buggy. "Ever?"
"Never," Lucy said gravely. "It's as bad as it gets."
"God, that's an awful tragedy."
"Indeed it is. I'll be happy to tell him you came by, but he's on some serous painkillers. It might be a while before he's lucid again."
"Yeah…Um, sure. Tell him Angie was here, and I'm really, really sorry to hear about his…um, his injury."
"I'll be sure to tell him. It was good of you to check on him."
"I'd better go. I wouldn't want to disturb him."
"That's very kind of you. I'm sure he'll appreciate your consideration."
Lucy watched Angie run more than walk to her car and smiled with satisfaction when Angie left a cloud of dust in her wake.  That, Lucy thought, should take care of that. Pleased with herself and her quick thinking, she shut the door and turned to find Colton standing right behind her.
She let out a shriek of surprise.
Wearing only basketball shorts, he moved toward her, forcing her to back up until she was pinned against the door by his much bigger body. "You are positively evil, do you know that?"
"Evil is such a strong word."
"Do you know it's take about fifteen minutes for all of Butler to know I chopped up my boy parts with an axe?"
She batted here eyelashes, going for pure innocence. "Will it take that long?"
"Evil," he said through gritted teeth.
"Look at the bright side."
"Is there a bright side?"
"Of course there is." She smiled brightly. "We won't have any more visitors."
Related Posts