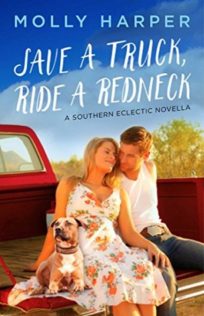 Save a Truck, Ride a Redneck
by
Molly Harper

Series:
Southern Eclectic #1
Published by
Pocket Star
on October 16th 2017
Genres:
Contemporary
Pages:
100
Format:
eBook



I received this book for free from in exchange for an honest review. This does not affect my opinion of the book or the content of my review.
This post contains affiliate links you can use to purchase the book. If you buy the book using that link, I will receive a small commission from the sale.
Molly Harper brings her signature "clever humor, snark, silliness, and endearing protagonists" (Booklist) to the charming small town of Lake Sackett, Georgia with the new Southern Eclectic series.

Carl and Marianne were high school sweethearts, loving the way only teenagers can—with no thought to logic or pride, just a bone-headed, optimistic frenzy of unicorns and hormones. That was all they needed. Or so Carl thought.

Scared of being stuck in Lake Sackett, Georgia, like so many of her friends—without a real shot at a future or achieving her own dreams—Marianne panicked and bolted to college after stomping Carl's heart into the high grass. But when she returns to Lake Sackett for the summer with her family after years away, she and Carl are drawn together like moths to a flame. As they rekindle their old romance and remember what it was like to be in love, they have to wonder: is this, finally, their real chance at happiness?

Perfect for fans of Kristan Higgins and Amy E. Reichert, this warmhearted and witty love story introduces Molly Harper's new Southern Eclectic series set in the small town of Lake Sackett, Georgia. This story about second chances proves that "Molly Harper never lets the reader down with her delightfully entertaining stories. Humor, emotions, and romance are cleverly matched, and her likable characters are most appealing" (SingleTitles).
---
I don't know if I should hold up deciding on this story until I read Sweet Tea and Sympathy.  Alone, it does nothing for me and Marianne and Carl's romance was flat.
This is a prequal novella to the new Southern Electic series which features a family funeral home/bait shop. This story gives us a history of how a funeral home and bait shop came to be. It is also taking place in 2006 so we will need to wait and see how this effects the relationship of Carl and Marianne as I am presuming the rest of the story will take place in a current time period, but it is only 10 years in the past, so Carl and Marianne will not be the parents of the next generation romances. So I am uncertain as yet why we went back in time and how that effects the overall story plot.
As far as the novella, we meet Marianne who was determined to leave the small, quaint town where all her family lives running the funeral home or the bait shop and where she wants nothing to do with either place. She loved her boyfriend Carl, whose family is quite screwed up and he is determined to keep away from them and the McCready's are all welcoming to Carl, except Marianne's Dad who knows what is going on between the then teenagers.
Marianne was determined that she was going to keep her romance with Carl going through college until she got wind that he was looking at engagement rings and then she broke it off. Marianne was determined to get away permanently instead of ending up a too young, married woman with kids, like all the girls in town. So she broke Carl's heart and ran as fast as she could, never looking back.
Marianne has returned to town the summer between finishing college and starting law school at her mother's bequest. The first thing she does is run into her old boyfriend when he comes to tow her car, since she crashed almost running into a deer. Marianne must have been very determined not to know anything about her old boyfriend, even though he is best friends with Marianne's brother, since she wasn't aware that he bought the old mechanic shop as well as a big house in town that he was fixing up.
This was supposed to be a story of how they reconnect, but there is very little time for running into each other and they didn't get to spend too much time together since Marianne was spending time catching up with the family she has been ignoring and helping settle things at the funeral home when family members can't agree.
Carl is called a "magical unicorn" because unlike normal men, Carl is very understanding of why Marianne left him and was supportive of her going off to college and why she hesitated to come home. All ideas that make him a perfect romantic hero but not a "real boy."
It is a standard plot of small town girl determined to get out and see the world but her single focus of getting out and not caring about what is going on at home turns me off to her as a character.   She comes off at more bitchy than just wanting to follow her own drummer.
While the purpose of this novella is to wet your appetite and give you an introduction into the new series, I found the story of Marianne and Carl wasn't enough to entice me. Maybe after I got to know them in Sweet Tea and Sympathy, I will have more interest in their backstory, but presented as it is, they didn't do much for me.
Molly Harper's writing is what is going to bring me back for the main story.  This intro did nothing to draw out my excitement.
Related Posts