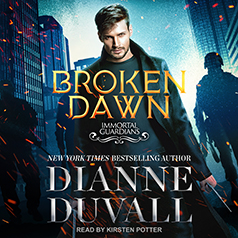 Broken Dawn (Immortal Guardians, #10)
by
Dianne Duvall
,
Kirsten Potter

Series:
Immortal Guardians #10
Published by
Tantor Audio
on June 16, 2020
Genres:
Paranormal/Urban Fantasy
Format:
Audiobook
Narrator:
Kirsten Potter
Length:
8 hrs 52 min



I received this book for free from in exchange for an honest review. This does not affect my opinion of the book or the content of my review.
This post contains affiliate links you can use to purchase the book. If you buy the book using that link, I will receive a small commission from the sale.
Delve into an exciting new stand-alone novel in New York Times bestselling author Dianne Duvall's "fast-paced and humorous" (Publishers Weekly), "utterly addictive" (RT Book Reviews) Immortal Guardians series.
Nick Belanger can't stop thinking about the single mother who lives next door. She's smart. She's funny. She's so beautiful he can't stare at her too long for fear his eyes will start to glow. But Kayla thinks he's just an ordinary guy who works in security. Finding out he instead is a powerful immortal warrior who hunts and slays psychotic vampires for a living may not go over well, particularly since she has a daughter she doesn't want to endanger.
Kayla Dorman can keep neither her gaze nor her thoughts from straying to the man next door. Who can blame her really? He is the epitome of tall, dark, and handsome with smart, charming, and honorable thrown in. He's also a few years younger than her and surely would not be interested in a single mom who hasn't dated since her divorce. At least that's what she thinks until an accident nearly takes her life and Nick risks all to save her.
The dynamics of their relationship swiftly change. The friendship they've developed over the years deepens into love as the two spend every minute they can together, laughing and teasing, never suspecting a threat may lurk in the shadows. But that threat soon strikes, making it clear that Nick is the target and his enemy doesn't care if Kayla gets caught in the cross fire. Though Kayla bravely rises to the occasion and is determined to do whatever it takes to help Nick defeat his enemy, Nick is terrified of losing her. Can he identify and eliminate his new nemesis before the man takes everything from him?
---
Broken Dawn has the perfect balance of characters, world building and thrills to delight die hard fans and attract newbies to the series.
Nick Belanger has had a secret crush on his next-door-neighbor, Kayla Dorman, since she and her young daughter moved in six years ago. Nick isn't keeping his crush a secret because he is  too shy.  No one ever accused him of that. Nick knows that any relationship with Kayla would need to include the level of honesty that an Immortal Guardian can't share with just anyone.  It would not just be Nick of suffers if Kayla reacted badly to the news.
But when Kayla ends up in the the hospital with life threatening injuries, Nick starts calling in favors throughout the Immortals and their network of humans to save Kayla's life. Considering how badly Kayla was injured, Nick knows he won't be able to get away with "it really wasn't that bad" and will have to explain how her injuries were miraculously healed.
No one in Nick's past ever reacted well to the fact that he is different, although, unlike Roland Warbrooks, no one tried to actually kill him because of it. Yet for the first time in centuries, Nick is hopeful that if Kayla can accept Nick's differences, they might be able to take that next step into a real relationship.
But as we know, there is a downside to being Immortal and while at the hospital, Nick bumps into a former acquaintance from the 1960s who insists that he knows who Nick is and wants to know how he has remained to young. This man is sick and desperate and he isn't accepting for any of the usual story which the Network has prepared for these instances about family resemblances.
This was our first look at the Dallas crew of Immortal Guardians. Ooooo.  On the plus side, we get to meet Eliana, who is Nick's partner and who I already was loving in the few preview pages tucked in after The Lasarian.  We spend a lot of time with Nick and Eliana while they are hunting vampires and spending down time with Kayla, so we really get to know her personality.  I already love her.   Now I am even more excited to read the second book in that series.
Nick and Kayla were sweet and this gives us a nice romance to break up all that vampire killing, kidnapping intrigue and action sequences.
On the down side was that except for Nick, Eliana, Nick's Second, Oliver, and the head of the Dallas Network, we really didn't meet anyone else from Texas.   What?  Any help that Nick had during this story came from our usual friends in North Carolina.  Yeah okay, maybe it is a lot to ask for to meet an entire new crew and get to know them in the space of a novella while still trying to tell the story of Nick and Kayla, but there certainly could have been a healer or a telepath or teleporter that Nick could have contacted in his own backyard.  Yes, everyone's default contact is Seth, but Seth could have  assigned locals to handle the things he used the North Carolina crew to do.    I would imagine the Dallas people have a place to go just like David's house for emergencies or to plan their evenings hunts or just to get together, and Nick should have some friends among them.   I don't even believe we learned Eliana's special ability in this story except that she obviously isn't a healer, a telepath or a teleporter and even Eliana's second was on vacation after the happenings of Seth's book and we don't get to meet him.  I am sure part of the reason we didn't meet anyone else is because the fans would have immediately starting harassing Dianne about "When are we going to get Bob's story.  He seems so funny/angry/lonely…"  and I can only imagine that those demands can get annoying when you are already juggling other stories in your head.
Because of the change of scenery, this novella can be a standalone and works great for anyone unfamiliar with the Immortal Guardians who just wants a taste before they take on the entire series plus spinoffs.
I was offered a review audiobook from Tantor Audio and this was my first audiobook attempt at this series. I think Kirsten Potter did a wonderful job and I was enjoying the story, so much so that I gardened for hours and hours while distracted by the story and I could barely move the next day.  Usually I am die hard about sticking with either reading a series or audobooking (is that a word?) a series. But because this story involved mostly, Nick, Kayla, her daughter and Oliver, I didn't have any problems switching formats until Seth showed up and when I heard his voice, my brain started screaming "no, no, no, no" because I have already cast this entire series in my head and his voice wasn't what I was expecting.
Broken Dawn is a great addition to the series and is perfect for anyone who wants to give the Immortal Guardians a try and see what they are all about.
---
Favorite Scene:
She nudged his arm. "Let's go."
The two of them left the shadows and crossed to the sidewalk. Eliana again slipped her hand into his as they strolled toward the women.
The one in sneakers glanced up, then looked at her friends. "Who are they supposed to be," she muttered sarcastically, "Neo and Trinity?"
The blonde beside her didn't even look up.
The other one glanced at Nick and Eliana, then returned her attention to her phone. "Who the hell are Neo and Trinity?"
Sneakers rolled her eyes. "From The Matrix?"
"Don't you watch any of the movies your parents mention?"
"No. I figure if they like it, it must be lame."
Sneakers sighed and shook her head.
Nick prepared to smile and nod at the students as they came abreast of them, but none even looked up. He sighed. Where the hell was the Southern hospitality he'd heard so much about before coming here?
The students continued along the path behind him, occasionally muttering about posts and he didn't know what else. Now Nick and Eliana faced the pack of vampires who continued to trail the women, no doubt waiting for them to reach an area with no cameras.
Eliana squeezed his hand, warning him she was about to begin.
He fought a smile. Eliana had the most unorthodox approach to vampire hunting he'd ever seen. Usually he and his fellow Immortal Guardians just dove in and attacked when they encountered vampires. If any seemed newly turned, he and his colleagues would sometimes try to talk to them and determine whether they were worth trying to save. So far they had found…maybe a dozen who were and who wanted to be saved.  Most vampires, however, were so drunk on the new speed and strength they'd acquired after transforming that they had no interest in searching for a cure or treatment. They enjoyed scaring and hurting others too much.
The vampires slowed as they shifted their gaze from the students to Nick.
Vampires in general weren't the brightest bulbs, so it usually took them a moment to conclude–based on his clothing, coloring, and mannerisms–that Nick was an Immortal Guardian. Then they would either flee or attack.  In these numbers, they always attacked.
But Eliana could pass for a college student. She was small and wore a crop top with her black pants that exposed a strip of pale bare flesh on her flat stomach. The neckline dipped low enough to provide a glimpse of cleavage. The long black coat wasn't typical of Houstonians–Houston so rarely saw anything approaching winter temperatures now that he often encountered students wearing shorts in December. But even if the coat roused suspicion among vampires, that tended to vanish once she opened her mouth.
Eliana stopped short and stared at the vampires. Her eyes widened as a smile lit her pretty features. "Jason?" she cried with surprise.
The vampires slowed to a halt a few yards away and glanced at each other.
"Oh my gosh! It is you! I can't believe it!" Releasing Nick's hand, she skipped forward and threw herself into the arms of a tall, blond vamp in front.
Eyes widening, the vampire closed his arms around her while his comrades looked on with What the hell? stamped on their faces.
Nick struggled not to laugh.
Eliana release the vamp and stepped back. "I haven't seen you in like two years!" She glanced at a blond vampire standing behind him. "Wait. Is that your cousin? The one who got you into the fraternity? What was his name? Bill, I think?"
The vampire in question glanced at his buddies, then smirked. "Sure. You can call me Bill."
Nick didn't have to be a telepath to read the dark thoughts that entered each man's mind. All assumed Eliana would make an easy victim. And she was lovely enough to inspire lust for her body as well as her blood.
Immortal males dramatically outnumbered immortal females for a reason: few female gifted ones who were attacked survived the vampires' brutality long enough to complete the transformation. Were Eliana a human, her fate would've been sealed as soon as she greeted these vampires.
But she wasn't human. She was immortal.
Eliana smiled up at Bill. "Great to finally meet you." She waved Nick forward. "This is Nick. We're on our way back from a party with a Matrix theme. Nick, this is Jason and Bill."
The vampires shared a gleeful look as Nick went from possible Immortal Guardian to nerdy second victim in the space of a heartbeat.
"Are these your frat buddies?" Eliana asked.
Jason nodded. "Yeah. If y'all aren't ready to go home, we can take you to another party. We're on our way there now."
Eliana looked up at Nick.
He shrugged. "I'm up for it."
"Excellent!" Grinning, she turned back to Jason. "Let's go."
The vampires closed in around them and resumed their stroll. Some grinned and nudged each other as Eliana embarked upon a steady stream of mindless conversation. Those who had been infected with the vampiric virus the longest practically salivated in anticipation.
The vampires led Nick and Eliana to a camera-free zone a less traveled path by one of the auxiliary buildings, then stopped and fanned out, facing them.
Nick and Eliana positioned themselves so that the vampires were between them and the building.
Nick tilted his head. "Where's the party?"
Jason smirked. "It's right here, you just don't know it yet."
A few of his friends snickered.
Eliana looked up at Nick, her smile shifting into a look of exasperation. "I mean, really. That was way too easy. They don't have a single clue."
He shook his head. "None at all. Like taking candy from a baby."
"Exactly! What's the fun in that?"
Some of the vampires lost their smug expressions.
Related Posts