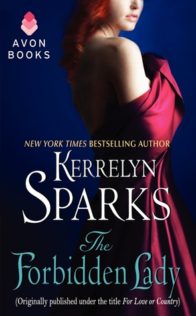 The Forbidden Lady
by
Kerrelyn Sparks

Series:
Historical #1
Published by
Avon Impulse
on October 23rd 2012
Genres:
Historical
Pages:
367
Format:
Paperback



I received this book for free from in exchange for an honest review. This does not affect my opinion of the book or the content of my review.
This post contains affiliate links you can use to purchase the book. If you buy the book using that link, I will receive a small commission from the sale.
---
Virginia Munro could not believe her ears. This bewigged, bejeweled, and bedeviling man was trying to buy her? As if she were some trollop on the Boston docks?

Before she's fully able to give in to her outrage, the fop moves on—and Virginia refuses to spare him another thought.

But Quincy Stanton is not what he seems. By day, he poses as a carefree Loyalist with an army of wigs and a wardrobe that favors lavender. By night, he wages a secret war against the British with an impressive collection of eighteenth-century spy gadgets. If anyone were to discover the truth, Quincy would hang, yet he can't seem to stay away from the lovely and saucy Virginia. Will their attraction lead to love . . . or danger?
---
Bond. James Bond…I mean, Stanton. Quincy Stanton.
This is an updated review from my original For Love or Country review. Although it is presented as an updated, re-released version, I will say that I did a quick re-read of the new release and I didn't truly catch anything noteworthy that I even noticed from my original reading of the story. That doesn't mean it is not a good story, but just if you have managed to get your hands on an elusive copy of For Love or Country, there is no need to purchase the new release. If you haven't, whether or not you are a fan of Kerrelyn's Love at Stake series, you should treat yourself to this well written spy novel.
---
This is a wonderful story which takes place just prior to the beginning of the revolutionary war. As tensions build between the colonists and the British Army, colonist Quincy Stanton goes undercover as a British loyalist to spy on the local tories and British Officers.
His only regret is that the one person who actually believes his foppish behavior is a mermaid with hair of red and eyes as green as the sea. From his first look at Virginia Munro, Quincy begins to lose his heart. But Virginia has brains and bravery as well as beauty on her side, and when Quincy realizes that Virginia has appointed herself as a spy for the colonists, he takes it upon himself to stop the willful beauty. He wants his lips on the long line of her throat, not a gallow's noose.
As if trying to balance his Tory disguise, his spying for the colonists and his seduction of Virginia isn't enough for Quincy to deal with, his half-brother has come from England to try and take Stanton Shipping from Quincy and his Uncle. Clarence was sent by his father to get the Stanton Shipping assets from the bastard son he sent away the Americas, and nothing gives Clarence more pleasure then to take something from his brother, especially if he can also succeed in taking away the lovely Virginia.
THOUGHTS:
This story has the usual great wit and banter as Kerrelyn's Love at Stake series, but with the added delight of 1769 "spy gadgets." He might not have a Dick Tracy two-way radio watch, but he does have a snuff box with a secret magnifying glass covered in phosphorescence (no candles necessary). It is a clever twist and a delightful story.
Received ARC of re-released from abovethetreeline.com, courtesy of the publisher. Thank you.
(Found my original For Love or Country off the internet.)
---
Favorite Scene:
"I won't lie to you, Mr. Stanton. I saw you go up the stairs. And I followed you."
She placed her hands on his shoulders, the lavender silk cool and smooth against the slightest pressure. Definitely no padding. Her fingers pulsed with each hammering beat of her heart as she rakes her fingertips down his chest. With one hand, she could feel the round, hard outline of his snuffbox and with the other, the rapid staccato of his own heart as it drummed in his broad chest.
She did have an effect on him. Her fingers spread out, searching for whatever he had secreted inside his coat.
His hands covered hers, halting her quest. "You're playing a dangerous game, cherie."
"And what game are you playing that has you stealing into bedchambers in the dark?"
"An assignation with a lady who apparently has changed her mind." He rested his right hand lightly on her shoulder and crooked his thumb inside her neckline, wedged between the midnight-blue silk and her skin. "But since a younger, sweeter morsel has come along…" He slid his thumb down, watching its descent as it followed the curve of her breast. "He put in his thumb and pulled out a…plum?"
Virginia jumped back, pressing her hand across her chest. Her agitated breathing caused her breasts to rise and fall rapidly against her palm. "I must ask you to keep your hands to yourself, sir." She should have known not to flirt with a man like this, a man who radiated so much raw masculinity in spite of his silk trappings.
He shrugged. "You touched me first." His eyes gleamed like quicksilver as he stepped toward her. "My dear mademoiselle, you would be amazed what a…well-placed thumb can do."
"And you would be amazed what a well-placed knee can do."
His chuckle was deep. "You are determined to prove yourself less than proper this evening. I'm quite intrigued."
"You're not what you seem, either, Mr. Stanton."
He tilted his head as he considered her carefully. "And how, may I ask, have you reached that conclusion?"
"You pretend to be a lazy fop, yet you have the tanned complexion and muscles of a man who has known true labor."
His dark eyebrows lifted. "Have you been studying me? I am flattered."
She felt her face redden with a rush of heat. "I'm merely an observant person."
"You're very clever, Miss Munro, but other equally observant people may have noticed your disappearance. I suggest you return at once to the parlor. To be seen with me will only harm your reputation. I'm rumored to be…insatiable."
"I'm not sure what you are, Mr. Stanton." Virginia whisked by him and won the hall. She heard his soft voice behind her.
"Likewise, cherie"
Related Posts