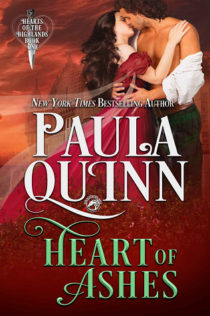 Heart of Ashes (Hearts of the Highlands #1)
by
Paula Quinn

Series:
Hearts of the Highlands #1
Published by
Tantor Audio
on July 7, 2020
Genres:
Historical
Pages:
257
Format:
Audiobook
Narrator:
Sean Patrick Hopkins
Length:
7 hrs 45 min


I received this book for free from in exchange for an honest review. This does not affect my opinion of the book or the content of my review.
This post contains affiliate links you can use to purchase the book. If you buy the book using that link, I will receive a small commission from the sale.
Cainnech (Cain) MacPherson's hatred for the English was born when he was a lad of seven, the day they raided his village and killed his family. They took everything from him without mercy and tossed him onto the battlefield, where the memory of love faded to dust and left nothing in its wake but violence.

Now, as Robert the Bruce's most formidable, most lethal warrior, he wreaks havoc on his enemy, taking land by force and without mercy. But when he raids a small castle in Northumberland, he faces his greatest opponent yet—a bold, beautiful Norman lass who will see him dead at any cost rather than give up her home…even if it means tearing open his armored heart and stirring the ashes that remain.

Aleysia d'Argentan will do anything to keep the hated Scots out of her castle and away from her villagers. She has prepared for this day for the last four years, building traps in the forest, poisoning the grain, and hiding daggers wherever she could use them to kill her enemy. But she isn't prepared for the brawny, brooding Highland warlord who invades her life—and her heart. He is an infuriating, irresistible opponent with a curious touch, a smoldering kiss, and a reluctant smile that begins to shine on her alone.
---
I was disappointed as I expected a long, drawn out and exciting seize of the castle and it truly was a let down.
Some Spoilers
Aleysia d'Argentan is determined to keep her family home, Lismoor Castle, out of the hands of the savage Scots. She has been obsessed with protecting her people since her brother died in battle four years ago. Since she inherited Lismoor, she has been working diligently building traps and strategic walkways through the trees surrounding the Village of Rothbury, so she is ready to defend her people but she has no idea what to do once she is confronted by their leader, Commander Cainnech MacPherson. Cain has as much hatred for the English as Aleysia has for the Scots and no one is more surprised than Cain that he hasn't given Aleysia up to his men as the reason so many of them died seizing the castle.
Let me start by saying that I was disappointed in this story because in reading the description where Aleysia spent four years preparing to keep the English at bay, I was expecting a Coyote/Roadrunner type fight for the castle. With four years to set traps, I expected every time Cain attempted to take the castle, his plan would be defeated with Aleysia thumbing her nose at him. Her defense started out promising but that didn't last long.
Here's some problems: Aleysia sends everyone away so they do not get harmed. All the villagers, all the guards, everyone is sent away once the Scots begin to get closer.  So she intends to hold off an army of vicious Scots by herself?  Instead of sealing the castle and allowing her traps to work, Aleysia leaves the doors wide open, attacking from the woods. You have to suspend the disbelief on some traps like 100 arrows notched and ready to fly once an army triggers them. How long have they been notched there? None misfired and killed Villagers? I don't even think I could get 100 dominoes set up without accidentally knocking them down over and over again but she has 100 arrows all rigged to go off at once.
Aleysia starts off doing well and killing the Scots as they fall prey to her traps or her letting lose arrows from the trees, but Cain quickly figures out what is happening and keeps any additional men from being killed although he lost about half of his original party of 20 men. Really? 20 men to seize a castle?  Once Cain fires back and send Aleysia running, he and his men head for the castle which has been left wide open. What? Why would she not have locked the place up solid? She had a secret way in and out. She also gave up all her other secrets like a hidden key to the dungeon so she could escape and knives hidden everywhere but instead of escaping and running for a safety, she waits and shows Cain she can get out of the dungeon.  Once Aleysia escapes she makes her way to a sleeping Cain but wakes him before she kills him (because it was unfair to kill a sleeping man).  Of course, awake Aleysia is no match for a trained soldier.   Truly, she could snuck up and killed all the remaining men, including the sleeping Cain.  Then she grabs yet another hidden knife and she keeps fumbling her attempt at attack.  Obviously, Cain is our "hero" so Aleysia can't really kill him.  But she has the advantage in that she keeps grabbing a hidden knife and hiding them on her person, but instead of using that advantage, she actually runs to a hiding spot and runs at Cain in yet another failed attempt.  He's not an idiot, so he has his men scour the castle for all her hidden knives.  Again, four years of planning and knife buying for nothing.
Aleysia also has one loyal knight who wants her to abandon the castle and flee.  She pretends that she agrees and then returns to the castle after the knight falls asleep. Of course he goes back after her because he swore to protect her and he ends up getting caught by the Scots and is now leverage to get Aleysia to give in.
I also feel like the author must not like Robert the Bruce View Spoiler »because in the end, Cain writes to find out what to do about Aleysia and he thinks Robert the Bruce will let her keep her castle if she swears fealty to him, but Robert the Bruce offers the castle and Aleysia as a gift to one of the English lords who already swore fealty, and when Cain, his loyal Commander, says that he already married Aleysia, Robert says No, No and sends him away. So to this very real historical figure, Aleysia is not a person but a prize to give away with the house and as payment for Cain's loyalty and dedication as a Commander of the army, he has his wife ripped away to be given to some Aristocratic turncoat as a reward. If the author is trying to make the Scots the good guys in this fight, making their leader a dickhead didn't make me want to join the cause. « Hide Spoiler
I had high hopes for a great battle of wits and that love would grow out of a mutual respect for the intelligent fighting strategy between Aleysia and Cain.  There wasn't much battle and I can't even give you a charged enemy-to-lovers romance because I didn't feel any passion between them until they suddenly couldn't live without each other.   I was interested in the description for book 2 but after such a let down, I don't know if it is worth the disappointment.
Related Posts