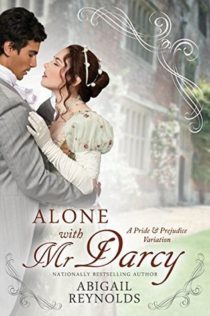 Alone with Mr. Darcy: A Pride & Prejudice Variation
by
Abigail Reynolds

Published by
White Soup Press
on April 14th 2015
Genres:
Historical
Pages:
378
Format:
Audiobook
Narrator:
Elizabeth Klett
Length:
9 hrs 36 min


This post contains affiliate links you can use to purchase the book. If you buy the book using that link, I will receive a small commission from the sale.
---
[box style="rounded" border="full"]This started out very promising and I liked the Darcy/Elizabeth scenes but some of the changes didn't always make sense and there was a lot of nonsensical misunderstandings keeping Darcy and Elizabeth apart.[/box]
This Pride & Prejudice variation begins the afternoon of Charlotte's wedding to Mr. Collins. Elizabeth is a bit disgusted with her BFF Charlotte for marrying Mr. Collins. After the wedding, instead of going off to the wedding breakfast, she decides to walk home to Longbourn through the snow. As a big storm is coming, the roads are almost deserted. When she is almost halfway home, Elizabeth comes upon a lump in the snow only to find it is Mr. Darcy. Darcy was thrown from his horse and received a concussion. Since it is started to snow and Darcy is in no condition to continue to Longbourn, Elizabeth points out that she just passed a little cabin in the woods and they should head there.
The occupants of the cabin are not home so Darcy and Elizabeth make a fire, rummage through their pantry (which is almost empty) and with nothing else to do, they actually start talking to each other. Darcy as we know at this point is entranced by Elizabeth and during their time in the cabin, Elizabeth starts to warm up to Darcy.
Darcy indicates several times that if (when) it gets out that he and Elizabeth were alone in the cabin for what turned out to be two days, that he would marry her. Each time, Elizabeth got very distressed, insisting she couldn't marry him and giving him the "keep your mouth shut and let's hope for the best" speech.
Although she gets away with it for several days, since everyone was snowed it at the wedding party and had to stay in town, eventually it was figured out that Elizabeth was not alone at the cabin in the woods and that Darcy was there with her.  Mr. Bennett decided that Lizzie should go join Jane at their Uncle's, and as usual, hoped that the whole thing would blow over before she returned to Longbourn. Although she was reluctant to marry Darcy, maybe a little less reluctant after she got to know him, Elizabeth wrote a letter and attempted to contact Darcy, and also asking her father to contact him. Mr. Bennett was certain that Mr. Darcy was giving Elizabeth the usual story that rich men do about marry you after he gets the goods (which he didn't) and that she should stop trying to embarrass herself by having Darcy declare to her face that he wouldn't marry her. It appears that Mr. Bennett was that guy who slept his way through all the young women with promises of marriage until he was forced into it by Mrs. Bennett's father.
Elizabeth believes that her father tried to contact Darcy, especially when he comes back with a tale of Mr. Darcy told her she's on her own and Darcy, who sent a P.I. to check on Elizabeth and knows that she is being ruined by gossip, doesn't understand why she won't contact him.  He is now hurt and confused. This back and forth got to be very annoying. Elizabeth was too humiliated to try again and no one would tell Darcy where to find Elizabeth, including Mr. Bennett when Darcy went to Longbourn to talk to him and make him talk sense into Elizabeth. Lizzie's uncle tries to set her up with a tradesman who was besotted with Elizabeth and now that she was disgraced a no longer above him in status, he was very excited to be forcing Elizabeth into a corner and getting her to agree to marry him. Darcy hears about this engagement and knowing that he might lose Lizzie forever is making Darcy crazed but he still can't get anyone to tell him where to find her.
This whole confusion was not solved until Lizzie goes to visit Charlotte while Darcy is visiting his aunt at Rosings Park. Even then it does not go smoothly as Darcy tries to get Elizabeth to speak with him and more. misunderstandings accrue.
THOUGHTS:
I picked up a copy of this a few weeks ago when it was on sale for $.99 and upgraded to an audiobook for only $1.99 more. I had been unhappy with my recent reads and wanted something different to clear the brain palette.
It started off well going right into Darcy and Elizabeth being alone. They really started to get to know each other and Darcy immediately throws the "she is beneath me" mentality out the window and was even able to sneak a few kisses out of Elizabeth. There was no hanky-panky in this story and even after they get married it is a "pan the camera to the fireplace" love scene. Boo! Darcy was just enjoying Elizabeth opening up to him and getting to hold her so they could stay warm and sleep next to her on the floor next to the fire. Elizabeth starts thinking better of Darcy but is not ready to jump into marriage with him if she doesn't have to but when she was being forced to face her own ruined reputation, she quickly realized that after spending that time with him, he wasn't a bad guy.
What didn't make sense is how Mr. Bennett would allow Elizabeth (and by association, all his daughters) to be ruined for marriage. At first, we see that Mr. Bennett was a dirty dog in his youth and presumes that Darcy used the same speech to get into Elizabeth's drawers while they were alone.  Yet even when Darcy visited him to say to say "hey, why haven't you or Elizabeth contacted me." Mr. Bennett is so bothered by the fact that Darcy is a better man than he is that he would still rather see Elizabeth ruined or wed to a lesser man so he doesn't feel as bad that he was no better than Wickham, and Darcy would do right by Elizabeth.
Wickham and his crew actually rape Maria Lucas during the snow storm, although the only one considered at fault is Maria.  Wickham does end up in prison for not paying debts so that is the end of him.
There is no mention of Jane and Bingley and how Darcy kept Bingley away from Jane. This whole thing was swept under the rug for this re-telling.
Overall the reimagining wasn't bad but the whole misunderstanding after the cabin scenes, and then more misunderstandings at Rosings Park, went on too long and took away from all the enjoyment we were getting during all the Darcy and Elizabeth alone time.
Related Posts