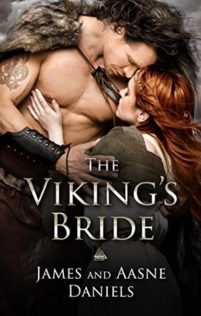 The Viking's Bride
by
Aasne Daniels
,
James Daniels

Published by
Self-Published
on February 1st 2018
Genres:
Historical
Pages:
283
Format:
Audiobook
Narrator:
Luke Daniels
Length:
10 hrs 40 min


This post contains affiliate links you can use to purchase the book. If you buy the book using that link, I will receive a small commission from the sale.
The matter is settled: Aisling, a beautiful Gaelic lass living on the rocky
coast of Ireland, is betrothed to a disgusting (and disgustingly rich) suitor
-- and the arranged marriage simply CANNOT be called off.

Until it is... By a horde of Viking raiders led by their fierce leader Cormac,
who sweeps into town, and sweeps Aisling off her feet.

Stolen away to a rough Viking town in Norway, Aisling will need to use all of
her wits and wiles to free herself, protect her friend, save her captor's
village -- and win his heart in the process.

Join Aisling for the adventure of a lifetime in a tale that is by turns funny,
romantic, and filled with exciting detail from the Age of the Vikings!
---
I just couldn't finish this story. I was halfway through except I just kept pausing because I didn't want to hear anymore then forcing myself to turn it back on, so I knew I was done.
NOTE: I listened to an audiobook presentation and don't have an actual copy of the story. Therefore, spelling doesn't count. I will try to keep spoilers to a minimum.
Let me admit at the outset that I am not a big fan of viking stories. Someone tried to get me to watch the series Vikings a few years ago, but after one episode I couldn't muster enough interest to watch episode two.
So why did you try to listen to a story featuring vikings, you ask. I like the narrator Luke Daniels. I think he does a wonderful job bringing a story to life and while I can agree with some of his choices of in his presentation of this story, it is was simply the story and the characters themselves that I found lacking.
I can't even blame the fact that I didn't like the story on it being a viking story. After the marauders raided Aisling's little village in Ireland, it was just a story of village life just now in Norway. I wasn't impressed with the raid itself since the vikings spent about three weeks in a boat getting to Ireland and only come away with Aisling and the local monk and a relatively small amount of stuff. Then they spend three weeks heading back. It's a pretty long trek and they probably ate more food on the trip than they managed to grab from Aisling's village. I thought they grabbed women to broaden the breeding population but Aisling was given as a slave to the ailing chief, not brought to the village as a war bride.
I had to keep reminding myself that Aisling was a 17-year-old girl who grew up in a tiny village and probably knew 100 people in her whole life.  Then again, she wasn't all stupid teenage girl. She showed moments of intelligence and bravery and for a young girl, you heard her discuss with her inner voice in a very adult way "You are the only one able to do this. Be brave" or "Don't jump to conclusions. Think it through." Overall, I liked Aisling and she kept the idiotic teenager actions to a minimum.
I found the three sons of the ailing chieftain to be the bigger issue. They, as well as a few stereotypical secondary characters, had me rolling my eyes.  Such as Hilda, the plus-size maiden who was chasing around Aisling's friend, the monk, for some love. She was brutish but sweet. And of course, there was the local beauty who wanted the same man as Aisling.  Except none of these secondary characters were really fleshed out.
It was the three brothers that baffled me the most.  They all had the same mother, but they were each so completely different from each other in looks and personality. The oldest, Trygge (pronounced: Trig), was blond, thin and was more bookish. He wasn't a warrior but he had a leg injury which caused a limp and his eyes were "cloudy" and his eye-sight diminished but there was no explanation of why (at least as far as I read). The villain in the story is Rafn (pronounced: Raven), who was Trygge's twin, but like all good villains Raven was creepy…creepy looking, creepy sounding, creepily trying to put his hands on Aisling. Just CREEPY! It came off perfect in Luke Daniels' presentation but if he's Trygge's twin why make him creepy and ugly with a shaved head, blackened tattoo'd arms and snaggletooth.  Why not hide his villain status behind good looks and charm, and seducing and confusing our heroine instead of screaming "stranger danger" every time he comes into view.  Then there was our hero, the younger brother, Cormac who is beautiful to look at and a strong warrior but he's moody and distant.
The brothers all had an Irish mother and all learned Gaelic, but the only one who was fluent and converses with Aisling is Trygge. Creepy Rafn talks in a creepy halting speech. Hot Cormac mostly grunts or speaks Norse (which Aisling has only picked up a little) so Cormac comes off sounding like a Neanderthal.
Of course all the brothers want pretty, redheaded Aisling, and once the Chieftain dies, all his possessions go to his sons, including slaves.
Aisling and Trygge spend the most time together since he is teaching her how to speak Norse and in exchange she is teaching him how to read all the Latin in the books he has been hoarding from their raids. This choice to me makes the most sense since Trygge is kind and respectful to Aisling and they have gotten to know each other. Aisling knows she would only be accepting any marriage offer from Trygge in order to be elevated from a slave.
But the real problem is that Aisling has been drooling over hot Cormac since he put her in the long boat to bring her to his village. He only ever grunts at her but she is "in love" with him. When Cormac confesses his love to her, he has a list of things she has done and why he admires her so much and wants her for a wife. Aisling can't truly give us any other reason she wants Cormac other than his muscles and her teenage hormones. It is certainly not for their scintillating conversations or all the time they spent together.
I only got as far as Cormac's confession of his feelings and asking Aisling to marry him then spending the night getting first dibs on the virginal Aisling. The next morning Cormac is gone and Creepy tells her that her that Cormac has left with the raiding party and will be back in the Spring but "hey don't worry every year Cormac picks a new slave to seduce and then the village has a good laugh when she cries her eyes out after Cormac splits her open with his giant member and tosses her aside." Aisling tries to use her inner voice and logic but when it looks like Creepy told the truth and Cormac (who just last night said he would marry her) appears to have disappeared on the last boat out of town, it doesn't look good. Of course, Creepy has to add that "he doesn't understand why Cormac bothers with the seduction but that he apparently he likes them willing, while Creepy prefers them to put up a fight." What a romantic!
There really wasn't anything exciting going on in the story. Except discussing the Chieftain's death ceremony, what is put in his boat and then set ablaze, there really wasn't anything interesting that we learn about life as a viking. I would have also thought that the viking would prefer a warrior leader and the next in line was Trygge who had a limp and didn't see well.  And Creepy was the pagan priest of the village, whose idea was that?, so how would he go from priest to Chieftain (since the villain hand-rubbing gave me the idea he wanted the position and the girl for himself).
The three brothers and the romantic choices made by Aisling didn't make sense to me. Creepy all but told Aisling of his wicked, backstabbing plans for his brothers and after telling her how much fun they would have after he became her master.  He then tried to get her to bargain with him telling her if she helped him, he would get her home. She was smart enough to realize anything Creepy told her that sounded too good to be true should be avoided, especially after he made all his rapey sounding hints of their future relationship.
Creepy brother did a great job creeping me out. Cormack, the hot hero, left me cold. Trygge, the nice guy, got the short end of the stick. And me, I was forcing myself to listen way past the point of pain in hopes that this story would be my Viking exception to the rule.  Nope!
Related Posts